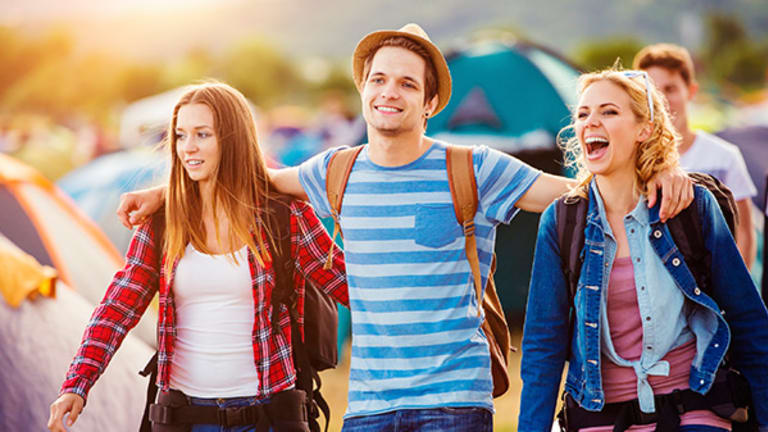 Why an Early Start to Saving Is Essential for a Healthy Retirement
The odds are stacked against Millennials to save effectively for their golden years. But it's possible to get on the right track.
The odds are stacked against Millennials to save effectively for their golden years. But it's possible to get on the right track.
The odds are stacked against Millennials to save effectively in advance of their retirement.
For starters, 20- and 30-somethings, also known as Generation Y, tend to have low financial literacy. Two-thirds of this demographic also has at least one source of long-term debt from the likes of car loans to student loans, while 30% have one kind of long-term debt.
All things considered, though, Millennials aren't doing quite as poorly when it comes to planning for their futures as the common perception holds, says Catherine Collinson, the president of the Los Angeles-based research institute Transamerica Center for Retirement Studies.
"A lack of income is the biggest deterrent for people [when it comes to saving]," Collinson said. "One of the things Millennials don't get enough credit for is if they have jobs they are saving for retirement at an age that is far younger than previous generations. They are doing an awesome job."
While the Transamerica Center for Retirement Studies estimates that 67% of people in their 20s are saving for retirement - with the median age of early savers standing at 22 - other studies offer varying portraits.
One survey conducted by online investing firm Scottrade in 2011 found that 60% of Gen Y-ers did not save for retirement the previous year, while another 2016 poll conducted by the Millennial advocacy group Young Invincibles found that just 43% of young people without employer-backed retirement plans say they are saving money consistently. Three-quarters of Millennials said they were able to save regularly when they had a 401(k) or other like plan to support them.
Experts who work in retirement and financial literacy agree that saving as early as possible has major benefits, though it is not easy to launch a retirement account when impediments like unstable income and debt pile up.
Erik Carter, a senior resident financial planner at the El Segundo-based company Financial Finesse, says the "overall big mistake" he sees young people make is focusing too much on the short term, and not enough on the long term. This can come in form of not having an emergency fund, which could even be "the bank of mom and dad," Carter says, and also when it comes to paying off debts - particularly, high interest debts, like for credit cards.
Companies bring Financial Finesse on to talk with employees, ranging from low-wage workers to high-earners, about budgeting and saving strategies. Typically, people who sit down with Carter to run retirement calculators tend to be in fairly decent financial shape, but some clients continue to struggle with debt.
"The idea of saving for retirement is relatively new and has not been instilled in past generations, since people have had pension plans," Carter said. "Now with those plans disappearing and Social Security being cut in the future, there is kind of a mind shift in many ways."
The most common question Carter hears from clients, he said, is, "Am I saving enough?"
"Most people have no idea whether they are on track or not," he added.
Some new retirement options are emerging for Millennials that can make it easier for people to save, even without the formal support of employer-matched plans. A growing number of states, including Washington and New Jersey, have created their own retirement plans that may allow for independent workers to opt in and allow employers to enroll employees automatically who lack plans.
Younger people thinking down the road could also consider the six-month-old MyRa, a federal government-backed starter account that could eventually feed into an IRA. Unlike IRAs, which can be tricky to navigate and pricey, given fees, the MyRA lets people deposit any amount of money into their fund, without any minimum balance on contribution requirement. The money then goes into a government treasury bond. Once a person's MyRA reaches $15,000, the idea is it to turn over into a regular IRA.
The program would not allow people to save as quickly as they would with the help of a 401(k), but it could give young workers a head start.
Workers earning less than $50,000 for their annual household income can also take advantage of a little-known federal tax credit of $1,000 to $2,000 and apply it to their retirement savings, whether executed through a 401(k), an IRA, a 403(b) or MyRa.
Saving early on can help foster good financial habits that keep, says Collinson, even if people are not able to save more than a few dollars a month.
"$5 may not be enough to fund a full nest egg, but what happens is people get into the habit and that becomes really empowering," she explained. "It all adds up over time."
Erin Hemlin, the national director of training and consumer education for Young Invincibles, agrees that saving a small amount can make a "tremendous difference in the long run," even as the average debt for student loans has hit nearly $30,000.
"We hear a lot that the concern, the fear around the amount of debt people have is very intimidating," Hemlin said. "It's about seeing what the options are with what your income is."