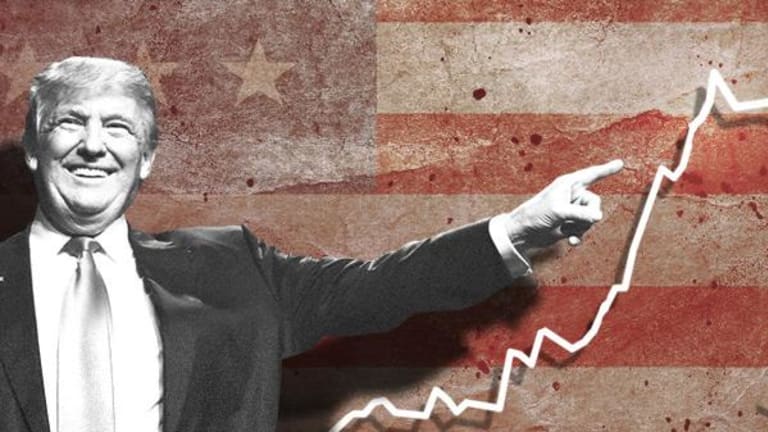 What the Trump Presidency Means for Senior Citizens
Some 46 million Americans are seniors. How will a Trump Presidency Impact Medicare, Social Security, and the other key issues for seniors?
Exactly what legislation will be fast-tracked under a President Trump and supported by the GOP majorities in the Senate and House is a cipher - nobody knows. But experts are ready with guesses about how a Trump administration will impact seniors.
A lot of people are impacted. Seniors number 46.2 million - that's 14.5% of the U.S. population - and every day, 10,000 people turn 65. Their big issues are plain: Medicare, Social Security, taxes -- essentially bread and butter concerns. And a lot the president does, or doesn't do, will impact many seniors. They definitely have a vested interest in knowing which way the wind blows with President-elect Trump, himself a senior and a Baby Boomer. Does he share their interests?
Understand, a lot of this is guesswork. That's because "we have not seen a whole lot that is concrete from Trump," said Brigid Harrison, a political science professor at Montclair State in New Jersey. She added that the picture would come into a sharper focus as Trump names appointees to key jobs and also elaborates on his top priorities.
But about some think there already is certainty.
The estate tax will likely vanish. Trump has repeatedly said he wants it to end. As it stands, it applies only to estates valued at over $5.45 million; they are slapped with up to a 40% tax bill. But only 2 in 1,000 estates fall under this law (0.02%). Even so, said Jo-Renee Formicola, a professor of political science at Seton Hall University in New Jersey, "The 'death tax' is crucial to seniors."
Many - even many whose estates would not be taxed - want to repeal this tax. Said Formicola, "The average person is just concerned that their children get what they deserve. I think Trump's message [on the estate tax] resonates better with seniors."
Income Tax. There may be good news ahead for many seniors on this front. Said Michael Foguth of the Foguth Financial Group in Michigan: "Seniors have a great chance to not pay any taxes under Donald Trump. When running, he proposed that a single filer who has an adjusted gross income (AGI) of under $25,000 would pay no taxes. A married couple filling jointly could together have AGI of under $50,000 and pay no taxes. This means seniors really need to focus on tax free income during their retirement. It does not mean seniors will have to have income below $25,000 or $50,000, it means their taxable income must be below that number. If seniors focus on tax free money, they should see an increase of income that they'll be able to keep in their pockets."
Social Security. A pocktbook issue for most seniors - about one in three say it's their primary source of income - Social Security may not be touched by a Trump presidency. "We're gonna save your Social Security without making any cuts. Mark my words," Trump said that to an audience in Georgia in February.
In Racine, Wis., he said: "They want to cut your Social Security. I'm not cutting your Social Security."
In his debate, Vice President-elect Mike Pence said, "All Donald Trump and I have said about Social Security is we're going to meet our obligations to our seniors. That's it."
Most experts believe Trump means what he says about Social Security, that he believes he will put in place policies that trigger enough economic growth to bring a kind of solvency to the system.
Medicare. On the campaign trail, on numerous occasions, Trump said he would leave Medicare untouched.
He also said that he would unleash Medicare and allow it to negotiate directly with Big Pharma over prices, an action now denied the system. The Associated Press quoted him telling a New Hampshire crowd that letting Medicare negotiate with pharma could save $300 billion yearly. It is unclear that a Republican Congress would support that move against pharmaceutical companies.
There also are many forces in Congress - notably Speaker of the House Paul Ryan - who have long wanted to put some kind of cap on Medicare benefits, possibly significantly increasing the premiums paid by seniors.
On the campaign trail, Trump had this to say about Medicare and Social Security: "Every Republican wants to do a big number on Social Security, they want to do it on Medicare, they want to do it on Medicaid. And we can't do that. And it's not fair to the people that have been paying in for years."
In the debates, however, Trump was mum about Medicare, even when moderator Chris Wallace directly asked both candidates about their Medicare plans. He used that question to launch an attack on Obamacare.
Bottomline on Medicare is this from University of Wisconsin professor Justin Sydnor: "I don't know how to predict [Trump's] changes of Medicare. There is little to go on from the Trump campaign."