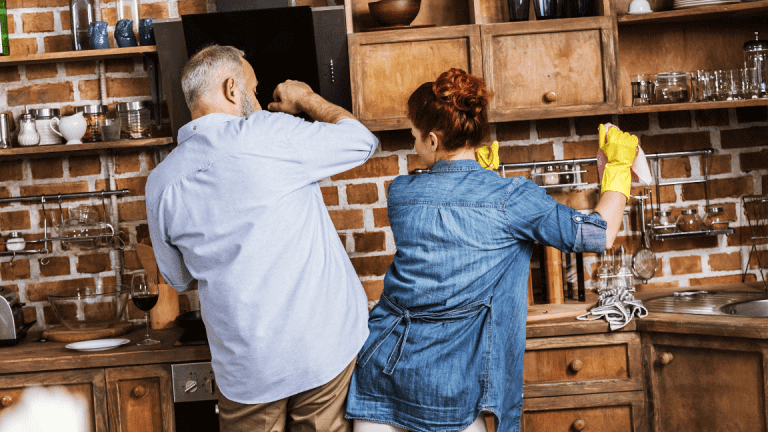 What Makes People Truly Happy in Retirement?
Retirement expert Michael Finke knows that while money is important to our happiness, it's not the whole picture.
What makes people happy in retirement? That's the question Michael Finke has been researching for many years now. He's the chief academic officer of the American College of Financial Services and was one of 16 experts who spoke on at TheStreet's Retirement, Taxes, and Income Strategies symposium held recently in New York.
And he now has the answer.
But first a little background. Finke has been researching the question of what makes people happy in retirement because he wants to know to what extent does what people do with their money makes them happy in retirement. "Is it better if they have a lump sum? Is it better if they have a pension or some kind of annuitized income?"
And what he found was this: There seem to be three pillars of happiness in retirement. The first pillar is money, which he says is good news for those who are saving for retirement. "You are happier if you have more money," Finke said. "So money is a pillar."
And it shouldn't be any surprise, he said, that health is also a pillar of happiness. "You can have all the money in the world, but if you're not healthy, you're not gonna enjoy your retirement," Finke said.
But most of his newest research is on social well-being. For instance, the extent to which you have good relationships with your spouse is one of the strongest predictors of happiness in retirement. "So make sure you invest in that as much as you're investing in your 401(k)," Finke said.
The other predictors of happiness in retirement are, according to Finke, friendships and the depth of friendships and the number of friendships that you have with other people. "And even when we look at spending, what we see is that social spending is what makes people happy," he said.
Spending money on all sorts of other stuff that we think might make us happy in retirement doesn't make us that happy. "It is social spending that makes us happy," Finke said.
So that's the foundation of his research in life satisfaction in retirement. "You have to have all three of those if you're going to be satisfied, and all of them are an investment," said Finke.
What is an investment in retirement? According to Finke, an investment is anything that requires a sacrifice during your working years to build value. "When you save for retirement, it means that you're living a little bit less well," he said. "You're setting money aside that you could have spent today, and you're (going to) spend that money in retirement."
Health is an investment, too, said Finke who recalled his early days as a food consumption researcher. "The whole reason I got into finance was that I took a doctoral class in investments because I wanted to understand investments theory, but my theory was that the same thing that motivated people to save money for retirement is the thing that motivated them to engage in healthy behaviors like eating better or exercising, and so that's an investment in your future as well," he said.
Relationships are an investment as well and it takes ongoing investment and time and resources to be able to maintain those friendships "so that you can draw from them in retirement," said Finke.
Women, by contrast, invest more. "Women have more deep relationships than men do by the time they get to retirement," he said. And that said Finke, actually creates a big issue because very often women have friends outside of the relationship, and they want to spend time maintaining that investment with their friends.
A man's social circle, by contrast, is at work. "And by the time they retire, they're relying more on their spouse," Finke said. "In an opposite-sex couple, they're relying on their spouse for that, to spend time with them, to go on vacation with them and have lunch with them, and sometimes that creates a bit of friction in retirement."
Finke also noted that married retirees, in general, are happier, but the happiest group is women who are newly divorced between the ages of 60 and 65. "That's the happiest group," he said.
Got questions about money, retirement and/or investments? Email Robert.Powell@TheStreet.com.
Related Videos, Retirement Tips: