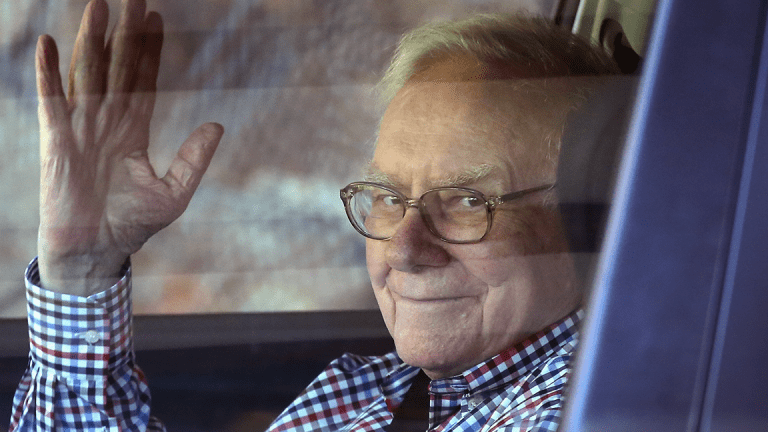 What Billionaire Investor Warren Buffett Can Teach You About Retirement
Index funds, index funds, index funds says billionaire Warren Buffett. But what else should you buy for retirement?
At 87 years old and still working, Warren Buffett doesn't appear to be following the traditional path most Americans take toward retirement. But after all, the billionaire CEO of Berkshire Hathaway (BRK.A) - Get BRK.A Report has never really been normal.
Though he hasn't retired just yet, Buffett has offered a treasure trove of tips for those looking to settle down at a more reasonable age. Here are some of the best retirement tips from the Oracle of Omaha himself.
Tip #1
At a Berkshire investor meeting in 2004, Buffett offered the following wisdom: "If you invested in a very low-cost index fund -- where you don't put the money in at one time, but average in over 10 years -- you'll do better than 90% of people who start investing at the same time."
In 2013, Buffett suggested putting 10% of your cash in short-term government bonds and 90% in a "very low-cost" S&P 500 Index fund.
Buffett's index fund strategy is a proven winner, too. He placed a bet with hedge fund Protege Partners in 2008 -- ahead of the financial crisis. Per the terms, Buffett contended that an S&P 500 index fund would outperform a hand-picked hedge fund portfolio over 10 years, a classic passive versus active scenario.
Even after Buffett's fund lost 37% of its value in the crisis, it still came out far and away the winner when the $1 million bet expired Dec. 31, 2017. At the end of 2016, Buffet's bet had gained 7.1% per year, or about $854,000 total. Protege's bet had gained 2.2% per year, or about $220,000 total.
Buffett has recommended putting your money into an index fund over time instead of all at once. He also recommends Jack Bogle's books and his Vanguard funds, which he called "reliable, low cost" investments.
The Vanguard S&P 500 ETF (VOO) - Get Vanguard S&P 500 ETF Report charges only 0.05% per year. If you invest $100,000 in the fund, you only pay $50 per year in fees -- that means your money can compound even faster.
Tip #2
Buffett has long been against holding large piles of cash.
"The one thing I will tell you is the worst investment you can have is cash. Everybody is talking about cash being king and all that sort of thing. Cash is going to become worth less over time. But good businesses are going to become worth more over time," Buffett has said.
Cash in the bank will earn dramatically less in interest than investments in the stock market will earn in returns and dividends. Keep some cash on hand for emergencies, but avoid hoarding tens of thousands of dollars in low-return savings accounts if you have the means to invest in the market.
Tip #3
And the last of Buffett's somewhat unsexy, supremely straight-forward retirement lessons? Don't spend beyond your means.
Buffett is worth about $89 billion, but he lives in the same Omaha house he bought for $31,500 in 1958. He still drives himself to the office every morning in a 2014 Cadillac XTS. And he eats McDonald's (MCD) - Get McDonald's Corporation (MCD) Report for breakfast all the time.
Get all the latest investing tips from TheStreet here on our YouTube channel.