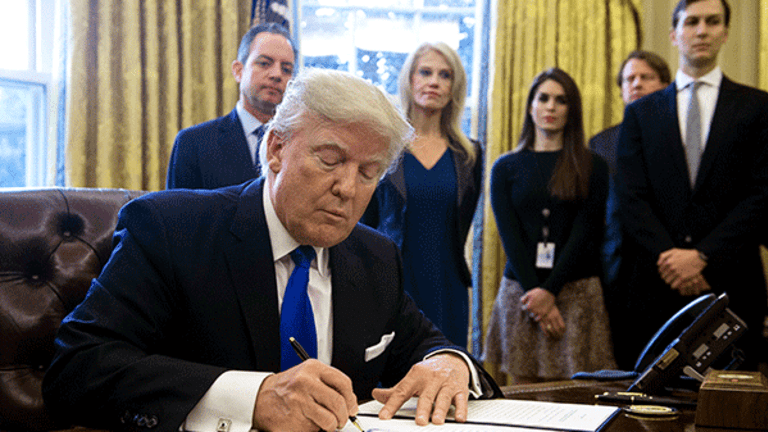 Trump's Executive Order Could Severely Damage Your Retirement Portfolio
Here's how you can protect your savings.
Last Friday, President Donald Trump signed an executive order that could have a negative effect on retirement savings.
This order, another in a litany of executive commands, may not have captured the headlines like his controversial immigration ban. And it was paired with another order affecting the Dodd-Frank Act, which may have overshadowed it. 
But even though the Obama administration's fiduciary rule may not be a regular topic at one's dinner table, that doesn't mean that Trump's attempted repeal wouldn't have an impact on investors' futures.
Under former President Barack Obama, the Department of Labor crafted a change to the rules that govern financial advisers when it comes to helping clients save for retirement. The fiduciary rule, as it is known, was intended to prevent savers from becoming the victims of advisers who don't have their best interests in mind.
The rule, which is slated to take effect April 10, prohibits advisers from favoring investment products that give kickbacks over others that would have a better impact on investors' long-term yields, as well as other practices that profit investment professionals at the expense of retirement savers. It does this by classifying any adviser who receives compensation of any sort for retirement account investment advice as a fiduciary, thus falling under ethical and legal obligations.
Critics of the rule, including Trump's Wall Street cronies, argue that it would limit the amount and variety of advice that investors could be given and cost the advisory industry as much as $20 billion in lost profits. But this rule would have a positive impact on the retirement portfolios of millions of Americans, and his attempt to get rid of it clearly favors advisers over the country's middle class.
That didn't stop Trump from ordering the DoL to explore rescinding or revising the rule.
His press secretary, Sean Spicer, referred to the fiduciary rule as "a solution in search of a problem ... The Department of Labor exceeded its authority with this rule, and this is exactly the kind of government regulatory overreach the president was put in office to stop."
Democratic Sen. Elizabeth Warren of Massachusetts defended the rule in a report released last week, saying, "It's far too easy for an adviser to sell just one more annuity, regardless of whether it is a prudent choice for the investor, when a free vacation or an international cruise is waiting for him on the other side of the sale."
She singled out annuities because they are popular among retirement savers looking for steady future income.
President Trump
With an annuity, in essence, an investor pays into it usually through a life insurance company, and in turn the annuity company promises to make payments at a future date or on a series of pre-determined dates. Investors can even invest in annuities that will pay them for the rest of their lives and provide a death benefit to boot.
Although individuals can invest in annuities within an individual retirement account or other qualified plan, annuity contracts on their own can also let investors save retirement dollars on a tax-deferred basis.
Of course, on top of preventing advisers from collecting cushy kickbacks from selling some annuities, the fiduciary rule would increase compliance costs. And some analysts expect that the rule's implementation would decrease annuity sales by 30% to $40 billion.
However, the new rule would benefit annuity investors. On top of receiving more upfront communication from providers, they would also gain from more investor-friendly surrender charges such as reduced penalties for early withdrawal, thanks to decreased commissions.
In addition, the annuity providers would need to develop products with improved benefits and more generous yields to a better-informed public.
No longer can an annuity company just dangle the carrot of bonuses and commissions in front of the noses of advisers and agents. They must also put some effort into making the products themselves better and more appealing.
If Trump is successful in doing away with the fiduciary rule, investors would benefit from looking at alternative income producers such as dividend stocks.
The stocks on the so-called Dividend Aristocrat list have all increased their dividend yields for at least 25 consecutive years. We are talking legacy stocks such as 3M (MMM) - Get 3M Company Report , Clorox (CLX) - Get Clorox Company Report and Johnson & Johnson (JNJ) - Get Johnson & Johnson (JNJ) Report.
Although these aren't sexy companies, they all have solid businesses and a history of making steady payouts to investors. Even though Obama's regulatory measures may not survive Trump, these companies certainly will.
---
If you want to learn a strategy that will essentially "Trump-proof" your portfolio, handing you as much as $67,548 in extra income over the next 12 months, take a look at this report. My colleague, Jim Fink, has created a strategy that allows him to receive steady payments... practically guaranteed.
The author is an independent contributor who at the time of publication owned none of the stocks mentioned.