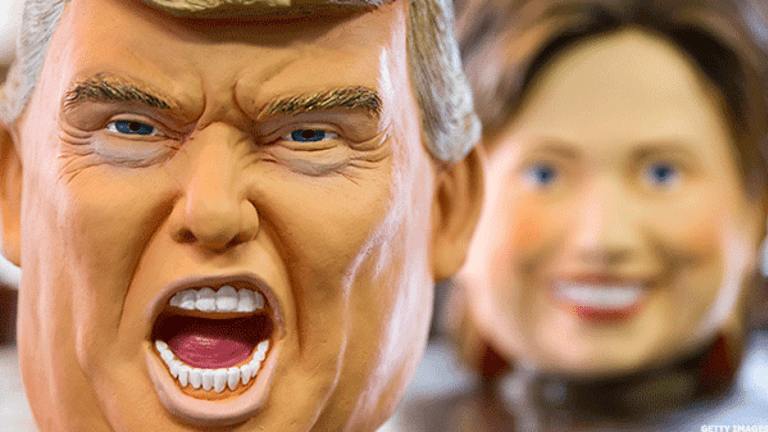 Trump and Clinton Face-Off on Eldercare: Whose Policies Are Better?
Many millions of elderly Americans will need expensive eldercare, but who will foot the bill?
The number is staggering: by 2035, one in five Americans will be 65+, said Matthew Fullen, a program manager at Ohio State University who serves on the American Counseling Association's Adult Development and Aging division.
By some estimates, more than half of seniors will need some kind of eldercare in their lifetimes. Perhaps one in three will suffer from Alzheimer's or another dementia and may need specialized care.
Both major presidential candidates - Clinton and Trump - have spoken out on this issue. Their solutions differ and - at least in some families -these positions may determine votes, because in those families, eldercare may be a huge bread and butter issue.
Eldercare does not come cheap. Assisted living facilities for seniors - which provide room, board, and at least some hands on help - runs upwards of $3,500 per month on average.
Isn't it covered by Medicare? Nope, not usually.
For seniors with substantial savings, paying for eldercare is easy (although it definitely saps the estate). For the indigent there may be state assistance, but for many others the eldercare buck stops with their adult children.
"Almost 18 million people are family caregivers in America," said Terry Fulmer, president of the John A. Hartford Foundation, which focuses on senior issues. "Their own life savings may be going down the drain."
Dayna Steele, chief caring expert at Caring.com, is a vivid case in point: "I was stunned the first year (2014) we had to spend money out of our own accounts to take care of mom and found out none of it was tax deductible. The last year of Mom's life, we were eligible to claim her as a dependent and write off her care - only because we spent $40,000 out of our own accounts. Families are not only emotionally spent but financially as well when it comes to caregiving for elderly loved ones. You can write off child care, why not elder care?"
Steele's case is not rare. Many adult children talk of five figure annual outlays to help mom or dad or both through their final years.
Both candidates know this is a problem.
Candidate Donald Trump has in fact addressed precisely these issues in a position paper dated September 13, 2016. In that paper - headlined Childcare - Trump proposed this: "The Trump plan will rewrite the tax code to allow working parents to deduct from their income taxes child care expenses for up to four children and elderly dependents."
Trump continues: "The Trump plan would create new Dependent Care Savings Accounts (DCSAs) so that families can set aside extra money to foster their children's development and offset elder care for their parents or adult dependents."
Sandra Block, senior associate editor at Kiplinger, said Trump has also indicated support for a $5,000 tax credit to help with costs of home health care, adult day care and similar services for an elderly family member.
Candidate Hillary Clinton has also proposed help with eldercare. In particular, she has supported a $1,200 per year tax credit to help defray eldercare expenses. She has also spoken of supporting credit for Social Security purposes for adult children who step out of the paid workforce to help with an elderly parent. And she has said she supports relief of up to $6,000 in annual costs for eldercare.
Clinton has also supported making available up to 12 weeks of paid leave - that can be used to care for a family member - where workers would receive up to two-thirds of their present wages.
A difference between the candidates: Trump's plan focuses on straightforward tax actions, whereas Clinton mixes tax credits with more novel ideas such as Social Security work credits.
One other difference between the candidates? "Clinton has often spoken about seniors and eldercare," said Janna Heyman, a professor at Fordham where she is a caregiving expert. "Clinton wants to put seniors in front."
"Clinton has been thinking about healthcare issues most of her career," added Fulmer.
With Trump, said Heyman, there isn't a similar lengthy involvement in senior issues. That does not imply insincerity. But it is fact that Clinton has worked on these issues much longer.
Will seniors vote with their pocketbooks this November? Fordham's Heyman said: "Seniors definitely are still an important voting block."
Nonetheless she lamented the lack of attention on senior issues throughout the debates.
Senior experts, for their part, hope that does not augur a lack of interest come the next presidency - but right now nobody knows much for certain except that the senior population will keep growing and so will their caregiving needs.