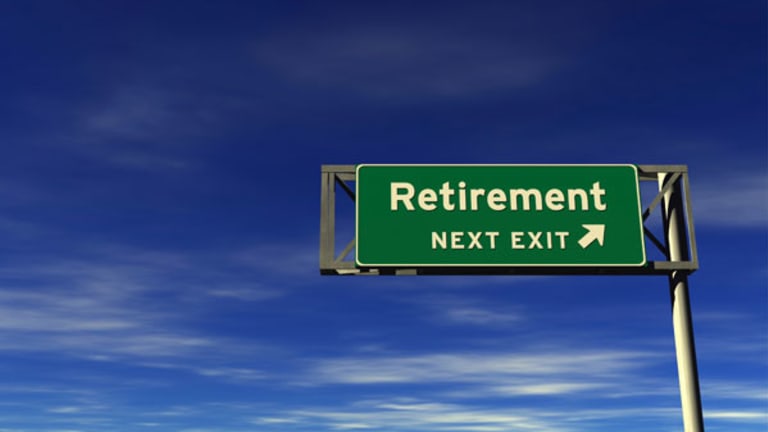 The Secret to a Successful Retirement: Don't Retire
Work longer and save money are two pieces of advice given by a Boston College study.
BOSTON (TheStreet) -- The best financial advice for the growing number of Baby Boomers eagerly approaching retirement is: "Don't."
That's because a decade of dismal stock market returns, curtailed employer pension plans, poor saving habits, and plunging home values means that fewer than half of those now approaching retirement have enough money to retire comfortably, including Social Security benefits, which don't begin in full until age 66.
A recent study by Boston College's Center for Retirement Research concludes that those approaching retirement ought to work as long as they can to postpone filing for Social Security, save money, take on a reverse mortgage in retirement if there is substantial equity, and pick conservative investments and stick with them.
Gyrating 401(k) and IRA retirement fund balances and the low yields from fixed-income investments also have those approaching retirement or who have just entered it flocking to financial advisers for help in deciding upon how to allocate their portfolios to limit risk.
But the study says the best tack is to pick some conservative investments and stick with them, then focus on other efforts elsewhere. "Financial advice tends to focus on financial assets, but other levers may be more important for most households" as they prepare for retirement.
"Asset allocation is less potent than the alternatives, particularly working longer, and, even for those with substantial financial assets, it is less important than one would expect," it said.
In fact, the average household facing retirement owns less than $100,000 in 401(k) and other liquid investments, according to the study, led by Alicia Munnell, the director of the Center for Retirement Research.
Given that amount of money, "for many people, even perfect investing is unlikely to have a significant effect on their well-being in retirement," the study says.
That $100,000 in savings won't last long as it will provide only $5,000 a year, over a 20-year retirement, not enough to allow for a comfortable retirement even when supplemented by Social Security, said the study, which is based on an analysis of data provided by the Health and Retirement Study, which conducts a national survey of older households annually.
Nevertheless, many Boomers are retiring and filing for Social Security benefits at age 62, the first year they're eligible. Some do it for health reasons as they can no longer work, others because they're among the long-term unemployed and need the money now, and a lucky few because they can afford to.
The true retirement age, when an individual is entitled to 100% of Social Security benefits, is age 66 for those born between 1943 and 1954.
The future is bleaker for those taking early benefits, the study says, as it's expected that 74% of the households that choose the earliest filing date of 62 will fall short of the money they need to live comfortably.
But delaying retirement until age 66, instead of 62, increases Social Security benefits by at least one third and if one waits until age 67, the odds that you won't have enough replacement income to live on comfortably declines markedly, to 47%.
It's estimated that a household will need retirement replacement income of 75% of pre-retirement income to live comfortably.
As for a reverse mortgage, "the typical U.S. household approaching retirement has nearly $140,000 in home equity, making it the largest asset outside of Social Security," said the study.
Reverse mortgages allow those age 62 or older to tap their home equity while remaining in their home by taking a loan on that equity over the period they expect to live there with the understanding that the loan is repaid when the retiree moves to another living arrangement or dies.
Disclosure: TheStreet's editorial policy prohibits staff editors and reporters from holding positions in any individual stocks.