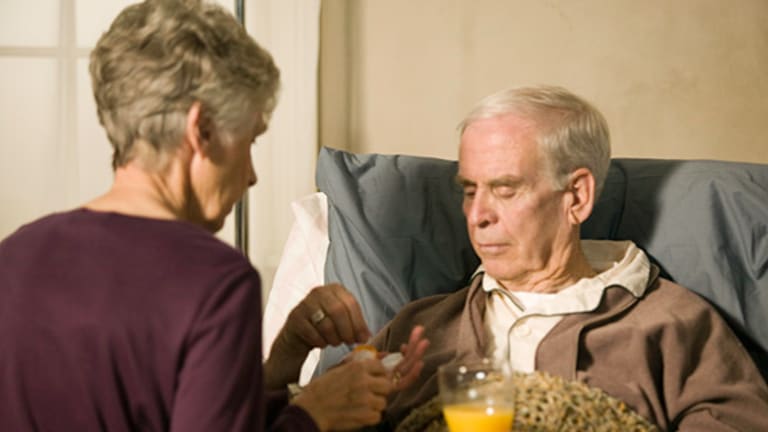 There Is a Perilous Shortage of Elder Caregivers
The demand for home health aides is skyrocketing, and the crisis is spreading nationally. Are solutions within grasp?
We are living longer - much longer. U.S. life expectancy at birth is now 78.74 years, and the fastest growing age demographic, per the Census Bureau, is those 65 and older.
There now are over 40 million people in the US older than 65. Every day another 10,000 turn 65. And yet there is a looming threat to the big jump in the elderly: the nation is facing a growing shortage of elder-caregivers.
Here's the issue: as more of us age, we also need more help doing simple things, from taking a bath to grocery shopping. That's created an immense - and growing - need for caregivers.
What about nursing homes? Evidence is clear that most seniors want to grow old in their own homes. Many will need help to achieve that goal. And that is creating that huge labor shortage. Stats from the U.S. Bureau of Labor Statistics show a 38% jump in the number of jobs for home health aides from 2014 to 2024. By 2024, BLS says there will be jobs for 1.2 million home health aides.
In New Jersey, Lynette Whiteman, executive director of Caregiver Volunteers of Central Jersey, does not mince words about the labor market: "It's a crisis here. Wherever you drive you see lawn signs with jobs for aides. There are waiting lists to get an aide."
In San Antonio, Ryan McGuire, director of community relations at Griswold Home Care, said, "We at Griswold are experiencing the shortage of caregivers first hand. Our biggest challenge as an organization has been recruiting and retaining caregivers."
McGuire added: "Unfortunately, as the shortage of caregivers continues the cost of providing high quality care will increase for the elderly. "
Understand this: Medicare, in most cases, does not cover home health aides. That makes it an out of pocket expense for many. Some have long term care insurance but not most do not.
What about nursing homes? For one, there's the research that says seniors want to age at home. For two, in many cases, Medicare does not cover nursing home expenses. Medicaid, generally, does, but to qualify a senior has to have very, very few assets.
Medicare also does not cover so called assisted living facilities where seniors usually live in their own apartment, with necessary care provided. Which puts us right back in the home as the locus of most eldercare.
Madeline Johnson, a caregiver for her own Florida based parents, summed up the problem she faces - and which in turn so do many thousands of others: "Finding quality health care for their home is truly challenging and the alternative - assisted living is not something they want and probably can't afford."
In many ways, this is a new problem for our society. It used to be the case that few of us grew old enough to need care. When we did, back in those days, the majority of elder care was provided by family members. That is still true in many cases, said Rani Snyder, program director at The John A. Hartford Foundation, which focuses on improving the care of older adults. By her count there are 18 million family caregivers - "they are the linchpin of the system," she said.
But good as family caregivers are, they are not the whole answer. More families are geographically fragmented - adult children may live thousands of miles away from their aged parents. Then, top, as seniors live longer, the needed tasks often become harder to do - "the duties are becoming more demanding," said Snyder. That means training may be needed to get the jobs done and family members usually haven't gotten any.
That's triggered a rise in for profit elder caregiving companies which provide services on an hourly fee basis - "$25 to $29 per hour in Massachusetts," said Wendy Adlerstein, director of client services at FirstLight Home Care of West Suburban Boston. Adlerstein said, by the way, that in suburban Boston "we are not in a state of crisis in hiring aides." She acknowledged, however, that "I can see that as the population ages, it will be tough to get the right people."
She's right about the demographic math.10,000 Boomers will turn 65 every day until 2029. That's why, in much of the country, there already is a caregiver labor shortage that is rapidly becoming a crisis.
No quick fix is in view. But there may be solutions. Catherine Yanda, in southern California, said she just came to the end of 16 years of caregiving to her mother, who passed away this year. From where she sits, Yanda said, "We as a nation have failed to plan for a huge and growing population of elder adults. It's a broken system."
But Yanda is not pessimistic: "We need the equivalent of a senior moon shot." Her point: solutions can be found, if there's a national commitment.
This article is commentary by an independent contributor. At the time of publication, the author held 0 positions in the stocks mentioned.