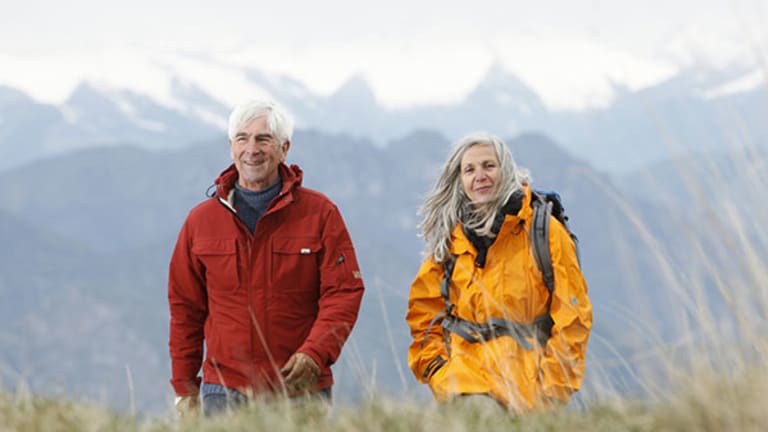 The New, Active Retirement Plan for the 21st Century
Boomers are throwing out golf clubs - and taking long walks, starting businesses and writing memoirs as retirement is redefined.
Boomers are throwing out golf clubs - and taking long walks, starting businesses and writing memoirs as retirement is redefined.
Flashback to 1970 and retirement meant golf, maybe a little mahjong, some bingo and certainly a lot of TV. Not now. Today's retirees increasingly are a blur of activity.
"Retirement used to mean you were out to pasture -- now you are revving up," said North Jersey transitional reinvention coach Randi Levin, who said she has a lot of retiree clients, in part, because "Baby Boomers are reinventing what retirement means."
Don't some in fact play golf or cards? You bet. But there's a new reality.
"Many believe that they will retire and golf, travel, fish or hang out with grandkids all day," said Richard Reyes, a financial planner in Maitland, Fa. who works with many retirees. "But it's no different than eating chocolate cake everyday. After a while it just gets old."  
Art Koff, 80, in Chicago, who runs job info site  RetiredBrains.com, said that people get active after they retire for two basic reasons. Some get bored. Others find that their costs of retirement are outstripping their financial means so they need supplemental income.
A third factor: "We are living longer," said Levin. Life expectancy in the U.S. in 1950 for a male was 65.6; for a female, 71.1. Today it is 76.2 for a male, 81.1 for a female. With a decade more to live, we apparently are determined to do something other than veg out or polish our putts.
We are also a lot healthier in many cases. "Retiring at 65 really does not make sense for many," said Levin, who is in her mid 50s. 
What are we doing instead? The Boomer reality is that one size does not fit all. Which means that many activities suddenly are popping into popularity.
Such as:
Part-time or seasonal work. Many retirees are still working, said Koff, who elaborated that some start their own businesses and many others pick up seasonal work on the fly (retired CPAs, for instance, may work for tax preparation companies about this time of year). Speaking for himself, Koff said, "I hope to be doing what I am doing now ten years from now. I work 50 hours a week. I will do this as long as I can."
Bucket list travel is very popular with Boomer retirees, said Greg Geronemus, 29, who is co-CEO of smarTours in New York. Maybe they do not want to do the clichéd bus tour of Vienna on Monday, Budapest on Tuesday...but they do want to go to the places they have long dreamed about. Now that they have the money and time, retirees are satisfying their wanderlust. Geronemus pointed to Cuba and South Africa as prime bucket list destinations in 2016.
Long walks are also in, said multiple experts. The 500 mile Camino de Santiago in Spain - a pilgrimage trail - and the 2,150 mile Appalachian Trail, both starring in recent movies, are on the to-do lists of many retirees. Those are a little more adventurous than strolling around the cul-de-sac in Easy Striders.
About 200,000 trekkers annually do the Camino for instance - highlighted in Emilio Estevez's film, The Way, starring his dad, Martin Sheen. Many of these adventurers are retirees, in part because it's a 30 day walk under favorable circumstances and retirees have that time. The rest of us, not so much.
They write books. Elliott Katz, who lives in Canada and retired after a long career as a civil servant in Ontario, wrote Being the Strong Man a Woman Wants: Timeless Wisdom on Being a Man. He said he now works "every day, maybe five hours a day," promoting his book.
Tom Cirignano did likewise. The 63-year-old, who lives in Lakeville, Mass., has written a book The Constant Outsider, about the decades he spent running an automobile service station in South Boston and, sometimes, ducking threats made by racketeer Whitey Bulger who ran the neighborhood. Added Cirignano: "I think -- no, I know -- every retiree should write a memoir like I did. In the entire history of mankind, no two lives have been the same."
The ease of distributing a self-published e-book via Amazon is a key to the current burst of retiree authorship, said sources.
Learn new languages. Marcie Rogo, 30, a co-founder of Stitch.net, which connects adults over 50 with shared interests, said a big interest among retirees is putting some of their new free time into language learning. A plus: it definitely keeps the brain active and many retirees - rightly concerned about dementia and similar loss of mental acuity - are determined to do what they can to ward that off.
Bottomline retirement reality in 2016: There are no rules. Boomers are doing what they want. And maybe it's a generation that has always done that.
This article is commentary by an independent contributor. At the time of publication, the author held TK positions in the stocks mentioned.