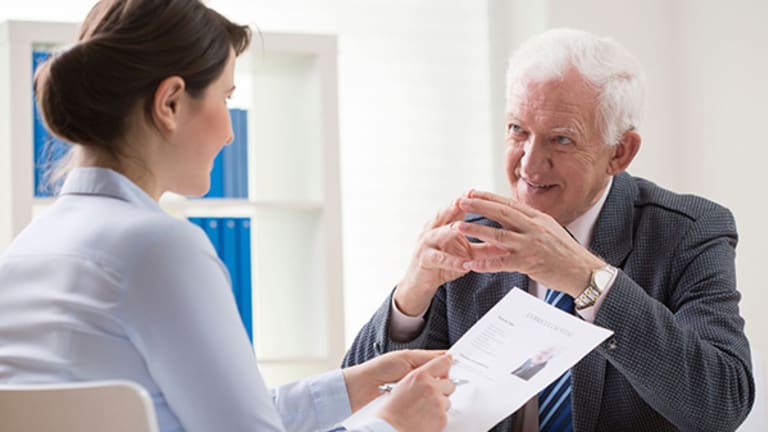 Publish date:
The Job Outlook for Seniors Suddenly Brightens
Seniors are suddenly in demand - at least in some fields. A tight job market has employers taking new looks at the elderly.
Seniors are suddenly in demand - at least in some fields. A tight job market has employers taking new looks at the elderly.
Not so bleak. Those three words just may sum up the prognosis for seniors on the hunt for new work, a verdict reinforced by data out of the Boston College Center for Retirement Research where the academics said, "The outlook is generally not as bad as it used to be."
The BC researchers did acknowledge that, for most, employment options "decline with age" - but, and this is crucial, no longer do seniors appear to have employment choices limited to "old person jobs" such as store greeters. That is a huge shift and bright news for work hungry seniors.
The BC researchers pointed to multiple factors that, they said, have greased this change. A big one: most employers have shifted away from so-called defined benefit pensions so they no longer see seniors as a sure money drain. The researchers continued: "Older workers are no longer less educated than younger workers and could thus be more attractive to employers. And, finally, the aging of the large Baby Boom cohort could mean that job applicants are evaluated by older hiring managers, who tend to value older workers more than younger managers."
All good news for seniors. "There's a lot of demand for seniors," said Allan Ageman, managing partner at New York based staffing firm The Bachrach Group. "We hire seniors ourselves."
Seniors, he stressed, bring maturity to work and "they dress normally."
Recruiter and author Evan Pellett said similar: "The seniors job outlook is no longer bleak due to many key shifts in employers' perspectives. Employers are recognizing that seniors often have incredible work ethic, show up more consistently, keep longer tenures, and are grateful for the work. Many seniors come from a time when overworking themselves was considered the norm, not the exception. Seniors also understand impeccable customer service and are more adept at building long term connections and relationships."
A few years ago, yes, things were different for seniors in the hiring halls - but back then most job applicants regardless of age found it tough going in the recession. In today's comparatively buoyant economy the national unemployment rate is under 5% according the U.S. Bureau of Labor Statistics.
Dan Shube, chief marketing officer at staffing company Labor Finders, extended that thought: "Due to the low unemployment rate, and the skills gap -- jobs that are open that available workers do not have the correct skills to fill -- hiring managers have been forced to expand their search to include people that they might not have considered to be a perfect match in the past. They have discovered that it may have been a mistake to overlook seniors."
Good as that sounds, this doesn't mean that seniors can write their own labor tickets today. Not exactly. Nor does this mean every senior job applicant will be embraced with high paying offers. That's not reality. A lot hinges on the person's particular skills. Some industries are more receptive to seniors than others. Art Koff, who runs RetiredBrains.com, said that the job outlook is especially bright for pharmacists, cost accountants, chemists, and researchers.
It isn't necessarily bright in all other fields. Tom Smith, a 58-year-old marketing and advertising executive in North Carolina, said that he has been unemployed for three of the past eight years and that today, while employed, he is making substantially less than he had in peak earning years. He attributed that to a lack of interest in his sector in older workers. He added that he knew many peers who "have just given up."
What's the next step for workers who hit a roadblock? Koff, who said he is 81, offered his recipe for success for seniors: "Employers are very much interested in hiring older workers for part-time, temporary and seasonal work and for project assignments." Even when a full-time, permanent job may not be in the cards, project and temporary work may be available.
A different route: start your own business. That's what 65-year-old chef Tina Ferguson-Riffe did in Berkeley, Calif when, stymied by an inability to get hired in other restaurants, she started her own, Smoke Berkeley, a BBQ place that has won rave reviews on sites like Yelp.
"I'd been out of work for three years when I opened Smoke Berkeley," said Ferguson-Riffe, who said a loan she got through Opportunity Fund, a California microfinance pioneer that specializes in helping entrepreneurs who aren't succeeding with traditional lenders, helped pave her way.
Other seniors describe similar experiences: self employment is, for some, a path to a better gig. When no one else will hire you, hire yourself.
Add it up and, no, it no longer is bleak, not for most seniors looking for work in most fields. It's definitely not boom times either, but for seniors who are on the hunt for work, now is shaping up as the best of times in some years and that is good news indeed.