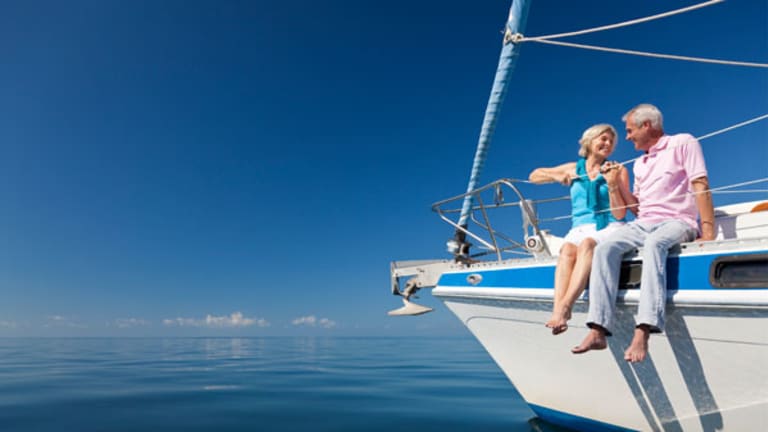 The Good, Bad and Ugly of Inflation for Seniors
Seniors worried about the onset of rising inflation get some straight talk from financial advisers.
Seniors worried about the onset of rising inflation get some straight talk from financial advisers.
BOSTON (TheStreet) -- Financial advisers who work with retirees say fear, uncertainty and anger describe their clients' attitude about inflation.
On the immediate level, they are upset that once again, for the second year in a row, Social Security benefits are not offering a cost of living increase.
Inflation can provide seniors in fixed-income investments higher returns, but experts warn that but real return, after inflation and taxes, is what they need to focus on.
Many challenge the assertion that low inflation is the reason -- feeling that rising medical costs only exacerbate the pain inflicted upon those trying to pay for food, fuel and housing on a fixed income. There is also concern that as inflation, by any metric, does increase in the months or years ahead, that their standard of living will decrease along with their buying power and investment returns.
Ron Courser, president of Ron Courser and Associates in Grand Rapids, Mich., says many of his senior clients feel "Social Security is not keeping up with what they need."
"They are really angry at the simple fact that they are not getting a
cost of living increase at all," he says of those on a fixed income. "For older people, inflation is a different animal. They have to go buy food and they have to go buy gas like us, but they also have higher medical costs. There is a low-grade anger that is always there, and it doesn't matter about the politics. I have the whole spectrum of clients politically, and they are all steamed at the Social Security thing."
Because of periodical readjustments in the weighting of spending categories in the Consumer Price Index, in particular the CPI-W variation used to calculate Social Security COLA increases, cynics and skeptics often question whether the calculations are used to keep inflation rates seemingly low. This "cranks up" the discontent, Courser says.
"I never say inflation is down -- I always say the way they calculate it says it is down," he says.
Inflation, up or down, can be a mixed bag for retirees from an investment standpoint.
Although inflation can provide seniors in fixed-income investments higher returns, that impact may not add up to much, says Tad Fryer, vice president and branch manager for
Charles Schwab
(SCHW) - Get Report
.
"
Retirees and those close to retiring are sort of punished on the back side of it, because real returns on things like CDs or bonds or any investment are really going to have to factor in inflation," he says. "It makes them appear a little higher, but doesn't necessarily change real return."
Retirees may be pleased to see "bigger checks," but real return, after inflation and taxes, is what they need to focus on.
"Whatever investment choice they make, we try to help people by providing a strategy that is going to provide them with good real return and as little volatility and risk as possible. The people we are talking about are not going to have the opportunity to make money back that they lose, and their asset allocations need to reflect that. We have to strike that balance between providing adequate cash flow for them to meet their needs -- and, hopefully, some of their wants after they have worked their entire life -- and some protection against inflation."
Fryer says the temptation among investors is to "get as much cash flow as you can right now," but cash flow need to be balanced with some hedge against what inflation is going to be.
"The only way we can accomplish that is to look at what has worked over the long term, and that is going to be an asset allocation that includes some equities and perhaps some other noncorrelated investments that, over time, have provided a hedge," Fryer says. "A good strategy should be entirely personal. It really depends upon the level of risk that someone can take, the amount of money they have, the cash flow they need and the likelihood of longevity."
"I think one of the things that we may end up seeing with interest rates as low as they are -- and right now we are artificially low, in my opinion -- is that investors will start to gravitate from coupon income more back to total return," says Bob Jergovic, a CFA with CLS Investments in Nebraska, an investment adviser and third-party money manager. "People will want steady income and I think they will be agnostic as to the source of that, whether it is dividend or coupon income built over time."
There may be a slight silver lining to rising inflation.
"If nothing else, a reversion back to the mean would be very helpful," says Brian Kuhn, CFP, a financial adviser for Retirement Planning Services in Millersville, Md., and a registered rep with Broker Dealer Financial Services. "If you could get a reasonable rate of interest now that the value of those CDs and TIPs are going to be noticeably higher in value by just not touching them for a year, that helps people out, especially people who need their assets to grow, but at a conservative basis."
"Seniors might not
act on this as frequently, but if you have a dividend-paying stock portfolio, any time there is inflation there is increased money flow," Kuhn adds. "Then again, in this environment, with how they are holding on to cash, it is not necessarily
sure they will forward that money to shareholders."
In the larger view, uncertainty about inflation and the potential for rising taxes has seniors spooked.
"We are telling them to stay as flexible as they can, to keep their costs as fixed as possible and interest as flexible as possible," Kuhn says. "If you have short-term CDs, short-term bonds with TIPs and dividend-paying stocks, those will allow you to adjust with time as rates rise. Whereas, with the outgoing money, like mortgages and car loans, the extent you can keep those fixed will be helpful in an inflationary environment."
-- Reported by Joe Mont in Boston.
>To contact the writer of this article, click here:
Joe Mont
.
RELATED STORIES:
>>Retirement Age Boost Part of Deficit Plan
>>Sooner Can Be Better for Social Security
>>7 Ways to Make Social Security Solvent
Get more stock ideas and investing advice on our sister site,
>To follow the writer on Twitter, go to
.
>To submit a news tip, send an email to:
.