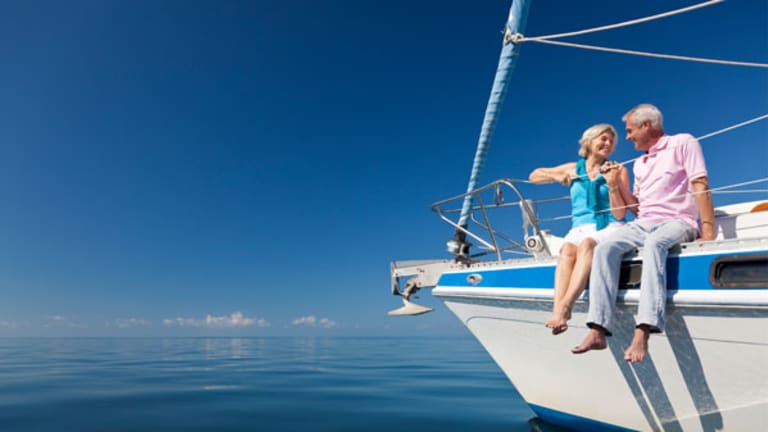 The Best Rewards Cards for Retirees
Seniors in the market for credit may want to look beyond the branded AARP card.
Seniors in the market for some credit have an obvious option:
Chase
(JPM) - Get JP Morgan Chase & Co. Report
offers a
Rewards Platinum Visa Card endorsed by AARP
. But Tim Chen, CEO of
, suggests retirees may want to look beyond the branded card.
"Despite the name, it's not the best card for retirees," Chen says. He argues that the card carries a noncompetitive annual percentage rate that ranges between 13.24% and 19.24%, depending on the cardholder's credit-worthiness. Another drawback is the AARP card's lackluster cash-back rewards system, which pays a point for every dollar spent on purchases.
"A reward rate of 1% or less is pretty much industry standard, and anyone who tries can find a much better deal," Chen says. "There are too many 1.5% to 2% rewards cards out there."
Of course, the AARP card isn't without its benefits.
"The card from Chase is the only one endorsed by AARP and offering members unlimited cash-back rewards
with no caps, no tiers," counters Gail Hurdis, a spokeswoman for Chase. The card also offers exclusive discounts through its AARP partnership, which allows cardholders to save on their annual $16 AARP membership.
Cardholders also have access to senior-friendly
, including a financial guide designed especially for seniors, that help them manage their account, Hurdis says.
Still, it never hurts to shop around for your next credit card. What should a retiree consider before applying?
To Chen, senior citizens in the market for credit fall into two categories: those with debt and those without. Those with debt, he says, should look for a card that carries a low APR. The
average annual interest rate for cardholders is 14.1%
, though it ranges -- typically from 11.24% to 19.8% -- depending on the issuer.
APRs aside, seniors with debt should consider applying for a balance transfer card, which helps people consolidate debt onto a single card and save money on interest charges. The best cards, of course, are the ones that do both. And seniors who aren't in the red have more options.
"If you're not in debt and can pay off your balances, then it's all about the rewards," Chen says, pointing out that credit card companies, in essence, give money away to their best customers through the rewards points accumulated while using the card. "Retirees will have plenty of money saved up, long credit histories and no debt to speak of, so they can skip straight to this step."
Here are some cards to consider:

Citibank Platinum Select MasterCard
:
Seniors carrying a decent amount of debt should consider this card, because it carries a 0% introductory APR that lasts for 18 months.
"
This is longer than any other card out there," Chen explains, though he does offer a word of caution:
Citibank's
(C) - Get Citigroup Inc. Report
Platinum Select card carries a 5% transfer fee on the balance, and, after the first 18 months, the promotional APR will go up to 11.99% to 19.99% depending on the holder's credit history. That being said, the card does offer discounts on gift cards, travel and merchandise; those planning to pay off their debt in two years should consider applying.
Platinum Visa from Command Bank:
Those who may carry their balance for longer should opt for
Visa's
Platinum Card from Command bank, which offers a low APR of 6.25% in lieu of a temporary 0% introductory APR. The card also carries a 0% balance transfer fee.
"As a general rule, credit unions and local/regional banks are your best bet for low APRs," Chen explains. The card also has a small rewards program in place that offers a point for each dollar spent, which comes to an estimated $216 in rewards per year.
American Express Starwood Preferred Guest:
This
American Express
(AXP) - Get American Express Company Report
card has been consistently hailed as the best. It made
BillShrink's recent list of the best credit rewards cards
for travelers in July, and SmartTraveler named it the "best travel rewards card for domestic use in 2010." Some of the card's perks include a sign-up bonus of 10,000 points, which is good enough to pay for three nights at global
Starwood
(HOT)
hotel chains. Additionally, cardholders get two points for every dollar spent at a Starwood resort, and one point for each dollar spent on all other purchases.
"We estimate these points are worth 2.3 cents apiece when redeemed for hotel stays, which is the most lucrative payout of any card we track," Chen says, adding that points can also be exchanged for frequent-flier miles on 30 different airlines. Frequent fliers can check out this list for more
travel rewards card options
.
Fidelity Investment Rewards American Express or Visa:
Seniors who have no debt and don't travel should take advantage of either of these cards' standout cash-back rewards programs. American Express offers a straightforward 2% cash-back reward on all purchases, with no limits and no confusing stipulations.
Visa, meanwhile, pays back 1.5% on the first $15,000 spent and 2% thereafter. Both companies deposit the rewards directly into a Fidelity checking or brokerage account. Chen estimates that the American Express program nets cardholders $432 annually, while Visa's program nets $357 in annual rewards.
Both cards carry a middle-of-the-road 13.99% APR.

Fidelity 529 College Rewards American Express:
Seniors in good financial standing and looking to help their children or grandchildren pay for college should consider applying for this card. It has a substantial 2% cash-back rewards program in place, but instead of going straight into a cardholder's personal checking account, the money is deposited monthly into a Fidelity
529 College Rewards account
. The APR on this version of the Fidelity card is also 13.99%.
>To submit a news tip, email:
.
RELATED STORIES:
>>Life Lines for Seniors Drowning in Debt
>>Reform's Retirement Impact Still Unclear
>>Schwab: Families Must Talk More About Money
Follow TheStreet.com on
and become a fan on