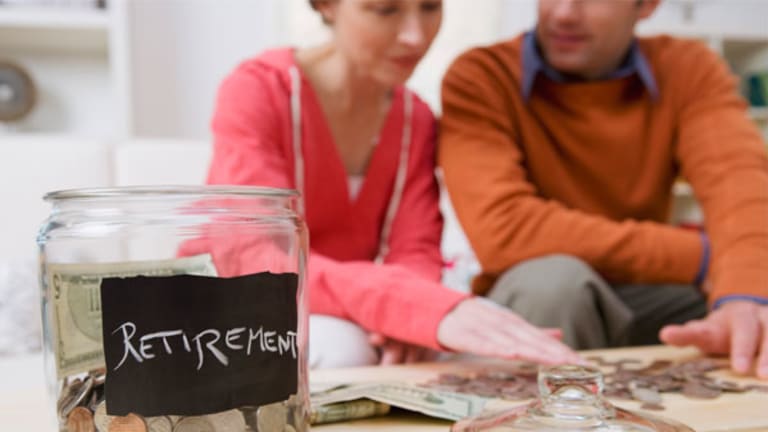 Target-Date Trip-Ups
Marked differences exist among these funds, even those investing over the same time frame.
Substantial 401(k) money is moving into "target-date" or "life-cycle" funds, Wall Street's answer to one-stop investment shopping.
In fact, according to Hewitt Associates, a human resources and benefits specialist, some $310 million of 401(k) money moved into these funds during the third quarter -- the highest net inflows of any types of fund for the period.
As of recent count, there are now 155 target-date funds. These funds are investment vehicles that gradually reduce your exposure in equities and increase your exposure in bonds or cash as you near a particular retirement date. You don't have to do anything to reallocate.
They're convenient. They're simple. But they don't all operate in the same fashion.
Here's the thing to remember: One target-date product is
not
the same as another, even if it's set up for the same time frame.
As with all funds that come under a certain umbrella, there is often considerable variety in the content, diversification, and risk/reward of these funds.
Let's compare the allocations, expenses and returns of several funds that have the same target dates. First, let's look at funds for younger workers, those with a 2040 target.
All of these funds have one thing in common. They give investors having 20 years or more until retirement, or target date, hefty exposure in equities. The average allocation into equities for all 2040 target-date funds is about 86%, according to Morningstar.
However, as you can tell from the table below, the specific amount of equity exposure varies greatly from one fund to the next. And the underlying equity and bond content can also be very different.
As a general rule of thumb, most target-date funds allocate your money between other stock and bond funds within the same fund family. For example, Fidelity's
(FFFFX) - Get Fidelity Freedom 2040 Fund Report
Freedom 2040 fund puts approximately 11% of your money into the
(FGRIX) - Get Fidelity Growth & Income Port Report
Fidelity Growth & Income fund, 10% or so into the
(FDEQX) - Get Fidelity Disciplined Equity Report
Fidelity Disciplined Equity fund, another 10% into the
(FEQIX) - Get Fidelity Equity-Income Fund Report
Fidelity Equity-Income fund and so forth.
By comparison, the
(SWERX) - Get Schwab Target 2040 Report
Schwab Target 2040 fund invests approximately 27% of its assets into the
(SWANX) - Get Schwab Core Equity Report
Schwab Core Equity Fund, 12.5% in the
(SWOIX)
Laudus International MarketMasters Fund and about 13.6% in the
(SWLBX)
Schwab Total Bond Market Fund, among others. The content is quite different.
Most target-date funds subdivide your investment into other funds from the same family. But exposure in large-cap, small-cap, growth or value equities -- or for that matter, exposure in corporate bonds, junk bonds or Treasuries -- can vary considerably. And of course, differences of investment content result in differences of risk.
For example, the Fidelity 2040 fund has a somewhat higher measure of volatility (with standard deviation at 7.98) and lower measure of risk-related return (with a Sharpe Ratio of 1.09) than the
(TRRDX) - Get T. Rowe Price Retirement 2040 Report
T. Rowe Price's 2040 fund (which has a somewhat lower 7.72 standard deviation and better 1.33 Sharpe Ratio). From a return-on-risk perspective, the T. Rowe Price version is the way to go.
The expenses charged by target-date funds are also quite different. T. Rowe Price's 2040 fund has the highest 12-month return in our illustration, but expenses at the same level as Fidelity's.
And fund performance can be markedly different. In my illustration, the Schwab and T. Rowe Price funds are giving particularly attractive returns.
T. Rowe Price's 2040 Target Date fund gave investors 2.81 percentage points more return than TIAA-CREF's counterpart over the past 12 months. If sustained, that advantage would give investors putting $50,000 into the T. Rowe Price fund almost $65,000 more return after thirty years -- a big difference.
We see similar patterns when we look at funds having a closer target date, in this case 2010, as in the table below.
Equity exposure is substantially lower among the 2010 funds because the target date is so close. However, once again, the percentages allocated to stocks, bonds and cash vary widely from fund to fund.
The content of the 2010 funds is different, too. Let's look again at the top three suballocations of the funds in my illustration.
TIAA-CREF's
(TCLEX) - Get TIAA-CREF Lifecycle 2010 Retir Report
Lifestyle 2010 Retirement fund puts approximately 27% of your money into the
(TIPBX)
TIAA-CREF Bond Plus fund, about 17% into the
(TCLCX) - Get TIAA-CREF LgCap Value Retail Report
TIAA-CREF Large-Cap Value Retail fund and about 16.8% in the
(TIGEX)
TIAA-CREF Growth Equity fund. By comparison, the
(TRRAX) - Get T. Rowe Price Retirement 2010 Report
T. Rowe Retirement 2010 fund allocates approximately 26.6% into the
(PREIX) - Get T. Rowe Price Equity Index 500 Report
T. Rowe Price Equity 500 Index, 20% into the
(PRCIX) - Get T. Rowe Price New Income Fd Report
T. Rowe Price New Income fund and 11% into the
(PRGFX) - Get T. Rowe Price Growth Stock Fd Report
T. Rowe Price Growth Stock fund.
From my vantage point, there is a big risk difference between these funds as a result of their underlying content and very different stock and bond allocations.
For example, TIAA-CREF's 2010 Fund puts almost 37% of your money into bonds, with about 83% of that bond exposure (or almost 31% of the fund in total) being invested in high-quality A-, AA-, and even higher AAA-rated fixed-income securities. That's extremely conservative.
In comparison, T. Rowe Price's 2010 Fund puts about 25% of your money into bonds -- with 68% of its bond exposure (or about 17% of the total fund) invested in A-, AA-, and AAA-rated fixed income. That is still very good, but much less conservative.
These differences of allocations and investment content result, once again, in significant performance differences. The Schwab and T. Rowe Price funds are the standout performers.
Bottom line, here's the scoop on discerning between target-date funds:
The "direction" -- namely, lower stock exposure as you near a target date -- is generally the same across funds, but the actual allocation amounts, investment content and performance of these funds can vary markedly.
Check the content of each fund carefully. Read the prospectus and use online research to pinpoint how, specifically, any fund will actually deploy your money in stocks and bonds -- and how much risk is involved
Pick a fund with prudent content, good performance and good pricing. I would opt for the Schwab or T. Rowe Price funds for their content and better performance.
Check out the performance history of any fund you consider before you buy into it, and specifically check each fund's "Sharpe Ratio" (the measure of the fund's risk-related performance -- a measure that you can readily find online). You want a fund with a comparatively higher Sharpe Ratio or high return relative to risk or performance volatility.
Jim Schlagheck is a wealth management professional who has counseled ultra-high-net-worth families, endowments and pension funds in the U.S., Europe, and the Middle East. He is a former senior executive of American Express Bank, UBS AG, Bank Julius Baer, and TAIB Bank. During his career, Schlagheck launched a family of mutual funds (now holding $4 billion), led teams of financial planners and investment advisers based in New York, Bahrain, and Geneva, Switzerland, and helped many high-profile clients to protect and enlarge their wealth. Jim has a blog on investment topics
www.invest-blog.com and is the author of "Show Me The Money!", a soon-to-be-published book that synthesizes his novel views about investing for retirement.