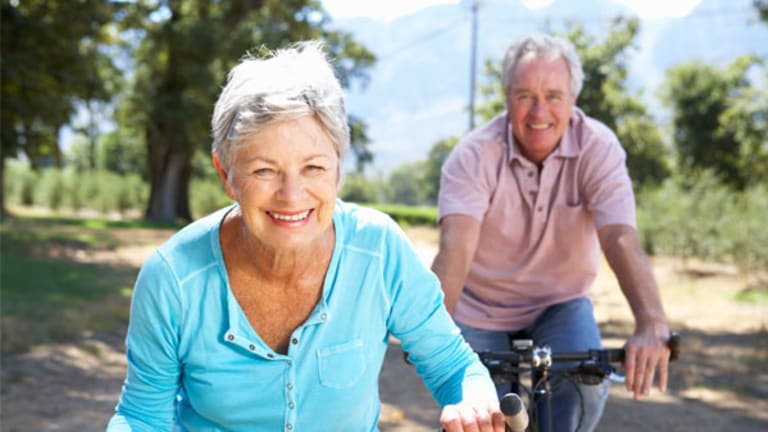 Stretch IRA Is Quite a Vehicle
There's no magic to the "stretch" IRA, but it can transport users in comfort and style if they follow the rules.
NEW BERLIN, Ill. (TheStreet) -- The term "stretch IRA" has become a popular way to refer to an IRA that can stretch out the time funds can stay in the IRA after the death of the owner. A stretch IRA is not a special type of IRA under the Internal Revenue Code. Rather, it's a traditional or Roth IRA that gives a beneficiary or contingent beneficiary the option to take distributions from an inherited IRA over the beneficiary's life expectancy. There's nothing magic about this "stretch" capability; any IRA provider can include it.
But it can be quite a vehicle, one that can transport users in comfort and style, and it's available for your use if you follow the rules.
There's nothing magic about the "stretch" IRA, but it can be quite a vehicle -- one that can transport users in comfort and style if they follow the rules.
Why Is stretching an IRA so valuable?
Earnings in an IRA grow tax deferred. Over time, this tax-deferred growth can help a person accumulate significant funds in an IRA. For someone fortunate enough to have the funds to be self-supported in retirement without the need to tap into an IRA, continuing this tax-deferred growth for as long as possible may be a priority. These folks may want for their heirs to benefit from this tax deferral as well.
For example, let's say Phred, 62, has $400,000 in an IRA. Having recently retired, Phred has a pension from his former company paying $40,000 per year and other funds (outside the IRA) providing an additional $15,000 per year in income. Phred's annual living expenses are exactly $55,000 per year. With those circumstances, there is no need to withdraw funds from his IRA until he is required to do so (at age 70.5). Phred has named his wife Ethyl, 60, as the beneficiary. They have agreed that, should Phred pass away, Ethyl also would not take distributions from the IRA until required (or necessary), with the intention of leaving the balance of the IRA to their grandchildren. Phred dies at age 70. At this point, the IRA has grown to $687,000 (7% per year). Ethyl rolls over the IRA into a new IRA in her name, and does not take a distribution until she turns 70.5. The IRA has grown to more than $813,000.
Let's assume Ethyl passes away at 72, having taken two minimum distributions from her account, and the account is now worth over $868,000. She and Phred had three grandchildren whom Ethyl named as beneficiaries: Chip, 30, Robbie, 20, and Ernie, 10. (They had chosen to disinherit their oldest grandson Mike, since he wasn't around any more after the first season.) Since Ethyl had wisely specifically designated the three boys as beneficiaries, each can draw out the Required Minimum Distributions. For Chip, this means that his first distribution would have to be at least $5,431, for Robbie, $4,595, and Ernie, $3,976. Of course the three boys set up their own separate accounts to roll over their inheritances, as the law requires. Had they not set up these accounts, all three would have to take distribution of the amount of the oldest beneficiary, Chip. This would mean Robbie and Ernie would be unnecessarily taking additional (taxable) distributions from the inheritance.
Another way to accomplish the same thing would be to set up a trust as the beneficiary of Ethyl's IRA, naming the grandsons as specific beneficiaries of separate trust shares. In this fashion, each would still be able to take distributions over their own lifetimes.
Bear in mind, these beneficiaries are
required
to begin taking distributions in the year after the year of the owner's death. The only way to defer taking distributions from an inherited IRA is if the beneficiary is the spouse. Any other person or trust (who is not a spouse) must begin taking distributions upon inheriting the IRA, per their own life, using the single life table from the IRS.
In a nutshell, that's the stretch IRA. It can be pretty complicated, depending upon your wishes, but in most cases it's not too difficult to work out a proper plan. For information, see this
, which has additional examples.
>To submit a news tip, email:
.
RELATED STORIES:
>>In Your 50s? Talk About Your Plans
>>In Your 40s? Avoid the IRA 'Double Tax'
>>The Nondeductible IRA Is a Bad Idea
Follow TheStreet.com on
and become a fan on
This commentary comes from an independent investor or market observer as part of TheStreet guest contributor program. The views expressed are those of the author and do not necessarily represent the views of TheStreet or its management.