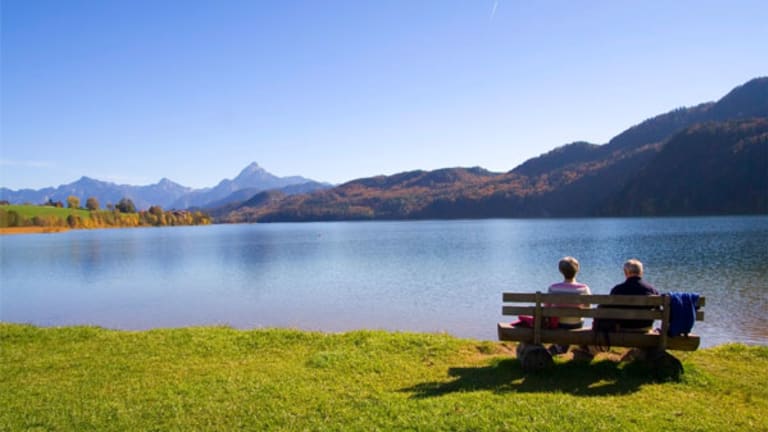 Start an IRA for Valentine's Day
Opening an IRA in your sweetheart's name today may be cause for a champagne celebration come retirement.
Valentine's Day is Thursday and for most retailers that means thinking of new and expensive ways to say 'I love you.' Romanceher.com sells roses covered in 24 karat gold for $99 each, putting a dozen at about $1,200. They look great in Louis Vuitton's Valentine inspired handbag, the Salina GM, which goes for about $3,000. And why not tuck in $23 million deed for a Phuket private island in Thailand, just for good measure.
Many romantics would love to shower their loved one with such lavish gifts, but on February 14 most twosomes will go the traditional and 'affordable' route: dinner and a movie. The Valentine's Day pre-fix dinner at Fresco in Midtown Manhattan is $85 per person. Throw in a bottle of champagne and two tickets to the romantic comedy 'Fool's Gold' and your night out will cost about $300. As romantic as those plans sound there may be a more long-lasting gift that will really show you care.
Why not stay in for a cozy home-cooked meal and movie rental and put that $300 into an investment? Opening an IRA in your sweetheart's name today may be cause for a champagne celebration come retirement. According to Jim Holtzman, an advisor and shareholder at Legends Financial Advisors, in 25 years the $300 dollars invested into an IRA today will become $2,054. At the same rate, $300 dollars invested into an IRA each Valentine's Day for the next 25 years will compound to $21,932. Think of all the romantic dinners that cash could buy.
Starting to save early is one of the smartest moves for any couple says Burt Hutchinson, a partner at Fischer and Hutchinson Wealth Advisors. "The earlier you start saving, the earlier the compounding starts working. It gives you more time for your money to make more money for you." Jay Berger, a certified financial planner with Independent Wealth Management, L.L.C. says investing in your 20s makes a big difference when you retire. According to Berger, someone who invests $2,000 dollars when they are 21, 22, 23, 24 and 25 years of age and then stops investing will have compounded $552,625 when they are 64 years old. However, someone who invests $2,000 when they are 35 years old and continues to invest $2,000 each year until they turn 64 will have compounded just $361,887. The benefit to starting early in this case is close to 35 percent.
Opening an IRA is a relatively easy, at least easier than buying an island. Banks, savings and loan associations, or federally insured credit unions all offer IRA accounts. Other trustees or custodians that can be used to open an IRA are IRS approved financial institutions such as mutual funds, stock brokerage firms, or United States-based insurance companies.
And while some fund families require an initial contribution of $2,000 or more to open an IRA, Berger says there are several good options available that have much lower initial requirements. He recommends three funds for those looking to start with a low initial investment, including the American Funds Target Date Retirement Fund 2050 Class A, which is a combination of 16 funds from their mutual fund family. That fund has the low initial requirement of $250. The American Funds Capital Income Builder Class A is a globally diversified "balanced fund" and also has an initial requirement of $250. Berger also recommends the Fidelity Freedom 2040 which combines 22 funds from its mutual fund family. It only requires an initial investment of $200 but does require the investor to also sign up for an investment savings plan of $200 per month.