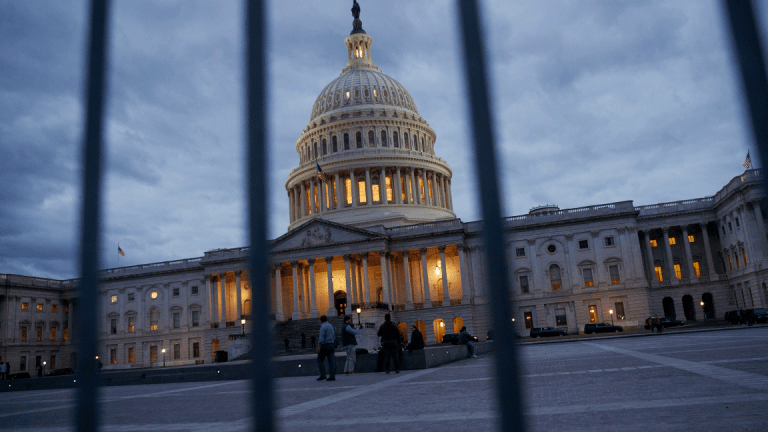 Social Security Headed Toward Insolvency in 2035
Trustees for Social Security and Medicare issue annual report, but it's not much better than in prior years.
The Trustees of the Social Security Monday released its annual report on the current and projected financial status of Old-Age and Survivors Insurance (OASI) and Disability Insurance (DI) trust funds -- and the news is slightly better than in years past.
But only slightly.
The combined OASI funds reserves are projected to become depleted in 2035, one year later than projected last year, with 80% of scheduled benefits payable at that time. Thus, your benefit would be $800 if your scheduled benefit was $1,000 in 2035.
And the Disability Insurance (DI) trust reserves are estimated to become depleted in 2052, extended 20 years from last year's estimate of 2032, with 91% of benefits still payable. Read.
While the combined trust funds insolvency date is one year later than last year, the retirement trust fund is still projected to be insolvent in 2034, same as last year, said Jason Fichtner, a senior lecturer and associate director of the Master of International Economics and Finance program at Johns Hopkins School of Advanced International Studies.
Regrettably, Fichtner said, the lack of change in the retirement (OASI) trust fund insolvency date will likely continue to lull some into a false sense of security that the program's finances are stable, or that we have plenty of time to fix Social Security's finances.
"But the truth is that Social Security is simply advancing down the path toward trust fund insolvency," he said. "This complacency creates a false sense that the financial problems facing Social Security are neither serious nor urgent. Social Security faces severe financial challenges that policy makers must soon address if we are to ensure the program remains viable for the most vulnerable in our society."
Among other things, Fichtner noted that Social Security faces a nearly $15 trillion funding shortfall and will face insolvency in only 16 years. "To put that in perspective, that's when today's 51-year-olds reach the normal retirement age of 67 and when today's 62-year-olds turn 78," he said. "At that point, if Social Security's finances are not fixed, there will be a 20% across-the-board cut for all retirees who rely on Social Security."
Fichtner was even more concerned that the "improvement" in the DI trust fund depletion date, now 2052, will divert any attention away from improving and reforming this important program.
The Trustees noted the change in the depletion date for DI trust fund is "largely due to continuing favorable experience for DI applications and benefit awards. Disability applications have been declining steadily since 2010, and the total number of disabled-worker beneficiaries in current payment status has been falling since 2014."
"In short, a continued strong economy and low unemployment have significantly improved the DI program's finances," said Fichtner. "But the improvement could be very short lived once the next recession hits. Now is a good time to improve and make changes to the DI program along the lines suggested in the Bipartisan Policy Center report."
Read Improve the SSDI Program and Address the Impending Trust Fund Depletion.
Medicare Will Be Insolvent in 7 Years
Also on Monday, the Medicare Board of Trustees also released its annual report for Medicare's two separate trust funds -- the Hospital Insurance (HI) trust fund, which funds Medicare Part A, and the Supplementary Medical Insurance (SMI) trust fund, which funds Medicare Part B and D.
The report found that the HI trust fund will be able to pay full benefits until 2026, the same as last year's report.
The Medicare Program is the second-largest social insurance program in the U.S., with 59.9 million beneficiaries and total expenditures of $741 billion in 2018.
From the Social Security and Medicare Trustees
The trustees of the Social Security and Medicare trust funds issued a joint statement noting that "both Social Security and Medicare face long-term financing shortfalls under currently scheduled benefits and financing."
The trustees further noted that lawmakers have a broad continuum of policy options that would close or reduce the long-term financing shortfall of both programs and recommended that lawmakers take action sooner rather than later to address these shortfalls, so that a broader range of solutions can be considered and more time will be available to phase in changes while giving the public adequate time to prepare.
"Earlier action will also help elected officials minimize adverse impacts on vulnerable populations, including lower-income workers and people already dependent on program benefits," the trustees noted.
Policy Options: Cut Benefits, Raise Revenue, a Mix of Both
According to The Social Security Fix-It Book, which was published by the Center for Retirement Research (CRR) at Boston College, some of policy options include cutting benefits, raising revenue or a mix of both.
Some of the ways benefits could be cut according to the CRR include:
Cut benefits across-the-board today
Raise the Full Retirement Age
Freeze the purchasing power of benefits
Cut benefits for higher earners
Change the cost-of-living adjustment
Do nothing (but cut benefits in 2035)
Some of the ways revenues could be raised according to the CRR include:
Increase the payroll tax today
Raise the earnings cap
Tax health insurance
Transfer start-up costs to general revenues
Raise the return on assets
Do nothing (but raise taxes in 2033),
Social Security's Chief Actuary Steve Goss will discuss the 2019 Trustees Report on this Facebook Events Page on Tuesday, April 30, at 7 p.m. Eastern. You can register for the event starting on Wednesday, April 24.