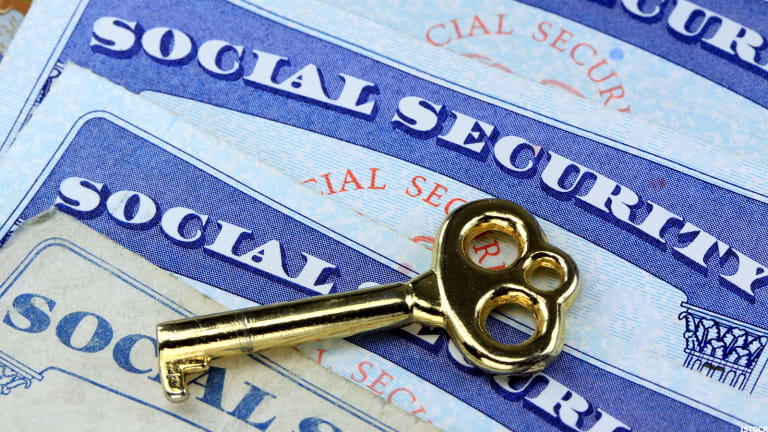 Social Security Fears? It's the Solvency Issue, Stupid
80 years later, Social Security is still a good idea—it just needs a little polish
NEW YORK (MainStreet) -- Social Security is still a pillar of the American worker's perceived financial future, no matter the age of that worker, and living independently is the ultimate life goal that Franklin Roosevelt's brainchild will dutifully fund. So goes the AARP's "Social Security 80th Anniversary Survey Report," whose authors breathlessly outline the octogenarian program's value and popularity despite accusations by some presidential contenders that it represents worthless IOUs.
But, there's a lot to believe in, according to Max Richtman, CEO of the National Committee to Preserve Social Security and Medicare, a senior citizen advocacy organization founded in 1982 by none other than James Roosevelt, Franklin and Eleanor's oldest son.
"There are some really loaded words politicians use such as 'broke' and 'bankrupt,'" says Richtman, "and the only way it could be broke is if nobody contributed to it, which is just not the case. There is a long-term solvency issue. In 20 years, with no change, only 80% of benefits will be paid after 2033. We don't want that to happen, but it is not a broke program."
Iconic as is, Social Security is a much more varied program than the average American worker realizes, he says. And, if long term solvency is one challenge, a close second is the challenge of raising short-term awareness.
"Most people think of Social Security as for old people—and true, it is the main source of income for retirees," Richtman says. "But, it's really insurance for families. FICA stands for Federal Insurance Contributions Act—insurance for widows and disabled Americans, as well as children, of which three and half million get by with Social Security."
The benefits offered by Social Security also require a basic level of awareness. There are all sorts of things that can affect benefits: divorce, taxes on your post-retirement income or participation in the Windfall Elimination Provision (if you're a teacher or government employee).
But, everything cascades down from the solvency question, which determines the payout picture for American workers who, on average, can probably expect something around $2,800 a month ($33,600 a year) once he reaches full retirement age—or about three-fifths of the median household income, currently hovering just above $51,000 a year.
If you want to see for yourself, socialsecurity.gov will give you an updated statement about how much you've paid into the program and the kinds of benefits you're eligible for, such as disability. It will also give you, emblazoned across the top of the report, the vital information you really want: "your payment would be about X." The catch happens further down where it says, "at your current earnings rate, you would be eligible for X" at full retirement age (that's 66 for those born before 1954, 67 for those born after 1960, and a sliding scale for those born between 1955 and 1959).
We can all expect to earn as much, if not more, as we're making now, right? Wrong. Our earnings rate is a variable one, and one's employability and value shifts and changes over time.
The other variable is the number of different jobs you'll hold over the course of your life. Some analysts have refuted the claim that Millennials are more itinerant than other generations, changing jobs willy-nilly and going where the wind blows. Looking across generations, American workers tend to settle down as they mature— staying with one job longer and therefore holding fewer jobs in their 50s than in their 20s. It's an arc that tends to gently slope downward—depositing you, hopefully, on a Perillo tour. It's also an arc with a twist that Social Security is not designed to address.
"People's spending is not static in retirement—you want to travel a lot, for instance, and you will probably spend more than you did when you were working," says David Weliver, an observer of trends for young investors who launched moneyunder30.com in 2006. "There's that old assumption that you need 80% of your living expenses when you retire, but, that's flawed."
Weliver also points out that, for Millennials and even young Generation X-ers, retirement—for which 80% of American adults will use their Social Security benefits as a major source of income, according to the AARP report—is an archaic concept.
"Retirement, or as I think is more accurate, the promise of financial independence, is about the flexibility to work less and it's about options," he says. "It comes back to the desire to do meaningful work like teaching, writing or some situation where they feel as though they are contributing to a greater good."
It's a coda to Social Security's intentions, as we acknowledge the 80th anniversary of a program that is peerless in representing that greater good. In that way, Roosevelt may have been the Ur-Millennial.