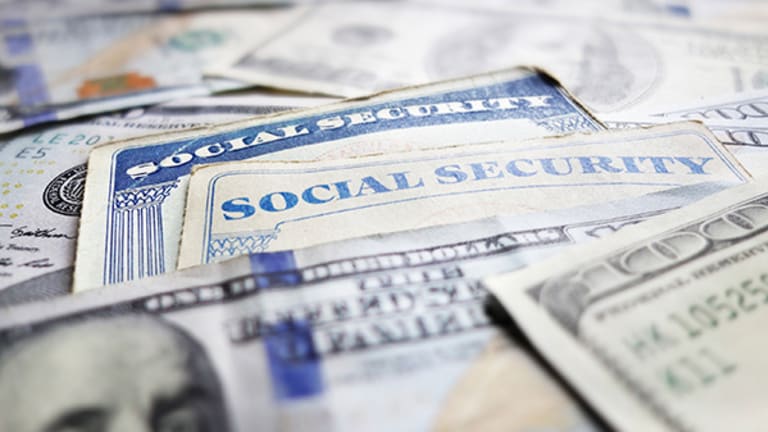 Social Security Announces a Benefit Increase for 2017
More than 65 million Social Security and Supplemental Security Income, or SSI, beneficiaries will see their monthly checks rise.
Editors' pick: Originally published Oct. 18.
More than 65 million Social Security and Supplemental Security Income, or SSI, beneficiaries will see their monthly checks rise 0.3%, or $5 to $1,360 from $1,355, the Social Security Administration announced today.
The 0.3% cost-of-living adjustment will begin with benefits payable to more than 60 million Social Security beneficiaries in January 2017. Increased payments to more than 8 million SSI beneficiaries will begin on December 30, 2016.
Net-net, however, beneficiaries will likely send that $5 COLA back to Medicare to pay for whatever increase there will be Medicare Part B premiums for 2017. Medicare changes for 2017, when announced, will be available at www.Medicare.gov. For some beneficiaries, their Social Security increase may be partially or completely offset by increases in Medicare premiums, the SSA said.
"Seniors probably won't notice much of an increase because their Medicare Part B premiums will likely increase by a similar amount," said Lita Epstein, author of TheComplete Idiot's Guide to Social Security and Medicare. "Those new to Medicare in 2017 will probably pay a higher Part B premium because they do not receive the same protections from increases as those already on Social Security."
What's even worse, Social Security beneficiaries should start getting used to no increases in their benefits for years to come. "Based on the huge increases in Medicare costs, current Social Security recipients will likely go several years without seeing an increase in Social Security benefits net of Medicare premiums," said William Reichenstein, a professor at Baylor University and a principal with Social Security Solutions.
Good news/bad news
Experts, meanwhile, described SSA's 2017 COLA announcement as positive and negative.
"The good news is that there is going to be a cost of living increase for Social Security recipients in 2017, after no increase in 2016," said Jason Fichtner, a senior research fellow at the Mercatus Center at George Mason University. "The other good news is that a small COLA is an indicator of an economy in which prices aren't increasing, which means purchasing power for seniors stays relatively the same. In general, the prices for goods and services haven't gone up that much... that's good news too."
Another bit of good news. Some inflation protection is better than nothing.
"Even though this year's amount is low, I think that the automatic annual COLA is a vitally important part of the Social Security program," said Kurt Czarnowski, a principal with Czarnowski Consulting. "Because life expectancy is increasing, and people are living so much longer in retirement, it is important that retirees have some measure of inflation protection built into their annual income in order to protect the purchasing power of the retirement income that they have earned."
The bad news: Not including the years in which there was no COLA (2015, 2010 and 2009), it's the smallest COLA increase in history. COLAs have averaged about 2% since 2005, and 3.8% since 1975, the year of the first COLA. See Cost-Of-Living Adjustment (COLA).
Standard of living to stay constant
Fichtner also said Social Security beneficiaries will not necessarily suffer a decline in their standard of living given the low COLA. "Inflation is low, so seniors purchasing power should remain relatively constant," he said.
Others share this point of view. "I know that many worry when there's only a modest -- or last year, zero -- cost-of-living adjustment to Social Security, but it's important to remember that this also means inflation is modest," said Michael Kitces, author of the Nerd's Eye View blog. "We tend to focus on the few things that are expensive, and forget that just a few years ago gas was $4.00 a gallon at the pump -- and now it's barely over $2.00 a gallon in many areas -- and food costs are decreasing in many areas as well. There was only a small adjustment in the Social Security COLA because there was only a small change in the cost of goods. This doesn't mean retirees are going backwards."
It's also important to put expenses in retirement in perspective. For instance, Kitces said, there's growing evidence that retiree spending actually declines over time - simply because our lifestyles slow down as we age." "That means even a 0.3% increase may be more than some retirees end out needing to maintain their lifestyle in 2017," he said. Read Estimating Changes In Retirement Expenditures And The Retirement Spending Smile.
Standard of living to decline
To be fair, some experts says Social Security beneficiaries will suffer a decline in their standard of living. They note that inflation is rising faster (1.5% for the year ended September) than the COLA (0.3%).
The Labor Department today said the cost of goods and services, as measured by the Consumer Price Index for All Urban Consumers (CPI-U), had risen 1.5% for the 12 months ending September, its largest 12-month increase since October 2014. The CPI index for all items less food and energy rose 2.2% for the 12 months ending September. The food index declined 0.3% over the span, and the energy index fell 2.9%.
"I don't know what the actual increase in the cost of health care and food will be for 2017, but I doubt 0.3% benefit increase will cover the actual increase in living expenses for seniors," said Lita Epstein, author of TheComplete Idiot's Guide to Social Security and Medicare. "There should be a COLA for Social Security that is adjusted based on the things seniors to buy: food, drugs and other health care expenses."
Others agree. "(The COLA) seems very small compared to price increases I've been witnessing," said Laurence Kotlikoff, a professor at Boston University, president of Economic Security Planning, and co-author of Get What's Yours. "My best gauge is the price of an ice cream cone. Sure went up far more than 0.3%.
And Jim Blankenship, author of A Social Security Owner's Manual, said the COLA - given the rising cost of medical care alone - "is completely insignificant to recipients." Medical-care services have risen 4.9% over the past year, according to the Labor Department. Health-care expenses represent anywhere from 10% to 15% of retiree expenditures.
Fichtner agreed that health care costs are rising, and that increase could dwarf the small COLA they are receiving from Social Security. "In that case, seniors should compare their Medicare options and ensure that they plan they have meets their needs and is the most cost-efficient plan," he said, noting that Medicare suggest six ways to lower your prescription drug costs.
Ways to increase income, reduce expenses in retirement
The problem that many individuals find themselves in is that there are only three levers that can be moved in retirement relative to making adjustments to the loss of income, said David Cechanowicz, a senior financial planner with REDW Stanley Financial Advisors.
"Those are: increase income, reduce expenses and/or increase risk so as to achieve higher rates of return," said Cechanowicz. "Unfortunately for most who rely on Social Security income for their retirement income, increasing risk won't work because they do not have substantial retirement accounts."
To increase income, experts said seniors should consider working longer or working part-time, if able. "The only good news for most people who are facing this difficult circumstance is that the economy is not in the depth of a recession and there may be opportunities for work in the national economy," said Cechanowicz. "Unfortunately that's not great news for people who are at an age when they may not have the ability to enter the work force again."
To be sure, many do not like the idea of returning to work or working longer once in retirement, but Czarnowski suggested that working after retirement can potentially increase one's Social Security benefits. "Retirement benefits are always calculated by averaging a person's highest 35 years of work under Social Security," he said. "If they are forced back into the workforce and their annual earnings are higher than the lowest of the 35 years that SSA had been using to figure their benefit amount, then they will see a benefit increase... for folks who are physically able to do so, work after retirement will never reduce their benefit amount; it can only possibly help increase it."
Rejiggering their investment portfolio to include more dividend-paying stocks, is another option.
For his part, Joseph Stenken, an advanced markets product consultant with Ameritas and author of 2016 Social Security & Medicare Facts, said retirees might also consider executing a reverse mortgage or tapping IRAs and 401(k) plans as ways to boost income.
And Mike Piper, author of the Oblivious Investor blog and Social Security Made Simple, said seniors might consider annuitizing part of their portfolio via a single premium immediate annuity. "Such annuities have some very real drawbacks -- no liquidity, no flexibility, the money is gone when you die, for example -- but they do provide a higher level of income than you can safely take from a typical stock/bond portfolio," he said.
Others, meanwhile, suggest exercising caution when deciding to harvest income from IRA and brokerage accounts, or to tap savings or even home equity. "It can have a significant impact on your tax bill as the interactions between different types of incomes with Social Security can create tax rates over 55%, even for those who are otherwise in a 15% tax bracket," said Joe Elsasser, president of Covisum.
As for cutting costs, Blankenship said it's the same old song. "Review expenses to determine what has the higher priority," he said. "Certain expense items - the power bill, housing costs, and medical expenses - are requirements, while other expenses - cable TV, dining out, and hobbies - may be varied and possibly reduced."
With respect to cutting medical expenses, Amy Foster of The Foster Law Firm, said a Medicare Supplement Insurance (Medigap) policy can always help with medical expenses. "It makes sense to talk to a broker about what plan works best for you," she said.
Finding ways to cut costs associated with expensive prescriptions might also be necessary. Foster said the website www.needymeds.org can be helpful for expensive prescriptions. And if seniors are having trouble paying for a prescription, it is worth seeing what promotions the drug company offers for the prescription. Foster also said talking to your doctor is also helpful because they often have samples or can prescribe something else, Foster said.
Foster said many areas offer discounted energy and other utilities for seniors if they are having a hard time. Visit her website for more resources.
Piper also said investors might consider -- if they haven't already -- using low-cost investments. "There has been a tremendous amount of data over the last several decades showing that low-cost mutual funds tend to outperform high-cost mutual funds," he said. "And in a situation such as we have right now with bond yields as low as they are, giving up 0.25% or 0.5% of return to unnecessary expenses is not trivial."
For his part, Stenken suggested that seniors could reduce housing expenses by downsizing to a smaller home. Epstein, meanwhile, expressed hope that "seniors would not decide to stop taking drugs they need to be able to afford food."
What's more, experts said retirees should get used to this annual cost-review and cost-cutting exercise. "It's not the way you want to spend your retirement time, but unfortunately it's a reality of life," he said. "This is especially true of folks whose primary retirement income is Social Security benefits."
Need for complete retirement plan
Fichtner said the low COLA is a reminder of the importance of when someone decides to claim Social Security retirement benefits in the first place. "For someone whose full retirement age is 66, waiting to claim benefits until age 70 results in a monthly benefit check that is 32% more," he said. "Conversely, claiming at age 62 results in a benefit check that is 25% less."
And so, he said, the biggest way to increase your monthly Social Security benefit is to delay claiming. "Some people need their Social Security benefit at 62 - they just can't work any longer," Fichtner said. "But for those that can work longer, or don't need their Social Security income right away, delaying claiming is one of the smartest financial retirement decisions a person can make."
For his part, Elsasser said the COLA amount can be a red herring for those who are in the process of making a decision to elect or not elect. "Don't let it distract you from the 5% to 8% per year increases that are built into Social Security formulas for delaying benefits," he said. "Low COLAs highlight the tremendous value in delaying benefits if you have other assets or the ability to continue working."
In 2015, 33.1% of men and 38.9% of women that turned 62 claimed Social Security. See Annual Statistical Supplement, 2016 and Old-Age, Survivors, and Disability Insurance.
Read When to Start Receiving Retirement Benefits.
Others also said Social Security's low COLA highlights the need for a comprehensive and complete retirement plan. "Retirees need a full 'retirement-income plan' or roadmap to help them through 25-30+ years of being 'unemployed,'" said Mark Orr, author of Social Security Income Planning.
And still others said the low COLA highlights the need to not only work longer, but save more. "One lesson that this issue speaks to is the fact that the boomers who are about to enter retirement may need to work longer and definitely need to save more," said Cechanowicz. "Unlike the 'silent generation' born between 1925 and 1942, most boomers do not have pension plans that supplement Social Security income."
Not held harmless should brace for higher Medicare Part B premiums
The 0.3% COLA is likely to trigger - as it did last year - the hold harmless provisions on Medicare Part B premiums, particularly since we still need to work off the "backlog' of last year's hold harmless provision, said Kitces.
"For many Social Security beneficiaries, the real question isn't where their Social Security benefits themselves are going to end up, but where their Medicare premiums will finish after the hold harmless calculations are done," said Kitces.
Read How The Medicare "Hold Harmless" Rules May Spike Part B Premiums By 52% In 2016.
According to Reichenstein, the average worker will see an increase in gross Social Security benefits of $5. However, the increase in Medicare Part B premiums for most people receiving Social Security benefits would increase more than $5 if not for a hold harmless provision. This hold harmless provision prohibits the net amount of Social Security benefits from rising due to increases in Medicare premiums.
So who is not going to see an increase? According to Reichenstein, it includes:
Those who are receiving Social Security benefits in November and December of 2016, and
Have Medicare premiums for December deducted from their Social Security checks, and
Do not exceed the income threshold.
Reichenstein said the income threshold is Modified Adjusted Gross Income above $85,000 for singles or $170,000 for married couples filing jointly. MAGI is defined as adjusted gross income (top line of page 2 of 1040) plus tax-exempt interest.
So who will see an increase in Medicare premiums that will not be shielded by the hold harmless provision? According to Reichenstein, it includes
People applying for Medicare for the first time;
Medicare beneficiaries who do not have premiums withheld from their Social Security checks-this includes those over age 65 who are on Medicare but are not receiving Social Security benefits; and
those who exceed the first level of income thresholds for Medicare payments - currently $170,000 for a couple and $85,000 for a single.
Almost a third of Medicare's 56 million beneficiaries could see their premiums jump 22% next year, to an estimated $149 per month, according to the Medicare Trustees Report. At present, 70% of Medicare beneficiaries - the group held harmless last year -- pay $104.90 per month. Another 30% pay 121.80 per month or higher depending on their income.
Time to change the COLA index
Some experts are questioning whether the SSA should change the index it uses to calculate COLAs. "I think that it is also appropriate to question whether or not the measure that is currently being used to determine the amount of the annual COLA, the CPI-W, is the best one to use," said Czarnowski.
He noted that when the automatic COLA legislation was originally passed back in 1972, the CPI-W (then just called the CPI) was the only measure of inflation being produced by the federal Bureau of Labor Statistics (BLS). "Since that time, additional measures have been developed, e.g. the CPI for Elderly, and it is worth discussing which one of these other measures best captures the inflationary pressures that people face in retirement," he said. "If there is going to be an automatic COLA given - and I firmly believe that there should be - then we should base it on the best measure possible, not just on the only one that was around 44 years ago."
Increase in earnings subject to Social Security tax
There will be some other adjustments that take effect in January based on the increase in average wages, the SSA said in a release. The maximum amount of earnings subject to the Social Security tax (taxable maximum) will increase to $127,200 from $118,500, a 7.3% uptick. Of the estimated 173 million workers who will pay Social Security taxes in 2017, SSA said about 12 million will pay more because of the increase in the taxable maximum.
According to Epstein, this is good news for the health of Social Security. "This should help to strengthen the Social Security Trust fund," she said.
Others agree, but note the 7.3% increase is much greater than the COLA. "The biggest surprise to me the increase in the wage amount subject to FICA," said Orr. "That is a huge jump. But probably needed to help save Social Security."
And still others have an explanation for the 7.3% increase. According to Michael O'Connor, a Social Security expert with Economic Security Planning Inc., the 0.3% COLA means that the CPI-W increased by 0.8% from 2015 to 2016 since it had to overcome deflation between 2014 and 2015. 
Secondly, O'Connor said the increase in the covered earnings limit is based on two years of increases in the National Average Wage Index (NAWI). "Since the 2016 limit was frozen at the 2015 level because of the zero COLA even though the 2014 NAWI increased by 3.5%. but for this, the 2016 limit would have been $122,700," said O'Connor. "Hence, the annual increase in the 2017 covered limit is 3.7%, not 7.3%."
The information on the index program amounts used to determine the taxable maximum is located here.
Working in retirement
Epstein also noted that those who retired early and work part time can earn a bit more before money is taken out of the Social Security benefit.
Under full retirement age allowable earnings jump to $16,920 in 2017 from $15,720 in 2016. After that one dollar in benefit will be withheld for every $2 in earnings above the limit. In the year one reaches full retirement age, allowable earnings jump from $41,880 in 2016 to $44,880 in 2017. After than one dollar in benefit will be withheld for every $3 earned above the limit.
Backgrounder on COLA
By way of background, the Social Security Act ties the annual COLA to the increase in the Consumer Price Index for Urban Wage Earners and Clerical Workers (CPI-W) as determined by the Department of Labor's Bureau of Labor Statistics.
A COLA effective for December of the current year is equal to the percentage increase (if any) in the average CPI-W for the third quarter of the current year over the average for the third quarter of the last year in which a COLA became effective, according to the SSA.
The Social Security Act provides for how the COLA is calculated. To read more, please visit here.