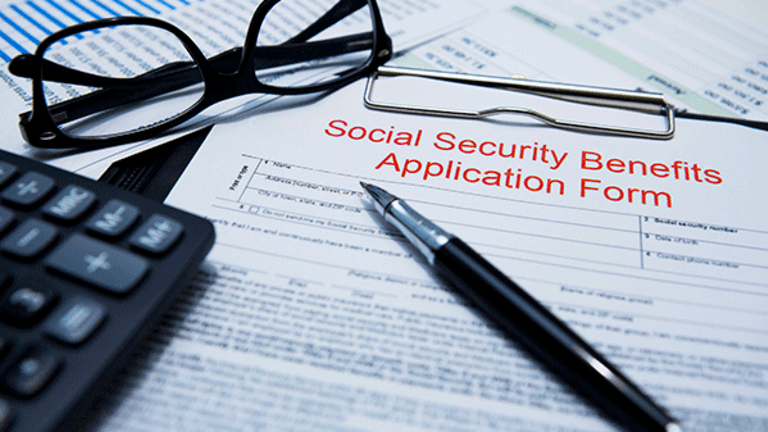 Maybe Americans Are Learning by Not Taking Social Security Too Soon
Americans are getting better with this whole retirement thing, as only 28% say they plan to take the benefit when eligible at 62.
Maybe Americans are getting better with this whole retirement thing.
A decade ago, nearly half — 45% — of pre-retirees said they were planning to start collecting Social Security immediately. However, today Americans seem to have wised up, with only 28% saying they plan to take the benefit when eligible at 62, according to the same Fidelity Investments Social Security IQ Survey.
However, one thing that hasn't changed is the need for better education around the basics of Social Security. Only 14% of those surveyed knew how much their expected Social Security payments would be, and nearly twice as many — 26% — had no clue.
"Social Security is one of the key components of a retirement plan and determining the optimal time to collect benefits will allow you to take full advantage of the program," said Benjamin Sullivan, a certified financial planner and portfolio manager with Palisades Hudson Financial Group in Austin. "The key decision is when to start drawing benefits. Unfortunately, there is no one-size-fits-all answer for when to begin Social Security benefits, because an individual's life expectancy, marital status, cash needs and plans to continue working can all affect the optimal choice of timing."
Waiting until full retirement age — which is between 65 and 67, depending on when a person was born — makes one eligible to receive full benefits, with benefit payments increasing up until age 70, the latest point it makes sense to begin drawing Social Security.
"In theory, regardless of which option you choose, you should expect to receive the same total Social Security benefits over your lifetime, but this calculation relies on average life expectancy figures," Sullivan said. "If you're in poorer than average health, you'd benefit from claiming earlier. If you're healthy and have a family history of longevity, deferring Social Security benefits until age 70 is likely your best option."
Ryan Monette with Savant Capital Management in Rockford, Ill. said it's not surprising the average American knows very little about Social Security benefits — which is partly due to the fact many years go by where Americans are working and paying their Social Security taxes but they are not receiving a benefit.
"So, it is very much 'out-of-sight, out-of-mind,'" he said.
Monette said the very least that each individual should know is the monthly dollar amount they are expected to receive at age 62, their full retirement age, and at age 70 — which can be found on the one's benefits statement.
"Also, individuals should know their full retirement age," he said. "This age is based on their date of birth. For anyone born in 1954 or prior, their full retirement age is 66. If you were born from 1955 to 1959 your full retirement age is gradually increased by two months for each year. Anyone born in 1960 or later has a full retirement age of 67."
Lastly, Monette said it is important for married couples to understand if they qualify for spousal benefits and what that dollar amount might be.
"Most married couples don't understand the financial impact a spousal benefit can have throughout retirement, so understanding the options and dollar amounts associated with when to claim spousal benefits is very important," he added.
The knowledge gap concerning Social Security usually stems from a sense of being overwhelmed, said Brannon Lambert with Canvasback Wealth Management in Raleigh, N.C.
"Most individuals approaching retirement think that Social Security is so complicated they don't even attempt to learn about it," said Lambert, adding many people also rely on friends or family for advice and getting misinformation.
Lambert said it's important to remember Social Security is not and should not be a stand-along decision made without regard to your overall retirement strategy.
"Taking an inventory of your retirement assets and resources is paramount to understand how to best fit Social Security into the picture," he said. "It is not a one size fits all decision where always delaying benefits or taking benefits early is the best solution. It truly is unique to each individual."
With real estate prices and health care rising, and with interest rates on an upward spike as the U.S. economy gathers significant strength in 2017, retirees - and near-retirees - may wonder just how far their household dollar may stretch in retirement, especially here in the U.S.
One antidote is to do what 400,000 retirement-minded Americans are doing and find a comfortable, affordable landing spot overseas.
After all, Florida and Arizona aren't the only places on earth with plenty of warm sunshine, palm trees, good food and friendly people - they just happen to be among the most expensive retirement destinations.
Change that dynamic, passport in hand, by opting for one of the global locales to add some international luster to your golden years - straight from the mouths of ex-pats who live there.
What's Hot
Alibaba, day two notes: After a monster run in its stock on the heels of a bullish investor day, Alibaba (BABA) - Get Free Report founder Jack Ma saw his net wealth rise $8.5 billion to $41.8 billion. He is Asia's richest man, according to the Bloomberg Billionaires Index.
Why not stay long this tech stock, momentum lives on: Chipmaker Nvidia (NVDA) - Get Free Report is the best-performing S&P 500 component this quarter. The stock is up a robust 54% in June as Wall Street has become even more bullish on the company's prospects.
Must watch digital TV: Apple (AAPL) - Get Free Report CEO Tim Cook will deliver the commencement address at the Massachusetts Institute of Technology on Friday. He has big shoes to fill after a well-received speech by Facebook FB founder Mark Zuckerberg at his alma mater Harvard.
ROBOTS: There really isn't any additional information needed on this one. Softbank Corp. (SFTBY) has struck a deal to pick up Alphabet's (GOOGL) - Get Free Report robot-maker Boston Dynamics. TheStreetshows you inside of five seconds what Boston Dynamics does -- it's really cool stuff.
Worried about how to pay for your golden years? Ken Fisher, founder of Fisher Investments, and TheStreet's Jim Cramer will tell you what you need to know in a June 21 webinar on the market trends that are shaping retirement planning today. Register here for the event, which starts at 11 a.m. ET.