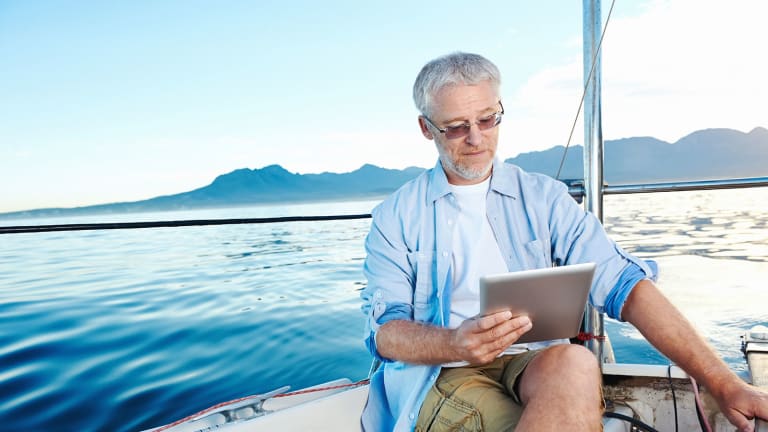 Should You Use Reddit for Retirement Advice?
What's the best use of Reddit's retirement subchannel? It's a good place to start your journey. But there are some cautions along the way.
Let me start by saying that although I'm old, I mostly get Snapchat and Instagram. I don't, however, get Reddit.
Some years ago, my then-teenage sons tried to show me how I might post my articles about retirement to one of Reddit's subchannels, retirement (https://www.Reddit.com/r/retirement/), just as I do on LinkedIn, Twitter, and Facebook.
Alas, for reasons I still don't understand, I'm unable to post my articles about retirement to that website, which claims to offer "financial advice to help you to retire with confidence." (It seems that others have to post what I've written to Reddit. Apparently, self-promotion is forbidden?)
What I did come to understand, however, is that there is a vast community of people out there who use and rely on Reddit for news, guidance and advice about money, as well as #GoT theories.
So, I got to thinking. What do us boomers need to know about Reddit's retirement and other related subchannels? What's the best way to go about using Reddit for retirement?
The best place to start (or so I thought) was with those experts whose names I recognized on Reddit, including Jim Blankenship, a principal of Blankenship Financial Planning, author of A Social Security Owner's Manual, and author of the financialducksinarow.com blog.
Blankenship (who is more boomer than millennial) seemed (to an outsider looking in, like me) to have a handle on this Reddit thing. His articles are plastered all over Reddit. So, I ask him: What gives? And what gives is this: "I don't use Reddit myself much, so I'm afraid I don't have any recommendations to provide. Sorry!"
OK, I think, maybe I ought to ask for advice from someone who was just elected to serve as the 2018 president-elect of the FPA NexGen community of the Financial Planning Association, which is the community serving the needs of this nation's youngest financial planners.
Autumn Campbell is a senior financial planning analyst with The Planning Center in New Orleans who, among other things, spent several years in education as an elementary teacher and high school counselor in Dallas.
Campbell, surely, must be among those who can help me (and my readers) decide whether and how best to use Reddit, if at all.
"Reddit certainly has a lot of information and useful commentary within it," she said. "For the do-it-yourselfers, this can be a great tool to get thoughts from various financial planning professionals and others on specific topics."
Indeed, the Reddit retirement readers were recently discussing stable value funds, Roth IRA recharacterization, and the best way to save for retirement.
One reader recently shared a worthwhile and personal story that will surely benefit others: "A while back I transferred some of my target date 401k funds to stable value," wrote self.retirement. "I felt the market was a little overheated and I wanted to lock in some profits while I opened another trading account within my 401k. I planned to trade these funds there. But now it turns out I cannot transfer my funds out of stable value directly to the new account unless I hold them in a non-competing investment for 90 days. The only non-competing investments are exactly the kind I wished to avoid with this money when I chose stable value. What the ..."
This kind of commentary, or sharing, as some might call it, will surely give others pause before they invest in a stable value fund.
But Is Reddit the Best Platform?
Still, it's a mixed bag. "Reddit's platform is an interesting concept but it's debatable to what extent it can be used for retirement planning," said Alexander Rupert, a certified financial planner and an associate portfolio manager with Laurel Tree Advisors. "This is because the Reddit articles are selected by people who aren't necessarily financial professionals, or at least that is my understanding."
For his part, Rupert likes the fact that there are articles available from many different sources, whereas other sites only have articles available that are self-published. "Being exposed to many different authors of several retirement topics, consumers can choose which article is best per topic and that topic will usually end up toward the top of the Reddit page," he noted.
The problem that many financial professionals are having with the voting concept, according to Rupert, is that sometimes the public doesn't always know what is the most valuable article.
"There is a divide in the communication between financial professionals and consumers," he said. "Professionals can choose an article that they believe will be the most beneficial to the consumer, but the consumer reads it and the article doesn't speak their language, while a consumer chooses an article they feel is most beneficial and the professional may believe it's too watered down."
Professional Advice for Free, but not Personalized
To be sure, as Campbell noted, you'll find financial advisers posting some detailed and accurate answers to questions. But, and there's always a "but" when it comes to online communities, be it Reddit or Bogleheads.org.
"I do wonder to what extent readers with dissimilar situations are taking the advice and molding it to their own, when they could be in a different tax filing status or bracket, or altogether eligible for a different set of retirement vehicles and opportunities," Campbell said.
Another possible downside: The format could be overwhelming to those who are less versed or less confidant in sifting through a variety of scenarios and responses and trying to apply it to their own situation, Campbell said. "For this reason, comprehensive CFP planners are able to gather all the needed information to be able to give back a customized set of options and priorities for the client to understand and decide how to move forward," she said.
Best and Highest Use of Reddit?
What's the best use of Reddit's retirement subchannel? It's a good place to start your journey, to ask questions that you might not know how -- or want -- to ask a financial planner, to gather different points of view, and to learn the lingo.
But you might not want to act on any guidance and advice you get there in the absence of some confirmation from a trained professional.
And you should also know that this subchannel isn't all that populated. There's just 1,200 or so members, so it's unlikely that you're going to get many responses or a rich and deep discussion.
"I believe Reddit can be a very useful starting point when the time comes to begin to do your research on retirement," said Rupert. "This is because you can see many articles that others believe are useful and you can get a feel for what you need to focus on for your own personal situation."
Alternatives to Reddit include Investopedia's Ask an Advisor and Nerdwallet, according to Rupert.
In general, however, Rupert said, "it's dangerous surfing the internet for financial advice, you can stumble on articles persuading you to believe the economy is about to crash that usually end with what you can buy to protect yourself."
Still, the world is changing. Financial planners are no longer the gate keepers of financial information. The internet has disintermediated them as it has lawyers, doctors and other specialists. And Reddit/retirement may just be one version of this brave new world.
"Our industry is changing," said Rupert. "We are no longer the gatekeeper of basic industry-specific information. You can Google how much money and all the rules to contributing to your IRA in 2017, and the like."
And that means the bar has been raised for financial planners. "The value financial professionals can provide consumers ongoing will be the manner in which they deliver information to a consumer that is understandable, executable and applicable to their custom financial situation," said Rupert.
For the record, Blankenship, in a follow-up email, said his blog posts are auto-posted to Reddit's retirement subchannel. "Sadly, I don't know much about the platform otherwise," he said.