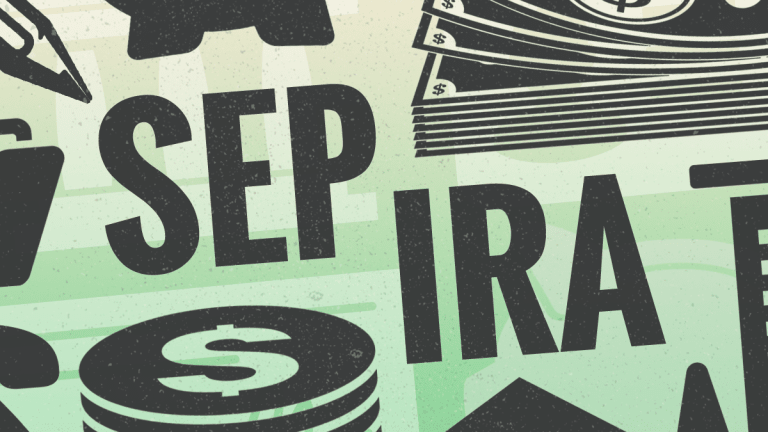 What Is a SEP IRA and How Much Can You Contribute?
The Simplified Employee Pension or SEP IRA offers an easy and flexible retirement plan solution for small-businesses owners, especially for those that are sole-proprietor.
The Simplified Employee Pension or SEP IRA offers an easy and flexible retirement plan solution for small-businesses owners, especially for those that are sole-proprietor.
The Simplified Employee Pension, or SEP IRA, is a retirement option for self-employed or small-business owners. It is easy to open and requires minimal paperwork compared to other types of business retirement plans.
What Is a SEP IRA?
A SEP IRA is a type of traditional IRA available to business owners and the self-employed. Contribution limits are higher than traditional or Roth IRA accounts. Accounts can be opened at a variety of custodians including Charles Schwab & Co. (SCHW) - Get Report , Fidelity, Vanguard, TD Ameritrade (AMTD) - Get Report and others. Investment options are generally the same as other types of IRAs and include vehicles such as mutual funds, ETFs and individual stocks and bonds.
SEP IRA Contribution Limits
Contributions to a SEP IRA cannot exceed the lesser of 25% of compensation or $56,000 for 2019 ($55,000 for 2018.) Compensation includes salaries and related income. For those set up as sole proprietors, the contribution limit is based on a percentage of their self-employment income. Based upon the way the calculation works, the actual percentage might be lower than 25%.
This compares with contribution limits for other types of small business retirement plans for 2019:
IRAs (both Roth and traditional) allow a maximum $6,000 contribution for 2019 with an additional $1,000 catch-up limit for those who are 50 and older at any point during the year.
Solo 401(k) plans allow employee contributions of up to $19,000 plus an extra $6,000 catch-up contribution for those who are age 50 or over at any point during the year. There is also an employer profit-sharing contribution of up to 25% of compensation. The limits on combined employee and employer contributions is $56,000 for 2019 with an additional $6,000 catch-up available to those 50 and over.
SIMPLE IRAs allow for a maximum contribution of up to $13,000 in 2019 with a $3,000 catch-up for those 50 and older.
Here is an example of how a SEP IRA contribution might work:
Joe is self-employed and his consulting business is set up as an LLC, but he's chosen to be taxed as an S-Corp. This is a common arrangement for many solo businesses.
The business' net income for the year is $120,000 before any SEP IRA contribution.
His salary included above is $125,000.
His maximum SEP IRA contribution is $31,250 based on 25% of his salary.
After the SEP contribution, his net business income is $88,750.
For our example let's assume that Joe is married and files jointly with his wife. If they are in the 24% marginal tax bracket, the $31,250 contribution could result in a tax savings of $7,500. This may vary a bit depending on their overall tax situation. Besides the tax savings in the current year, his contribution will grow tax-deferred until he withdraws it in retirement.
Please note that the percentage amount of your SEP IRA contribution can vary from year to year. For example, you could do 25% of compensation one year, 10% the next and so on. You can skip years as well, based on your needs and financial situation.
SEP IRA Eligibility
According to the IRS, an employee (or self-employed person) will be considered eligible for participation in a SEP IRA or a SARSEP* plan if they:
Are at least 21 years of age
Have worked for the employer for at least three of the last five years
Have received at least $600 in compensation during the year (for 2018 or 2019)
Employers may set less restrictive eligibility requirements but cannot set more restrictive requirements.
Employers can choose to exclude employees covered by a union collective bargaining agreement an non-resident employees with no U.S. wages or salaries.
(*A SARSEP is a salary deferral SEP plan. No new SARSEPs were allowed after 1997, but existing plans were grandfathered in.)
As a practical matter, the SEP IRA is generally a better option for those who are self-employed and either solo or who have very few employees. It can get expensive to include non-owner employees in a SEP IRA. All employees must receive the same percentage of salary contribution as the owner. If you want to give yourself a contribution equal to 25% of your compensation, you must provide the same percentage contribution to all eligible employees for that year. For businesses with employees, other small business retirement plans such as a small business 401(k) or a SIMPLE IRA might be better options.
SEP IRA vs. SIMPLE IRA
A SIMPLE IRA is a small-business retirement plan in which the employer is required to make a minimum contribution for each employee. In exchange the employer can offer their employees a retirement plan that entails minimal paperwork requirements. The SIMPLE IRA is available to businesses with 100 or fewer employees.
A few key points about SIMPLE IRA plans:
The employee contribution limit for 2019 is $13,000, with a $3,000 catch-up contribution available to those employees who are 50 or over. There are no employee contributions allowed with a SEP IRA.
Employer contributions are mandatory and can be made in one of two ways. A flat 2% of the employee's salary regardless of whether or not they contribute any of their salary to the plan. A 3% matching contribution. This can be reduced to 1% or 2% for up to two years of a rolling five-year period.
SIMPLE IRA employee and employer contributions are 100% vested from day one. However, if you leave the company within two years of your initial contribution you will be assessed a 25% penalty if you withdraw your money from the plan, including a rollover to an IRA. This penalty goes away if you are 59½ or older. No such penalty exists with a SEP IRA.
SIMPLE IRAs allow for employee salary deferrals on a pre-tax basis, SEP IRA contributions are made only by the employer.
Maximum contribution limits for a SIMPLE IRA are lower than for a SEP IRA.
Is a SEP IRA Tax Deductible?
Since contributions to a SEP IRA can only be made by the employer, the contributions are only deductible to the employer or business making the contributions.
In the case of a non-owner employee who is the recipient of these contributions, there is no immediate tax consequence. Like any non-Roth retirement account, the money in the account grows tax-deferred. Once the account owner withdraws the funds they are taxed as ordinary income. If the withdrawals occur prior to age 59½, a 10% penalty could apply unless the withdrawal is due to one of several exceptions such as the death of the account holder or disability.
Contributions made by the business, including those who are self-employed, are deductible to the business. In the case of a sole proprietor who files a Schedule C as part of their tax return, the contributions will reduce their net business income just like any other business expense. The Schedule C net business income then flows through to the individual's personal return as part of their overall personal income and is taxed accordingly.
For business entities like an S-Corp or an LLC, the treatment is the same. The contributions are treated as business expenses and flow through to the entity's bottom line. These entities also pass their net income through to the owner's personal returns where it is taxed at that level.
What Else You Should Know About SEP IRAs
Some other aspects of the SEP IRA that might help you decide as to whether it's the right plan for your situation include:
A SEP IRA plan can be opened and funded up to the date you file your tax return for the prior year, including extensions. As an example, for 2018 this would be October 15, 2019 for sole proprietors using a Schedule C and Sept. 15 for those whose business is set up as an S-Corp, LLC or other form that requires the filing of a business tax return.
If your business income varies, a SEP IRA might limit your ability to contribute enough for your retirement each year. Since the contribution is based on a percentage of your income, years with lower levels of compensation for you will result in a lower maximum contribution. For those who are solo with no employees in their business, a solo 401(k) might be a better option. Note a solo 401(k) can include a business partner(s) and a spouse involved in the business.
SEP IRAs can only be opened as a traditional IRA, there is no Roth SEP IRA available. Solo 401(k)s do offer a Roth option, this varies by custodian, however.
Unlike a 401(k), there are no loans available from a SEP IRA plan.
The SEP IRA offers an easy and flexible retirement plan solution for the small businesses, especially for those where the owner is the sole employee. Like any retirement plan solution, it is best to consult with your tax and financial adviser to determine if this is the right option for your situation.
Will You Have Enough Money to Retire?
Want to learn about retirement planning from some of the nation's top experts? Join TheStreet's Robert "Mr. Retirement" Powell live in New York on April 6 for our Retirement Strategies Symposium. For a limited time, tickets are available for $99 for this full-day event. Check out the agenda, learn about the speakers and sign up here.