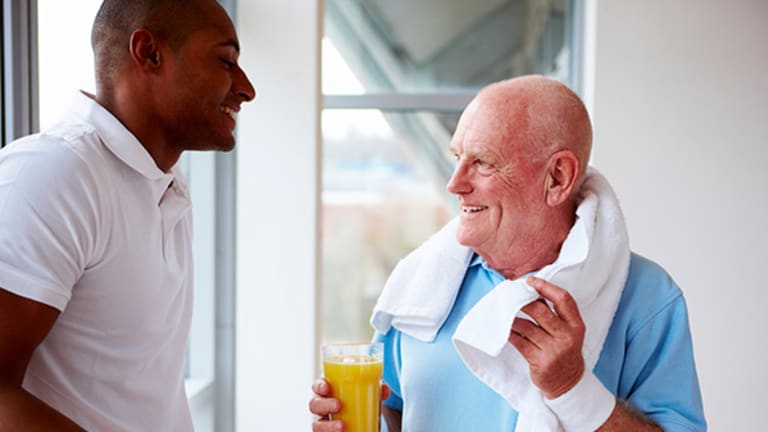 Senior Fitness Trends Are Eliminating the Myth of Sedentary Golden Years
A fitness-focused and active lifestyle is the new normal for retirees.
Editors' pick: Originally published Oct. 10.
Meet 65-year-old Dorothy Erlanger from Richmond, Va. When she was 62 she did an Ironman Triathlon - 12.4 mile swim, 112 mile bike ride, and a 26 mile marathon run. Lately she's taking it a little easier, doing International Triathlons consisting of a 10k run, a 1.5k swim and a 40K bike ride.
In Florida, 77-year-old Larry Draeger not long ago bowled a 300 - perfect - game. That's his seventh and, said Draeger, even though he is a lifelong bowler, he did not roll his first perfect game until he was 71.
In Connecticut, 71-year-old Harry Falber reported, "today I did a 410 pound leg press." Falber hits the gym regularly - "at least four times a week."
In Saddlebrooke Ranch, Ariz., 68-year-old Senior Olympian Don Williams said he is playing the best volleyball of his life and, incidentally, he did not take up the sport competitively until he was 50. He added: "I believe I can play at this level another 10 years."
Surprised by so much physical activity involving seniors? With good reason. A generation ago, many seniors were advised to take it easy, to not strain their hearts or lungs, and the sports that came into their lives were the sports they watched on TV. No more.
Today a new generation of seniors is determined to compete - often at very high levels - in demanding sports. Maybe they are not playing football or wrestling, but they are distance runners, swimmers, and - at least in Falber's case - they are lifting respectable amounts of iron.
Some are even new to their physical pursuits. Erlanger, for instance, said that she did not take up triathlons until she was over 50 - and had had a bout with cancer. "I saw an item in the paper about training for a mini triathlon for the 50+ crowd, and I decided to try it," she said. "I loved it. I did that triathlon and I was hooked."
Are they putting their lives at risk? Apparently not. Seniors interviewed by TheStreet said they had talked with their physicians about their fitness regimens and gotten green lights. That's because there's an increasing awareness that physical activity is good on multiple levels for seniors - who nowadays are living longer, healthier, more active lives than their parents' generation did.
Several seniors said their physicians monitored their cardiovascular state - often with a quarterly or twice-yearly EKG and with the counsel to self check blood pressure frequently, perhaps daily. But when there are no warning flags, the consensus seemed to be that physical activity is a way to stay younger.
Just maybe there isn't much of an upper age limit either. In Santa Cruz, Calif., 49 year-old certified strength and conditioning specialist Rocky Snyder said he serves more and more seniors. His oldest client, he said, is 93. He also regularly works with an 84-year-old veteran of the Boston Marathon who in fact competed in the past two.
Snyder added: "It's their own mental framework. It's how they envision themselves. Many are surprised they can do so much."
Karl Smith, director of fitness/wellness at Cortland Partners, a multi-family real estate developer, said in the company's senior focused properties there's increasing focus on fitness, especially classes that help seniors by providing the support of a peer group - other seniors in the same classes. "We're giving people an opportunity for camaraderie, also for building skills that allow for independence," he said.
That last bit is important. While for some seniors, winning a medal - or coming in best - is what drives them, others are more focused on building and keeping skills younger adults take for granted such as balance. Smith's point: the right classes can help seniors with their independent living skills. "People want to be able to function on their own."
At least some Medicare Supplement and Advantage plans also throw in free gym membership, through SilverSneakers and also Silver + Fit. Experts said that perk is proving popular with Medicare recipients.
"Getting old is a bitch," sighed Falber but he indicated he is determined to stay as active as he can, as long as he can. And in that commitment he is echoing the sentiments of literally millions of Baby Boomers.
This article is commentary by an independent contributor. At the time of publication, the author held 0 positions in the stocks mentioned.