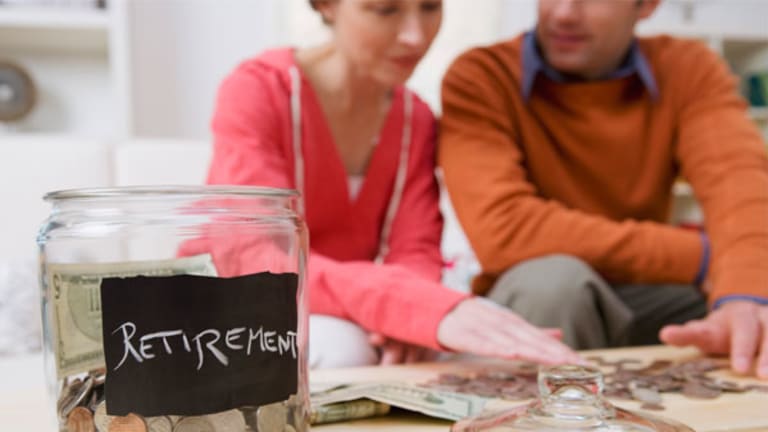 Publish date:
Schwab Announces All Index-Fund 401(k)s
A 401(k) platform just unveiled by Schwab eliminates actively managed funds and adds advice.
A 401(k) platform just unveiled by Schwab eliminates actively managed funds and adds advice.
BOSTON (TheStreet) -- Retirees might have another $115,000, on average, if they'll just let Schwab (SCHW) - Get Report work a little less hard for them.
That is, Schwab thinks retirees can benefit as it offers them less active management of funds but more advice.
On Tuesday, Schwab Retirement Plan Services -- a 401(k) provider to approximately 1.5 million workers saving through company retirement plans -- announced an index fund-focused 401(k) platform it says is "designed to lower costs, simplify investing and help workers better prepare for retirement."
It's cheaper to offer index funds than actively managed mutual funds in 401(k) plans, and Schwab says it has a way to let retirees take advantage of that.
Schwab Index Advantage offers an investment lineup that consists exclusively of index mutual funds -- no actively managed funds at all, so no fees every time one of those funds is actively managed.
Schwab is also developing a version of Schwab Index Advantage that will use only index-based exchange-traded funds.
"Fund operating expenses for index mutual funds and ETFs are typically lower than those associated with most actively managed mutual funds offered in 401(k) plans today," Steve Anderson, head of retirement plan services at Charles Schwab, said in an announcement. "We believe index funds can provide employees with a better opportunity to accumulate more savings for retirement. Through such low-cost investments, fund operating expenses could be cut significantly. For the average worker in a 401(k) plan, that can mean nearly $115,000 more at retirement."
The program also includes a professional, independent advisory service that all participants are automatically enrolled in (only about one in 10 enroll now) and "an interest-bearing, FDIC-insured savings feature through Schwab Bank."
GuidedChoice Asset Management
will provide the third-party advice and account management service. It now offers more than 5 million people advice in more than 75,000 retirement plans. Employees enrolled into the new managed account advisory service will get ongoing investment guidance based on a variety of factors including age, income, account balance and savings rate in their 401(k) plan.
"Other common 401(k) investment solutions, such as target date funds, mayconsider only an employee's age -- a simplistic, one-size-fits-all approach. Schwab Retirement Planner takes multiple factors into account, providing a more informed, personalized investment strategy for each employee using the funds their employer has selected for the plan," Anderson said.
Recent Schwab data show that employees who use independent professional advice services inside their 401(k) plan have tended to save twice as much, were better diversified and stuck to their long-term plan, even in the most volatile market environments.
"It's time to rethink the 401(k) plan and pay closer attention to workers who, now more than ever, are worried about their retirement savings, are often confused by their plan's complexity and may be missing out on the help they need to save and invest for retirement," Jim McCool, executive vice president and head of Institutional Services at Schwab, said in a statement. "In just 30 years, 401(k) plans have grown from zero to nearly $3 trillion in assets. And yet studies show that even as the 401(k) has become the primary savings tool for millions of Americans, nine out of 10 workers worry they won't have enough money for retirement. As an industry, we need to think differently now if we hope to have an impact on their future."
RELATED STORIES:
>>Resolutions For the Retirement Industry