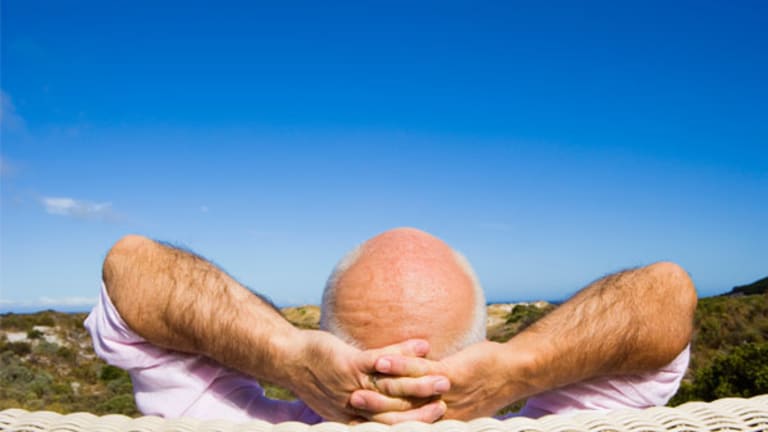 Retiring Boomers Can't Rely on Social Security
More aging Americans rely on Social Security for retirement income, but it's an unsustainable strategy.
E-Mail This Article to a Friend >>
NEW YORK (
) -- Fighting the ebbing tide of an adverse economy, America's senior citizens are becoming increasingly dependent on
Social Security
for their retirement income. In fact, it might be the last line of financial defense for
aging Americans
, and at the worst possible time.
For starters, the oldest members of the
baby boomer generation
-- 77 million strong -- have already reached age 65 and are heading into retirement. With more Americans collecting Social Security and fewer working to contribute to the government-sponsored, taxpayer-funded pension plan, that puts even more pressure on the system.
Social Security could be becoming the last line of financial defense for aging Americans at the worst possible time.
Last week, the Congressional Budget Office released a report stating that Social Security will officially run out of money by
2037
if nothing is done to reform the system. The CBO reports Social Security will pay out $45 billion more than it will take in this year.
Then there's another recent study, from
The Senior Citizens League
that estimates the hit that retirees will take due to the lack of
cost of living adjustments
to Social Security at $40,000 in lost benefits. Furthermore, Americans who become eligible for Social Security this year will get lower benefits than retirees born a year earlier.
With those key points already in play, new
from the Institute for Women's Policy Research show a "dramatic" rise in the number of U.S. seniors relying strictly on Social Security.
According to the institute, the number of men 65 and older relying on Social Security for at least 80% of their income increased by 48% from 1999 to 2009. The number for women is in a similar situation, and over the same amount of time rose 26%.
All told, the study reports that Social Security "helped more than 14 million Americans aged 65 and older stay above the poverty line in 2009. Without it, nearly half (45.9%) of Americans aged 65 and above would have been poor."
Those are disturbing numbers, and they're sure to grow if the
economy
can't get moving. For Americans getting close to retirement, the options are clear: Save more money for retirement via an employer-sponsored 401(k) and other retirement plans, and try to stay in the workplace a few additional years.
If you haven't saved adequately for retirement, counting on Social Security as your primary means of income is an unsustainable strategy.
>To submit a news tip, email:
.
E-Mail This Article to a Friend >>
RELATED STORIES:
>>The Good, Bad and Ugly of Inflation for Seniors
>>The Scary Plight of Going Broke in Retirement
>>10 Financial and Legal Moves For Couples
Follow TheStreet.com on
and become a fan on