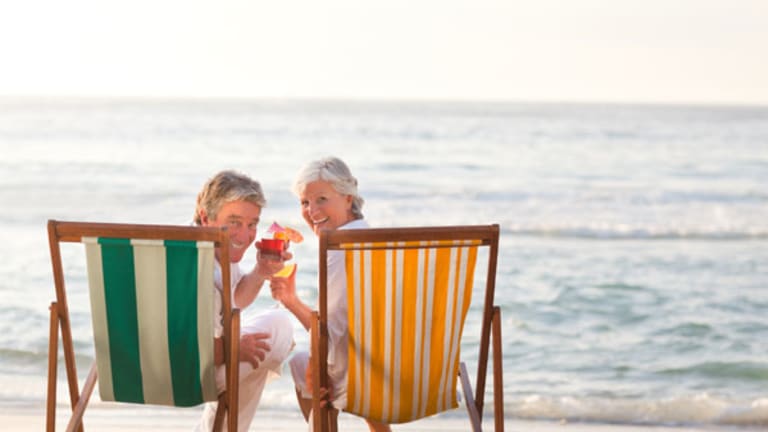 Retirement Savings Finds Secret Enemy: The Biggest, Cutest Cramp
They're small, but they can take a bite out of your retirement.
NEW YORK (MainStreet) — About 10% of mothers admit to living with their parents to save money in order to start a family, and the family support doesn't stop once the baby is born. Nearly 30% of moms said they received financial help from their parents or in-laws during the baby's first year.
"Children are expensive but couples aren't letting that hold them back from starting a family," says Carmen Wong Ulrich, a BabyCenter.com financial expert. "They are exploring ways of saving that they may not have previously considered like moving back in with their parents or accepting money from in-laws. This can be a good short-term solution for couples to get them started but they need to make sure they are taking the necessary steps to eventually become financially independent."
Problem is, most parents and in-laws of child-bearing women are either retired or trying to retire, and the extra financial strain can affect their savings.
"The danger for retirees or those nearing retirement is being confronted with situations where their children come to them for financial help," said Ron Grensteiner, president of American Equity. "They may try to provide financial assistance by dipping into money that has been allocated for retirement purposes. Depending on individual circumstances this could cause a retiree to alter what they do in retirement or when they retire or it could derail it completely."
In the event of unexpected life changes, such as welcoming an adult child back into your home or helping them to support a grandbaby, don't be afraid to set boundaries.
"Discuss the ground rules with your adult children early on in the arrangement," said Elle Kaplan, founding partner of Lexion Capital Management, a 100% woman-owned asset management firm. "Establish limits, including a deadline by which the child should ideally be back on their own and how much they are expected to contribute to the household. Adult children can still work while you help them get on their feet and balance the new responsibilities of a child."
In worst case scenarios of caretaking, grandparents may have to delay retirement or take on a part-time job in retirement to supplement the money they are giving to adult children or using to help support grandchildren. Retirement portfolios can also be completely depleted.
"If the retiree does not have quick and easy access to these funds, it will make the grandparent think twice about whether using the money is warranted," Grensteiner said. "To avoid depleting retirement savings on grandchildren, invest some retirement savings into vehicles that are difficult to access such as fixed indexed annuities."
In fact, about 39% of pre-retirees with plans to work in their retirement years are seeking flexible work arrangements, such as part-time work, according to a 2013 Merrill Lynch Retirement Study.
"In today's uncertain economy, balancing an individual's or couple's retirement needs with the needs of adult children and grandbabies is a growing challenge," said Christina K. Boyd, senior financial advisor with Merrill Lynch Wealth Management. "Due to these family complexities, most couples now want to share responsibility equally when making major financial decisions."
Though moving house and getting financial support from parents may not be their ideal, the vast majority of moms are very optimistic about their future. Nearly 70% say they will be able to provide more for their children than they had growing up and the number of moms worried about having enough money to raise their children has declined approximately 10% in the last year.
"Most new moms end up using a combination of short-term disability, sick leave, personal days and unpaid family leave to take time off from work to care for their newborn, which takes a chunk out of the cash flow," said Wong Ulrich.
--Written by Juliette Fairley for MainStreet