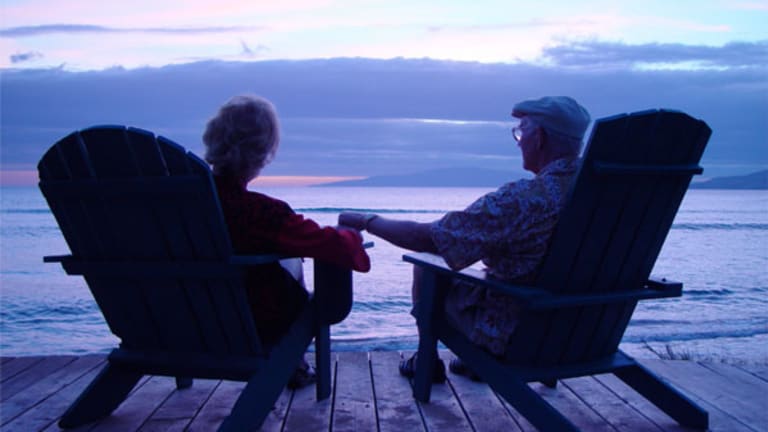 Retirement Goals Are Inflated, Professor Says
Industry critic warns of 'financial malpractice' and the dangers of retirement calculators.
Industry critic warns of 'financial malpractice' and the dangers of retirement calculators.
BOSTON (TheStreet) -- Are you saving too much for retirement?
You may well be if you rely on the advice typically offered by financial planners and the large firms they are affiliated with, according to
, an economics professor at Boston University.
Kotlikoff has made a name for himself as a critic and contrarian when it comes to the financial services industry.
His most recent book,
Jimmy Stewart Is Dead: Ending the World's Ongoing Financial Plague with Limited Purpose Banking
(John Wiley and Sons, 2010), is a scathing look at the financial collapse of 2007-08 that offers some radical solutions for stemming future collapses, among them: the creation of a single federal regulatory agency to rate securities and audit Fortune 500 companies; and "limited-purpose banking," which would scale back what banks are allowed to do, allowing them to sell approved mutual funds in addition to core checking and savings accounts, but barring them from holding their own loans.
His proposal, praised by such notable figures as former Secretary of State George Shultz, even made its way into a debate before British Parliament.
Retirement readiness, the topic of a book he co-wrote with Scott Burns called
Spend 'Til the End -- The Revolutionary Guide to Raising Your Living Standard, Today and When You Retire
(Simon & Schuster, 2008), is a topic he tackles with particular gusto.
Kotlikoff is no fan of the "retirement calculators" companies such as
Fidelity
,
TIAA-CREF
,
Vanguard
,
Schwab
(SCHW) - Get Report
and
T. Rowe Price
(TROW) - Get Report
price deploy on their websites.
"Financial advisers are giving bad advice using bad financial tools that aren't remotely capable of dealing with the question that they are trying to answer," Kotlikoff says.
He describes the complexity of getting the right answer as akin to "rocket science" given the many personal and market variables that exist. Advisers not only fail at the task, they stand to profit from their inadequate assessments.
"This is really a form of financial malpractice," Kotlikoff says. "What they are doing should be investigated by the Consumer Protection Financial Agency. The bottom line is that if you over-recommend products, you sell more. If you get compensated either directly or indirectly based on your sales, there is an incentive to make recommendations that are, on average, too high."
Kotlikoff estimates that about 20% of households are likely saving too much for retirement, compared with the 40% he believes are saving dangerously too little.
"I think under-saving is probably a bigger problem, but there is still a risk with over-saving ," he says. "You could save like crazy and then you can drop dead when you hit 55. It is not only that you may die young, it is also that you can be induced into much riskier securities than you should be investing in because you think that this is the only way you can make your target. The whole focus is on making a target that is ridiculous to begin with."
For nearly 15 years, Kotlikoff has been building his own retirement software tool,
. He describes it as tool based on economics and life cycle that allows users to customize such data contributing to its calculations as "adding to a 401(k), using a Roth IRA, switching jobs, moving, retiring early, downsizing your home, refinancing, having a baby, getting married, buying a boat, waiting to take Social Security and timing retirement account withdrawals" that affect a user's living standard.
Kotlikoff admits that, because of the project, he has a vested interest in his critique of the ever-escalating retirement goal posts offered by major firms. But his criticisms are not limited to savings calculations.
"The whole target date fund thing is another complete corporate scam," he says. "It is not clear at all that this actually compares favorably to a bond portfolio that you hold straight throughout, which can actually generate a lower living standard risk."
Index funds also gain his nod over target date funds because they have lower fees, even though neither requires much in the way of active management.
-- Reported by Joe Mont in Boston.
RELATED STORIES:
>>Big 401(k) Mistakes That Sap Savings
>>Even Wealthy Face Retirement Shortfall
>>Retirement Shouldn't Be Numbers Game
Get more stock ideas and investing advice on our sister site,