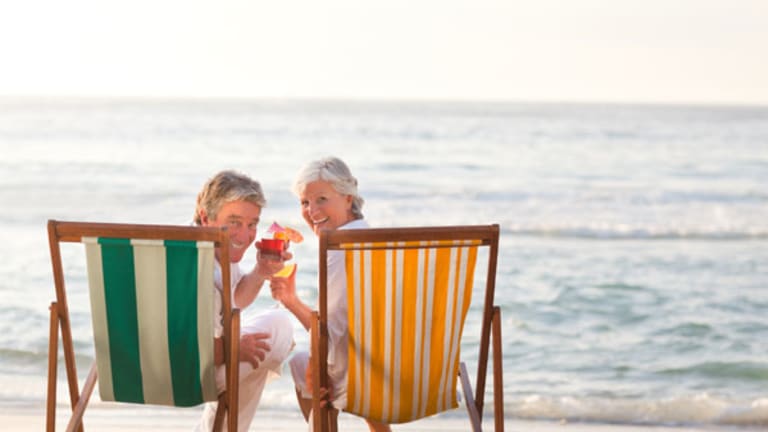 Retirement Goals to Act On Before Recovery
<span class="storymastertext">From vacation homes to country clubs, retirement dreams benefit from moving ahead of a rebound.</span>
BOSTON (TheStreet) -- Much is said of how the recession and continuing economic uncertainty has posed a threat to retirees and those nearing retirement.
Asset levels were hit hard, 401(k) plans are still recovering and low-risk investments produce meager returns. There is a silver lining, however: The economic downturn may make some grand plans more affordable for those entering their "golden years" who are willing to act sooner, not later, to take full advantage of deals and incentives before a full economic recovery takes hold.
Buy a vacation home
Many retirement dreams focus on a winter retreat to a warm-climate vacation home or condo. The upside to the downturn is that bargains abound on this front. If you thought your financial situation couldn't handle a second residence, now might be the time to take another look.
According to Stan Humphries, chief economist for Zillow, an online real estate marketplace, retirees and second-homebuyers , along with investors and speculators, are among the first groups to get back into depressed housing markets.
Retirees and those seeking a vacation home typically plan to hold onto the property for 10 years or more and "their time horizon is long enough that six to 12 months of further decline isn't going to concern them as much as it will others," he says.
Retirees comfortable with the possibility of some further depreciation are in "the driver's seat, because it is an extreme buyer's market," Humphries says.
"They are finding their ability to translate real estate dollars from their market into a hard-hit market has never been better," he says. "It is even more attractive in that a lot of the hardest-hit markets, the 'sand states,' are precisely the ones that have been big retiree and second-home communities."
"In Miami, the rate of cash buyers around the time of the housing peak in 2006 was about 14%," he adds. "Now, cash buyers are more than half the market in Miami. A lot of those people are investors, retirees and second-homebuyers. They are getting cash from somewhere else and they are putting it down."
Refinance loans
It's an unfortunate modern reality that an increasing number of Americans are near, or in, retirement with a high amount of debt. Many will enter their golden years still paying off a mortgage.
As the economy improves, don't expect the Federal Reserve to stick to its current game plan that keeps interest rates artificially low. If you are still holding onto an adjustable-rate mortgage, you can probably save hundreds of dollars a month in the future -- money that can be better put to work for your retirement spending needs -- by refinancing now and taking advantage of what are still historically low rates.
Transfer credit card debt
Just as low interest rates provide a window of opportunity to cut mortgage payments, your credit card burden might be able to see some relief.
The current economic climate, caught between the downturn and recovery, has meant that many credit card companies are once again enticing consumers with balance transfer offers. Some offer 0% interest rate offers for an initial period.
There are cautions to heed with such a move: Make sure you fully understand the fees, interest rates, penalties and rewards program that kick in fully once the introductory offer expires. Also make sure you use the transfer to help pay down debt, not just pile new charges onto the old balances. The right deal, with the right card, could be a savvy way to drop some burdensome debt while favorable rates are available and, in some cases, aggressively promoted.
Back to school
There are plenty of folks who plan a return to school once their kids are raised and job responsibilities ease. If your goal is to eventually get that degree from which life sidetracked you, putting it off any longer could cost you.
College education costs are expected to continue their upward climb in the years ahead, and current tax incentives for higher education could eventually be more limited over time.
Currently, you may be able to claim a Hope and Lifetime Learning Credit for the qualified tuition and related expenses of yourself or a spouse. In addition to a tuition deduction of up to $4,000 of qualified education expenses paid during the year for yourself, your spouse, or your dependent, you may be able to deduct interest you pay on a qualified student loan.
These programs, however, may not be around forever -- they could last only as long as the next round of Congressional budget cuts.
Though it may not affect as many older students as younger ones, financial aid and loans will become scarcer even as the economy grows stronger. Pell Grants have already faced cuts from Washington, and many private institutions that increased scholarships and aid during the height of the recession have said they will now cut back on those efforts.
Go green
If you are forward thinking and looking to do something for both the environment and future utility bills, now may be the time to escalate plans to go "green."
An upside to the poor economy and high unemployment is that the government put multiple tax incentives on the table to spur buying. Already the "Cash for Clunkers" program and tax break for first-time homebuyers have faded into the sunset. Others will likely do so as well as the economy improves and such stimulus is deemed less important.
There are still incentives, however, for buying a fuel-efficient vehicle. Several plug-in hybrid-electric vehicles -- including the Nissan (Stock Quote: NSANY) Leaf and Chevy Volt -- can be subsidized with up to a $7,500 tax credit.
Various environmentally friendly home improvements -- including the installation of geothermal heat pumps, solar energy systems, new insulation, roof replacement and residential wind turbines -- can earn a credit for as much as 10% of their cost, or a set amount up to $500.
Beyond ecology-minded projects, other home renovations may benefit from an economy-triggered slowdown that has led to more competition and competitive pricing among contractors. With housing sales down, now is as good a time as any to tackle some remodeling projects you might otherwise have planned for the future.
Take your dream trip
Is a grand European holiday in the cards for your retirement? Is an around-the-world cruise, excursion to Asia or extended stay in Hawaii one of your dreams?
Whether you are already retired or close to it, still-shaky domestic and global economies may offer the incentive to give into your wanderlust sooner than later. Airfare, cruise ships, hotels and restaurants are all eager to make up for the revenue lost to recent hardships and frugality. An improving economy will mean more travelers willing to spend more, and therefore fewer deals.
The window of opportunity may even be shorter than hoped. Instability in the Middle East could lead to higher fuel prices, a cost that will shift to travelers. Currency devaluation abroad, which has led to favorable buying power for U.S. tourists, could also be less of a factor over time.
Recessionary airfare decreases were not enough to keep airlines from losing billions in 2008 and 2009. With air travel up this year, and a maintained return to profitability predicted, airlines have seen fit to already start raising fares and fees. In the first week of February alone, several airlines -- including Continental (UAL), Delta (DAL), United (UAL), U.S. Airways (LCC), JetBlue (JBLU) and AirTran (AAI). FareCompare.com, an airline ticket comparison site. For some, it was the third fare increase of the still young year, and even the budget-minded -- raised fares, according to Southwest Airlines (LUV) has since boosted its ticket prices.
Join a country club
If your dream retirement is getting to hit the greens as often as you desire, this may be an ideal time to plan for future doffing with a country club or golf course membership
The National Golf Foundation, which provides research and consulting for the industry, has estimated that at the roughly 4,400 private golf clubs in the U.S., memberships are down an average 13%.
With upward of 100 courses a year going out of business -- due to a poor economy, a drop in the number of golfers and busy schedules -- many are looking for ways to draw members.
That means many clubs are dropping or reducing initiation fees, offering introductory offers and trimming greens fees. An improving economy, coupled with the ever-growing number of retiring baby boomers, may mean that saving thousands of dollars on a membership may prove to be a limited time offer.
—For the best rates on loans, bank accounts and credit cards, enter your ZIP code at BankingMyWay.com.