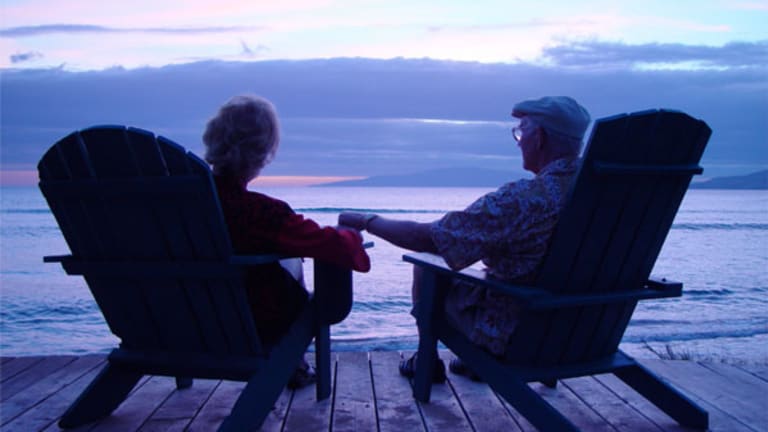 Retirement 'Deficit' Measured in Trillions
Advocates warn Congress of a retirement shortfall that 'dwarfs' the federal deficit and robs the poor.
BOSTON (TheStreet) -- The financial gap between what Americans need for retirement and what they have is $4.6 trillion as a national aggregate and an average $48,000 per person, according to congressional testimony by the Employee Benefit Research Institute.
Jack VanDerhei, EBRI's research director, was among those testifying at a hearing Thursday, The Wobbly Stool: Retirement (In)security in America, convened by the Senate Committee on Health, Education and Labor. Testimony and video of the hearing on U.S. retirement income adequacy is available online.
EBRI is a research institute based in Washington, D.C., that focuses on retirement and economic security issues. Its analysis estimates how much money will be needed for "basic" expenses (such as food and shelter) and uninsured health care costs in retirement, and what financial resources retirees are likely to have.
The deficit projection assumes no changes to the current Social Security benefit structure. If Social Security benefits were to be eliminated, the aggregate deficit would jump to $8.5 trillion and the average amount would increase to about $89,000.
Ross Eisenbrey, vice president of the Economic Policy Institute, a think tank that analyzes trends in employment and compensation, offered an even more pessimistic view by citing Boston College's Center for Retirement Research's estimate that American households ages 32 to 64 have a retirement income deficit of $6.6 trillion. "It is a figure that dwarfs the federal deficit and casts a pall over hopes of them retiring in any kind of comfort," he said.
A recurring theme of Eisenbrey's testimony was that, "Congress has made matters worse by focusing retirement policy on high-income households and neglecting low-income workers."
"While nothing to tout, the financial situation of seniors today might be as good as it will ever get for the typical American," he said. "Between declining pension coverage and Social Security cuts, it is possible that the next generation to retire will be the first to be worse off than its predecessor."
Eisenbrey blames, in large part, the shift away from traditional pension plans.
"Most 401(k) participants do not have the financial expertise to manage their investments," he said. "Many fail to diversify sufficiently and often make poor investment decisions. They tend to have an all-or-nothing approach to risk and, despite the lessons of Enron, many still have funds invested in employer stock. Luck plays an oversized role in whether retirement savings in personal accounts will be adequate. Even 401(k) participants who make relatively conservative investment allocation decisions over a long time horizon are subject to unacceptable risks."
Eisenbrey urged the Senate committee to "recognize that the retirement income deficit we are leaving for the Gen Xers is at least as serious as the 'burden of debt for our grandchildren' that gets so much attention in the media and in political debate."
"How can it be that after 32 years and trillions in tax subsidies, 401(k)s have worsened, rather than improved, retirement security?" he said. "First and foremost, the design of the 401(k) ensures that its tax subsidies go disproportionately to high-income earners who least need the government's help in saving, while providing little or nothing to low-income earners, many of whom struggle to meet their daily expenses, let alone save for a distant retirement."
He cited an analysis by the Urban-Brookings Tax Policy Center that estimated 80% of the tax subsidies for retirement savings go to the top 20% of earners.
"This is government welfare stood on its head," he said. "There is no rationale for providing a larger tax break to a millionaire than to a Wal-Mart (WMT) - Get Walmart Inc. Report cashier for the same dollar contribution to a 401(k) plan -- and nothing at all if the cashier owes payroll but not income tax."
Phyllis Borzi, assistant secretary of labor for the Employee Benefits Security Administration, also testified. She said that the Department of Labor and other government agencies have several regulatory efforts in the offing intended to boost retirement savings. Among them: reducing barriers to annuitization of 401(k) and IRA plan assets; increasing the transparency of pension fees; improving transparency of target date and other default retirement investments; and reducing conflicts of interest between pension advisers and fiduciaries.
(WMT) - Get Walmart Inc. Report—For the best rates on loans, bank accounts and credit cards, enter your ZIP code at BankingMyWay.com.