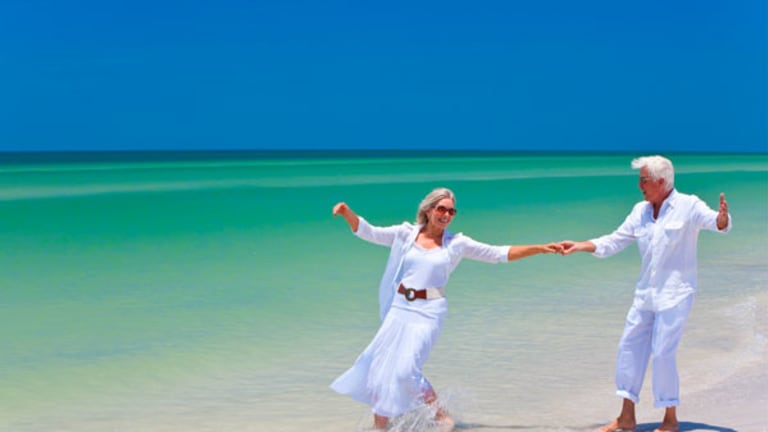 Publish date:
Retirement-Crushing Debt
HelloWallet wonders if it's possible you say goodbye to all that for those who accrue more debt than they save for retirement.
HelloWallet wonders if it's possible you say goodbye to all that for those who accrue more debt than they save for retirement.
NEW YORK (MainStreet) — Americans may be saving more for retirement than ever before, yet they also are falling further into debt.
That was the finding of a recent report conducted by the financial services website HelloWallet, which found while American workers may put away more than $300 billion a year into 401(k) accounts and other employer-sponsored retirement plans, it may not be enough for many Americans to be able to retire.
"Through retirement plans and social security taxes, the average 401(k) participant now contributes over 11% of [his] paycheck to retirement savings every month, yet the typical worker near retirement has only about 2 years of replacement income saved," said Matt Fellowes, HelloWallet's CEO and founder. "The growth in household debt is one big reason why retirement readiness is so stubbornly low."
The study reveals 60% of Americans with 401(k) and other contribution plans accumulated more debt than they contributed to retirement savings between 2010 and 2011. The research also showed 20% of people who participated in their 401(k) retirement programs added more credit card debt.
"On one hand it's a positive to see that people are saving; however, it's kind of an illusion if their debt is rising and therefore their net worth is going down," said Sheryl Garrett, CEO of Garrett Investment Advisors and heads the Garrett Planning Network.
The study — which analyzed consumer finance data from the Federal Reserve and the U.S. Census Bureau — showed monthly debt payments for households paying into a retirement plan near retirement increased by 69% between 1992 and 2010, totaling 22 cents for every $1 earned. Also most direct contributing participants who accumulate debt faster than retirement savings are over 40 years old, have college degrees, earn more than $50,000 and have insufficient emergency savings.
Garrett said people need to budget in savings better and more honestly. She said it is common for people to spend what they have, so people must remember to take money out for retirement — and it's best to have a 401(k) or other direct contribution plan that takes money automatically out of one's paycheck.
"Budgeting is likely dieting," she said. "No one wants to do it, but you have to be mindful of what you're spending and where it's going."
Garrett added that once you make an honest budget, don't let it gather dust. Rather update it every year so you are not paying for things you neither want nor need as your life changes and evolves.
The study also showed participants who accumulate debt faster than retirement savings have 50% less of their annual income saved for retirement compared to contributing participants who contribute more to their retirement funds than they accumulate in debt.
The survey concludes that while U.S. companies invest $118 billion annually in 401(k) programs for their employees and retirement savings is now one of the largest budget items for U.S. households, these investments are necessarily preparing workers for retirement and some type of financial training could be necessary.
"While there is no question about the fundamental value and importance of the 401(k), our research finds that it is just one piece of the puzzle," Fellowes said. "Until we work on improving all components of retirement readiness, it will be very hard for employers to fundamentally move the needle."
--Written by Chris Metinko for MainStreet