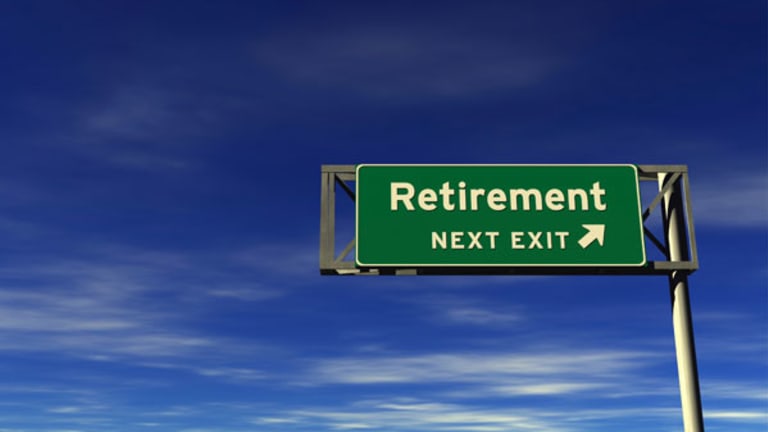 Retirement Age Boost Part of Deficit Plan
A bipartisan effort to reduce government spending could affect Social Security.
BOSTON (TheStreet) -- A bipartisan commission tasked with tackling the federal deficit weighed in yesterday with a series of initial proposals that include sweeping budget cuts and changes to how Social Security benefits.
A draft proposal, released Wednesday by the National Commission on Fiscal Responsibility and Reform, calls for $200 billion in budget reductions; $11.2 billion shaved from domestic programs; and $100.1 billion from defense spending by 2015. In total, it claims the full slate of recommendations could trim $4 trillion by 2020.
The commission, chaired by Clinton White House Chief of Staff Erskine Bowles and former Senate Republican Whip Alan Simpson of Wyoming, made public a report detailing the ideas under consideration. The recommendations need approval by 14 of the commission's 18 members before they are delivered to Congress.
Among the recommendations are cutting the budgets for Congress and the White House by 15%, saving about $800 million in 2015.
Other initiatives include: freezing federal salaries, bonuses and other compensation at nondefense agencies for three years; cutting the federal work force by 10% and by 200,000 by 2020; eliminating 250,000 nondefense contractors; capping the number of federal political appointments at 2,000; cutting the federal travel budget and promoting video conferencing and webcasting as alternatives; and trimming the federal vehicle budget, which accounts for 652,000 cars and trucks and almost $4 billion annually to operate (the proposal would require a 20% reduction in the vehicle budget for all agencies except the Department of Defense and the U.S. Postal Service).
Also under consideration is merging the Department of Commerce and Small Business Administration (into the Department of Commerce and Innovation) and trimming the combined budget by 10%, roughly $1 billion in 2015.
Also on the potential chopping block are reductions in foreign aid; eliminating the Office of Safe & Drug Free Schools, saving $1.8 billion in 2015; and doing away with all legislative earmarks. New funding to the Department of Energy's applied research on fossil fuels would be zeroed out, as would funding for commercial spaceflight (NASA otherwise plans to spend $6 billion over the next five years to spur the development of American commercial spaceflight).
Corporations may have to say goodbye to the Overseas Private Investment Corp., which offers private U.S. companies subsidized financing for foreign investments and insurance against political risks to those investments.
"This option would eliminate new activity by OPIC, although it would continue to service its existing portfolio," the draft report reads. "The main rationale for implementing this option is that the activities of OPIC may not provide net public benefits to the United States. Its subsidies deliver benefits to foreigners and selected U.S. businesses. Furthermore, its subsidies to nations of strategic importance to the United States tend to overlap with and duplicate those provided by the U.S. Agency for International Development and by private insurance firms. They also could hamper the development of local financial institutions and markets in those countries."
Food processing facilities will be required to foot the bill for government mandated inspections, saving more than $900 million annually.
Changes to retirement benefits and entitlements may prove to be among the more controversial proposals.
Citing the need to "reduce elderly poverty," the report suggests adding a minimum benefit to keep full-career minimum wage workers above the poverty threshold, providing "a benefit boost to older retirees most at risk of outliving other retirement resources."
To ensure the solvency of Social Security, the recommendations call for "indexing retirement age to increases in longevity." This option is projected to increase the age by one month every two years after it reaches 67 under current law, meaning the normal retirement age would reach 68 in about 2050 and 69 in about 2075.
There would also be a hardship exemption for those unable to work beyond 62 and "a switch to a more accurate measure of inflation (chained CPI) for calculating Cost of Living increases."
As part of a proposal to "allow greater flexibility in how benefits are claimed," retirees would "have the choice of collecting half their benefits early and the other half at a later age to minimize impact of actuarial reduction and support phased retirement options." The Social Security Administration would be directed to "design a way to provide for the early retirement needs of workers in physical labor jobs" and be required to "have accommodations in place before longevity indexation begins and set aside funds to pay for new policy."
The SSA would also be directed to develop an education campaign to encourage greater personal savings and delayed or phased retirement. This would include better informing beneficiaries of the costs and benefits of collecting benefits early.
The Social Security recommendations, though touted as necessary for future solvency, are already coming under fire by advocates and activists.
"The chairmen of the Deficit Commission just told working Americans to drop dead," AFL-CIO President Richard Trumka said in a statement. "Especially in these tough economic times, it is unconscionable to be proposing cuts to the critical economic lifelines for working people, Social Security and Medicare. Some people are saying this plan is just a 'starting point.' Let me be clear, it is not. This deficit talk reeks of rank hypocrisy. The very people who want to slash Social Security and Medicare spent this week clamoring for more unpaid Bush tax cuts for millionaires."
There is also the issue that, according to a 2008 report by the nonpartisan Congressional Budget Office, the problem is not the deficit or Social Security, but Medicare, Medicaid and the expense of health care in general -- issues less addressed in the draft report.
The commission is also taking heat on charges a quarter of its staffers are paid by outside entities with ideological axes to grind. "We have a very small budget," Bruce Reed, the panel's executive director, told The Washington Post.
—For the best rates on loans, bank accounts and credit cards, enter your ZIP code at BankingMyWay.com.