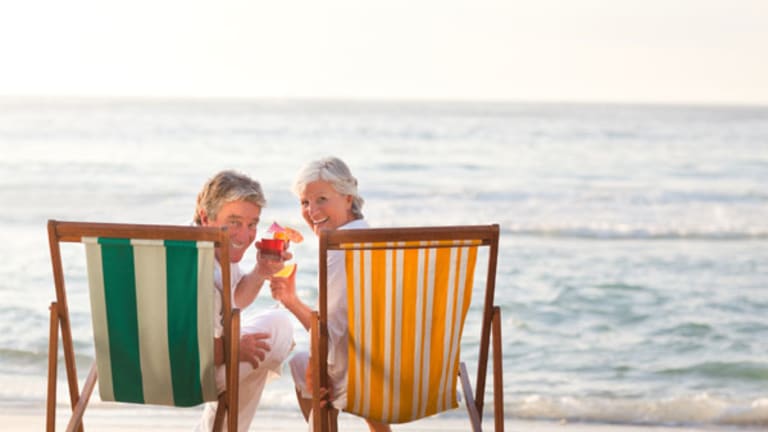 BERKELEY HEIGHTS, N.J. (TheStreet) -- The Federal Reserve's monetary policy is to keep interest rates extremely low to stimulate the economy. How low are interest rates as a result of decisions at Ben Bernanke's Fed? The average taxable money market fund pays 0.02% and two-year U.S. Treasurys yield a miniscule 0.34%. So a $1 million portfolio invested in two-year Treasurys today would generate roughly $3,400 in annual income. Even worse, those yields are pretax, so the net yield to an investor is even lower.
Making a few simple tweaks can yield a much better income stream on that same $1 million portfolio, though as always extra return comes with additional investment risk.
Federal Reserve Chairman Ben Bernanke and policies at the Fed have kept interest rates -- and yields -- low on Treasurys and cash.
The answer, and risk, lies in diversifying beyond risk-free assets such as cash or U.S. Treasurys. A good place to start is with a U.S. short-term bond mutual fund or exchange-traded fund. The
Vanguard Short Term Bond ETF
(BSV) - Get Vanguard Short-Term Bond ETF Report
yield as of June 24, according to
Morningstar
(MORN) - Get Morningstar, Inc. Report
, was 2.1%. This fund also has a low duration (2.6 years), so it will be less susceptible to rising interest rates than bond funds with a longer duration.
Moving further out on the risk spectrum, an investor could add a U.S. intermediate bond fund such as
Vanguard Total Bond Market ETF
(BND) - Get Vanguard Total Bond Market ETF Report
. The fund as of June 24 was yielding 3.3%. The duration of this fund is in the 4.5-year range, which means it is more sensitive to rising interest rates.
World bond funds can also be added to the mix to increase yield and potentially hedge against a declining U.S. dollar.
For investors willing to take on even more risk, consider adding a U.S. large-cap ETF such as
Vanguard Dividend Appreciation
(VIG) - Get Vanguard Dividend Appreciation ETF Report
. This ETF's dividend yield is just shy of 2% and provides additional upside in the form of capital appreciation. This fund aims to provide a quality dividend yield from strong companies by looking for companies that have increased their dividends for the past 10 years.
Given the likelihood of rising interest rates, an allocation to a quality dividend-paying equity ETF makes sense. Since this is an equity-based investment, an investor is obviously subject to equity-market risk. In 2008 this fund declined roughly 27% -- vs. 37% for the S&P 500, but retirees still have to consider their stomach for risk before investing.
RELATED STORIES:
>>In Your 50s? Create Your Own Pension
>>In Your 50s? Early Retirees Need Health Care
Michael Maye is the founder and president of MJM Financial Advisors (www.mjmfinadv.com), a registered investment advisory firm in Berkeley Heights, N.J. He is a member of the National Association of Personal Financial Advisors (NAPFA) and has been a speaker covering tax topics at NAPFA's national and regional conferences. Maye has also been a frequent contributor to the Star Ledger of New Jersey's "Biz Brain" and "Get With the Plan" articles. In addition to NAPFA, he is a member of Financial Planning Association, American Institute of Certified Public Accountants, New Jersey State Society of CPAs and the Estate Planning Council of Northern New Jersey.