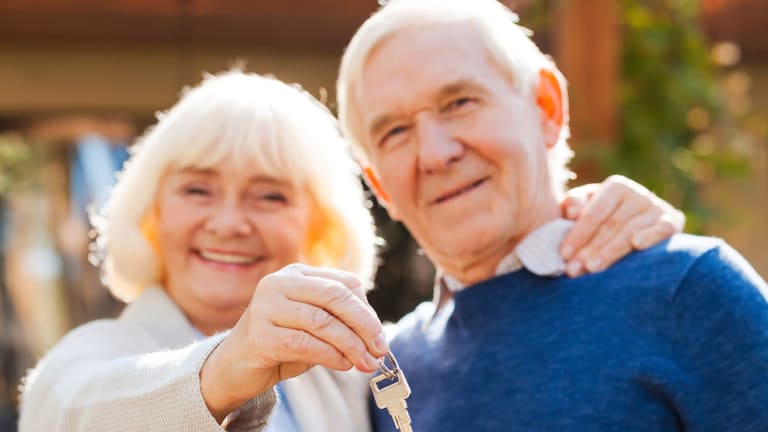 Retirees Are Opting to Rent Homes Likes Millennials
A larger number of retirees are opting to forgo home ownership and instead prefer renting to give themselves additional mobility and disposable income.
Editors' pick: Originally published April 27.
A larger number of retirees are opting to forgo homeownership and instead prefer renting to give themselves additional mobility and disposable income.
Renting has emerged as a viable option, because it allows retirees to have more money to fund other retirement expenses, said Robert Johnson, president of the American College of Financial Services in Bryn Mawr, Pa.
For many retirees, renting is a preferred alternative, and selling a home frees up equity that can be used, he said.
Renting is cheaper in many cities and areas unless Baby Boomers plan to leave behind the equity in the house for their children, according to a report conducted by Trulia, a San Francisco-based real estate website.
Our research shows that if a retired household doesn't care about passing along the equity to their heirs, then in most places it would actually be more expensive to buy a home than rent one, said Ralph McLaughlin, chief economist for Trulia. 
During the period of 2005 to 2015, the largest group of renters to increase was Baby Boomers or those 50 and older with a 55% gain, according to a Harvard University's Joint Center for Housing Studies report. Gen X-ers ages 30 to 49 reported an increase of 34% and a rise of 11% occurred among those under 30.
A greater proportion of Americans are renting with 37% doing so in 2015 compared to 31% in 2005, the highest level since the mid 1960s, the report said.
Renting is spreading across income groups since 18% of the increase in renters during this decade earned $100,000 or more, and the number of renters in the top income bracket grew by 61%, according to the report.

Renting Affordability
Since 2000, the number of people age 55 who have chosen to rent has risen by 6%, said Philip Martin, vice president of market research for Waterton, a Chicago-based national multi-family owner and operator.
If you rent, you dont feel stuck or trapped, he said. They are looking at this to make a change in lifestyle and one that has less maintenance involved.
Renting is more affordable, because consumers do not have to shell out money toward property taxes, insurance, maintenance and HOA fees.
Some retirees also chose not to renovate their home and found the supply of new construction shrinking or exceeded their price range, Martin said.
Some people were forced to rent, because they could not find anything new where they wanted to live and decided they would rent in the meantime, he said.
In many major metro areas, renting remains cheaper than buying a home. While the price of renting has risen 4% each year during the past six years, exceeding inflation, the prices are predicted to moderate going forward as more new construction occurs and the increase in supply will bring down price appreciation and the number of people renting, Martin said.
We expect to see more housing options over the next several years, he said. The housing demand is outpacing the supply right now.
Longevity plays a large role in this rising trend, since many retirees dont want to be responsible for the upkeep on a home.
It pays for individuals to try and take the emotion out of the financing decision with respect to a place to live, said Johnson. Many people grew up equating home ownership with the American dream, but in retirement, that dream can actually become a burden and renting can be liberating in many ways.

Renting can be a good decision financially for consumers who chose to invest the difference in the stock market in a balanced portfolio because they often come out ahead, said Johnson.
The problem is people spend and don't invest the difference, he said. The other problem is that when people retire, they often stay in their home that is too large and do not downsize, sometimes for sentimental reasons.
Downfalls of Renting
Many retires consider owning a home to be beneficial, because it lowers their taxable income. Empty nesters can also benefit from paying fewer taxes, because the interest paid toward their mortgage is deductible. Being able to tap into the equity of your house can prove to be helpful in case of unexpected medical costs. One option is to obtain a home equity line of credit (HELOC).
Renting is not always a good option, because retirees are faced with rising payments, which can be unpredictable from year to year, said C.J. Brott, founder of Capital Ideas, a registered investment adviser in Dallas and a portfolio manager with Covestor, the online investing marketplace.
Obtaining an investment return that beats inflation on the difference you are saving may not occur, he said. Many of us feel a great sense of serenity knowing the home we live in is secure financially, although it can be costly, it is also a form of income.
The American dream is shifting toward renting homes as more people seek the flexibility with not owning a home.
It is more about freedom and being able to do what you want to do instead of being burdened with responsibilities, said Johnson.