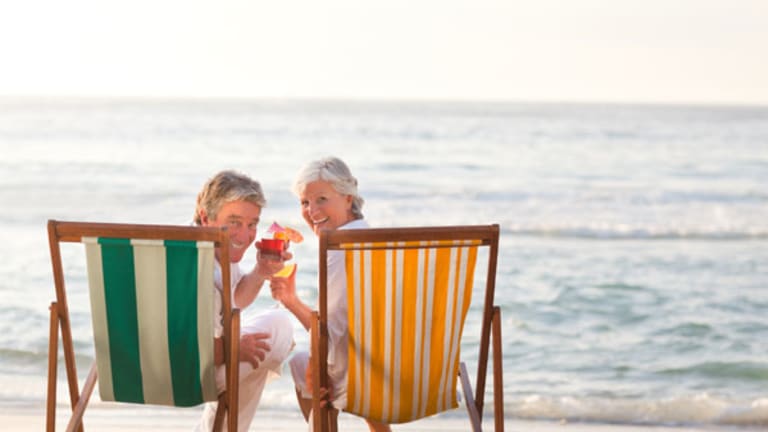 Reform's Retirement Impact Still Unclear
Potential regulations set in motion by the Dodd-Frank Act could eventually affect retirement plans.
BOSTON (TheStreet) -- How does financial reform affect the average investor and, specifically, their retirement plans?
It remains hard to say. Since the passage of the Dodd-Frank Wall Street Reform and Consumer Protection Act in July, many of its measures remain undefined. It may be well into next year until the full impact on portfolios can be gauged.
Stable value funds, for example, used predominantly in 401(k) plans, may or may not face game-changing new regulations conceived to crack down on derivative trading.
These funds, despite their derivative exposure, are considered by most as a fairly conservative asset. Their core is a bond portfolio, but bank and insurance company "wrap contracts" are used to stabilize the ups and downs of those investments.
At issue is whether they will be defined as "swaps," that dirtiest of dirty words from the financial collapse of 2008, and therefore face increased scrutiny and added demands for transparency. New regulations could make them more costly and less available.
In passing the financial reform package, legislators hedged their bets -- pun intended -- and set a 15-month window for the SEC and Commodities Futures Trading Commission to review stable value funds and determine where they should fall in the regulatory spectrum.
New regulations will not, as originally proposed, ban swap dealers from trading with pension plans. Under the final legislation, swap dealers will not be subject to a fiduciary duty, but will be required to disclose conflicts and risks.
ADVICE The Dodd-Frank Act authorizes the SEC authority to impose the same fiduciary duty standards on brokers as investment advisers. Simply put, they would be required to offer only advice and investment recommendations in the client's best interest.
Yet again, however, the reform package was hardly definitive in setting rules, dropping the matter on the SEC for further review. The commission was given six months to review the matter and could go so far as to determine that any financial intermediary who provides personalized investment advice to retail customers has a fiduciary duty.
On Sept. 15, AARP, the Consumer Federation of America, the North American Securities Administrators Association and a variety of financial planning organizations released a poll that gauged public reaction to financial reform. It found widespread misunderstanding about which financial professionals -- insurance agents, stockbrokers, financial advisers, financial planners and brokerage salespeople -- are held to the fiduciary standard.
"This confirms that investors are clueless when it comes to the different standards of care that apply to brokers and investment advisers," says Barbara Roper, director of investor protection for the Consumer Federation of America. "They don't even understand the differences between brokers, investment advisers and financial planners, let alone that they are subject to different legal obligations to the client when they perform the same services. This lack of understanding is not because investors are stupid; it is because the policy itself is stupid. No one in their right mind would create a system in which individuals who call themselves by titles and offer services that are indistinguishable to the average investor are subject to two different standards when they do so. But this is precisely the world that SEC policy over the past two decades has helped to create. Now, Congress has given the SEC a chance to fix those past errors."
INDEXED ANNUITIES Annuities have taken on new life and restored shine in recent months, emerging from years of poor perception as a viable investment option for those worried about their retirement savings running dry. Among the many flavors, equity indexed annuities have created regulatory conundrums, specifically regarding whether they should be classified as securities or insurance products.
Much of the furor revolves around the SEC's decision in 2008 to enforce them in the former category, a move leading to a profusion of legal actions by issuers. The reform package settles the debate -- at least for now -- by removing SEC oversight and giving that power to state insurance regulators.
This could spark debate for years. In part, much of the criticism leveled at annuity products in general evolved from specific complaints about this particular product. The question for investors is whether state agencies are best equipped to curb sleazy sales tactics or if losing SEC oversight will once again hurt both consumers and damage the improved image of the annuity providers.
MUTUAL FUNDS Mutual fund advertising is another issue headed for additional review. The Dodd-Frank Act directs the comptroller general to study mutual fund advertising and marketing efforts, in particular the use of past performance data, to ensure investors are not misled and taken advantage of.
Advertisements, for example, can throw short-term performance stats at their intended audience, giving the impression these returns are either average or expected over a longer term. An unwary, less-savvy investor could easily find their portfolio burdened by the volatility of "flavor of the month" funds by acting on claims that exaggerate the upside.
A wildcard may be the new Bureau of Consumer Financial Protection. As its purview is developed, it may take on added oversight of the record keepers, consultants and administrative services used by pension plans, IRAs and 401(k)s.
—For the best rates on loans, bank accounts and credit cards, enter your ZIP code at BankingMyWay.com.