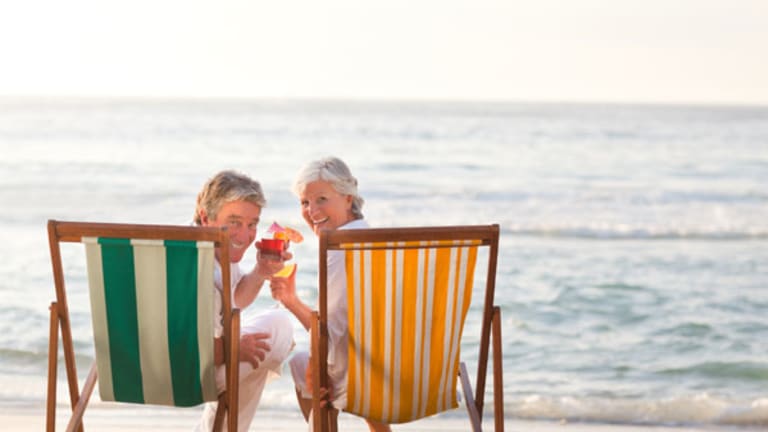 Public Pensions Face Ballooning Deficits
With a $21 billion deficit, the University of California is a poster child for public pension troubles.
BOSTON (TheStreet) -- A poster child emerged last week for the developing crisis faced by underfunded public pensions. It was announced that the University of California has a $21 billion unfunded liability for its retiree health and pension benefits.
Within five years, that unfunded liability is projected to grow to $40 billion -- twice the current size of the entire UC budget.
And that's just one school system.
An analysis by the Pew Center on the States found that at the end of fiscal year 2008, there was a $1 trillion gap between the $2.35 trillion states and participating localities had set aside to pay for employees' retirement benefits and the $3.35 trillion price tag of those promises.
Pew's tally is, by its own admission, a conservative one. It uses for data fiscal year 2008, which for most states ended June 30, 2008, and therefore doesn't include the brunt of the market downturn.
A more pessimistic view was presented this month at the National Bureau of Economic Research's State and Local Pensions Conference. Joshua Rauh, an associate professor of finance at the Kellogg School of Management at Northwestern University, and Robert Novy-Marx of the University of Rochester, estimated that public pension shortfalls amount to between $3.2 trillion to $4.4 trillion, depending on how liabilities are calculated. Even such reforms as eliminating cost of living adjustments and increasing retirement ages would likely still leave about $1.5 trillion in liabilities, they say.
For more details about what's going wrong, the alarming deficit in California has been dissected in a report issued by a university task force.
"If we do nothing, in four years the University will be spending more on retirement pro­grams each year than we do on classroom instruction," UC President Mark Yudof wrote in a letter to faculty and staff after the release of the report. "That scenario would be disastrous for UC."
Part of the blame lies in the decision to enact a "contribution freeze" 20 years ago because the pension was viewed as overly flush with cash. It was only in April that contributions were again required -- 2% of pay for UC employees and 4% by the university.
Compounding the problem for UC was a $16 billion loss of value the fund suffered from recession-pummeled investments in 2008 and last year.
Among the proposals floated to reign in the deficit are increasing employer and employee contributions, raising the minimum retirement age to 55 from 50, requiring faculty and staff to work longer to get the maximum pension benefit, changing eligibility rules for retiree health benefits and reducing, over time, contributions to retiree health insurance premiums.
The recommendations call for moving quickly toward a contribution level of 17.6% of payroll, the amount necessary each year to cover the cost of future benefits incurred for that year. By comparison, Employees in CalPERS, the state retirement plan, contribute 5% to 8% of pay and employers pay 17.4% to 29.2%.
The UC report is the latest bit of bad news for public pensions.
A recent study by graduate students in Stanford's Public Policy and International Policy Studies programs, makes the claim that California's three major public employee pension funds -- CalPERS, CalSTRS and the UC Retirement System -- face a shortfall of some $500 billion. They claim there is a 44% chance CalPERS will be at least $250 billion underwater within the next 16 years.
An audit wraps up Aug. 27 during a meeting of the North Dakota Investment Board, finding no irregularities in the work of the pension funds' former manager.
CalPERS, the nation's largest public pension fund, with more than $205 billion in assets, has publicly disputed the calculation and related complaints that liability calculations fail to fully assess funding.
Still, if these reports are signs of things to come, they join other hints of desperation and causes for concern.
On Aug. 18, the Securities and Exchange Commission charged the State of New Jersey with securities fraud for failing to disclose to investors that billions of dollars worth of municipal bond offerings could be affected by the underfunding of its two largest pension plans. New Jersey is the first state ever charged by the SEC for violations of the federal securities laws. The state agreed to settle the case without admitting or denying the charges.
Later in the month, the North Dakota Investment Board wrapped up -- without finding irregularities -- an audit of the work of the pension funds' former manager, who committed suicide in April. That's good news. Like pensions throughout the country, the state's fund managers have enough on their mind.
—For the best rates on loans, bank accounts and credit cards, enter your ZIP code at BankingMyWay.com.