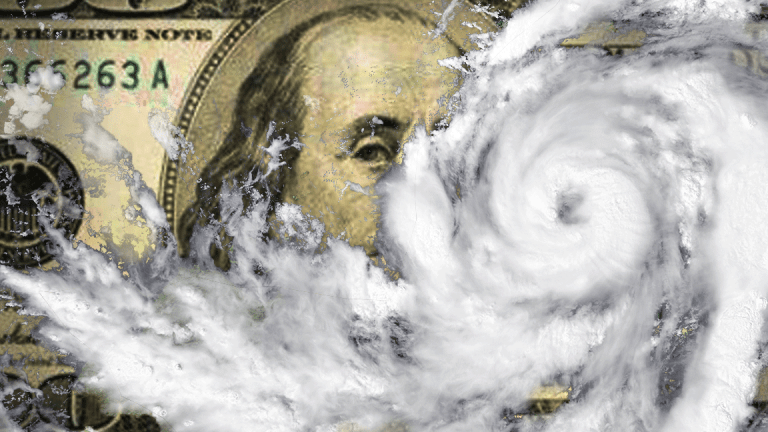 Protect Your Home and Your Retirement With the Right Insurance
Robert Powell says having the proper amounts and kinds of insurance is the safety net all older homeowners need.
When it comes to personal finance, almost everyone wants to talk about investments. Hardly anyone wants to talk about risk management. But managing risks -- to put it plainly, buying insurance -- is just as important as reaping the rewards of investing.
You probably already own the basic types of insurance: life, disability, property and casualty, and health. But it's important, especially for older homeowners, to review their personal insurance policies to make sure that there are no gaps in coverage -- well before problems such as natural disasters or sudden health shocks, strike.
There are certain types of property and casualty coverages that are commonly overlooked by families in the U.S., according to Patti Clement of HUB International Personal Insurance.
What's more, she says, older homeowners "tend to cut costs post-retirement, and they could be cutting the costs of an important coverage if they access direct writers online or other senior programs without a consultation."
So, what gets overlooked?
Check your homeowner's policy. Check whether your homeowner's insurance policy has guaranteed replacement cost (that's the cost to rebuild your house) or extended replacement cost, which is a policy that will pay more than the policy limit (usually up to 120% to 125%) to cover the replacement cost of the home.
That way, if the coverage is up-to-date, there is a serious catastrophic situation and the construction costs go up substantially, you have a safety net in place, says Clement, who spoke recently at the American Institute of Certified Public Accountants' annual conference.
In addition, Clement recommends having an all-risk policy that includes unlimited backup of sewers, drains and sump pumps. Why so? A standard homeowner's insurance policy excludes flood coverage. "So, if there is a power failure and it causes the pumps to fail and you have flooding in the basement, this could be a way for the loss to be covered," she says. "Note that in some states and coastal areas, you will not be able to purchase unlimited. However, we recommend that you maintain the maximum available for the state."
Next check if you have a HO-3 or HO-5 policy. HO-3 insures your dwelling and other property against losses on an open peril basis while HO-5 is the same as HO-3 except it provides open perils coverage for personal property.
According to Clement, a HO-5 policy is typically preferable. "If you have a HO-3 policy it will be subject to a set of coverages, named perils, versus a set of exclusions under a HO-5 all-risk policy, whatever is not excluded is included," she says. "Most of the HO-3 policies can have optional coverage that you can add on such as backup of water -- which usually has a small limit of $5,000 - $10,000."
Of note, all-risk policies with the top carriers will have unlimited coverage up to the policy limits under dwelling and contents, says Clement. Note, too, that in some coastal states, the HO-3 with extended replacement cost is the maximum available. "This is still superior to a basic named perils policy," she says.
For his part, Brian Boak, a private client risk manager, with USI Insurance Services, says older adults who have done renovations and/or additions to their home are also among those who must review their excess liability limits.
"Liability and renovations cause the largest issues," he says. "Older adults have built up equity in their home, retirement accounts and investments. One car accident can put a drain on those assets without the proper excess liability limits."
Once children leave the home there is more disposable money to do desired renovations/additions to the home, he says. "If you do not inform the insurance company so they can confirm you have the correct replacement cost coverage you may not be fully compensated in the event of a claim," says Boak.
Are you in a flood zone? We all live in a flood zone, says Clement. "It's just a matter of whether you are in a catastrophic zone or not," she says.
Flood zones B, C, and X are the preferred zones while flood zones A, E, AE, V and VE are catastrophic zones. "In many of the past catastrophic events, many of the people affected were not in a catastrophic flood zone and did not have flood insurance," she says.
You could, of course, purchase flood coverage through Federal Emergency Management Agency's (FEMA) National Flood Insurance Program but it doesn't provide coverage for replacement costs, says Clement. Pricing for flood coverage with FEMA varies depending upon the zone. The average cost is $460 per year for a primary residence and $702 for secondary in a preferred zone. Rates will vary in catastrophic zones according to elevation.
Additional living expenses/loss of use: Check whether your policy will cover either unlimited or reasonable expenses if you must move out while your home is being repaired to a loss other than a flood, says Clement. If not, either add that coverage or set aside money to cover additional living expenses for loss of use. "Otherwise, an incident could financially paralyze you," she says.
"In cases other than flood, it is important that your primary homeowner's coverage carry 'unlimited loss of use' or 'reasonable expense' coverage where available," says Clement. "This will protect you in the event of a loss where you have to move outside your home or apartment while it is being fixed due to a covered loss, where you would be provided unlimited coverage to live your same lifestyle, either renting a home, apartment, or hotel equivalent to what you already have."
Some of the lower-priced policies have limited amounts of coverage which may not even cover expenses for more than a month's rent, or coverage up to 12 months, she says. "If you are in a situation where your home is destroyed, it may take longer than 12 months to rebuild and you would be in jeopardy with substantial out-of-pocket expenses."
Mold limitations: All standard homeowner's policies have limitations under mold depending upon which state ($20,000 in New York and $10,000 in Florida, for instance), but coverage can be increased by what's called an endorsement for an additional premium, says Clement. "We recommend a minimum of 10% where available," she says. "Where there is a water claim, more than likely, the mold will happen pretty quickly."
Renovations: If you're doing any renovations to your home, be sure to inform your broker and insurance company, says Clement. Some insurers will have a surcharge under your deductible if they learn that work was done and there's a claim, while others could deny a claim for a material change of risk, she says.
Household staff: You might need worker's compensation if you have full-time staff, and you might need to consider employment practices liability insurance, says Clement. That covers such things as sexual harassment and wrongful dismissal.
Cyber liability: Cybercrimes, cyber extortion, identity theft, online fraud, cyber bullying are all on the rise, so it might be worth looking into a custom-tailored policy, says Clement. Such a policy typically includes credit monitoring and ID theft repair. "You need the expertise and experience of a cyber response team to react quickly when security fails," says Clement.
Auto: Check what type of physical damage settlement you have for your vehicles. There are three types: actual cash value (ACV) less depreciation; agreed value, which is a stated amount on the policy itself; or replacement value with an up-to-date model when your vehicle is less than three years old, according to Clement.
Umbrella liability: If you don't have it, get it. This policy, which sits over and above your auto and home insurance policies, protects asses in the event of an unforeseen catastrophic event, including social media exposures such as children and adults tweeting/bullying, says Clement.
"Umbrella liability is a critical coverage," she says, noting that recent jury verdicts from cases being settled from three to five years ago are ranging from $10 million to $47 million.
Earthquake and hurricane coverage, wildfire protection and risk mitigation: Even small earthquakes can cause damage to your property. Consider getting an endorsement or an individual policy, says Clement. Check, too, whether you have hurricane coverage. If so, check your deductible for hurricanes and set up a reserve fund if needed. You might need to buy a separate policy for wildfire protection and risk mitigation.
"Depending on where you live, different areas are more susceptible to losses from these types of natural disasters," she says.
For example, in California and other areas that are prone to earthquakes, these events are excluded from all homeowner's policies, and therefore a stand-alone policy must be purchased. "Many people avoid this coverage due to its high cost, however with recent events in California, we are highly recommending that people redesign their insurance programs with higher deductibles to offset costs and take out a minimum earthquake policy," she says.
As for hurricane policies, the same applies in coastal Florida and other hurricane prone zones. "It's important to work with your insurance adviser to assess what your risks may be and what type of coverage best meets the location in which you reside," says Clement.
It's never too late - or too early - to plan and invest for the retirement you deserve. Get more information and a free trial subscription to TheStreet's Retirement Dailyto learn more about saving for and living in retirement. Got questions about money, retirement and/or investments? Email Robert.Powell@TheStreet.com.