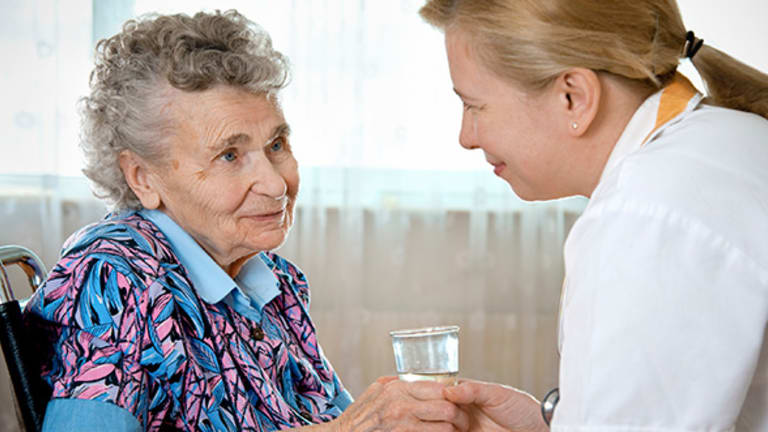 Pride Shouldn't Guide Financial Plans for Your Old Age
If you have ideas about your long-term care and who's going to provide it, now is the time to talk to your family and financial advisers.
If you have ideas about your long-term care and who's going to provide it, now is the time to talk to your family and financial advisers.
Pride isn't going to take care of you in your old age.
No, it isn't particularly pleasant to think about who's going to care for you if you aren't able to do so or who will handle end-of-life care when the time comes. It also isn't particularly pleasant when you get to either of those points without a plan and simply hope it's implied that someone among your friends and family will have to step up.
According to a survey from UBS Wealth Management, the greatest fear among wealthy investors as they age is being a burden to children (42%). That ranks higher than fears of surviving on life support (34%) or living in a nursing home (15%). Even though many of those investors would rather not have their children responsible for their care, just 39% of investors have talked with children about who will take care of them in old age. Worse, only 50% have factored healthcare costs into their overall financial plan, and only 23% have saved for their future care.
Keep in mind, this is after the Census Bureau determined last year that the population of Americans aged 65 and older will grow to greater than 80 million by 2050, and that the number of people likely to require long-term care is expected to more than double from 12 million today to 27 million over that time span.
"Maintaining self reliance is important to the vast majority of investors," said Paula Polito, client strategy officer at UBS Wealth Management Americas. "Having a plan in place for long-term care before they actually need it will help them avoid burdening their children."
While you may not want to burden your children, placing yourself in their care likely will -- which makes it all the more necessary to have conversations about it early on. The UBS survey found that 47% of respondents who currently provide care described it as a heavy burden, 41% described it as a moderate burden and 12% said it was a minimal burden. Yet, as site Caring.com discovered in a survey of adults whose parents are still alive, only a little over half (56%) of American parents have a will or living trust document, according to a new Caring.com survey of adult children. Nearly one-third of parents (27%) do not have estate documents in place and 16% of adult children are unsure if their parents do. Of those that do have a will, 40% have updated it in the last one to five years. What's more, 24% of adult children don't know if their parents' will has ever been updated.
Even when such documents exist, adult children have no idea where they are or what they contain. Over half (52%) of adult children don't know where their parents store their estate documents, while 58% don't know the contents of the documents.
"Wills and estate documents can be a touchy subject, but they are necessary conversations to have," says Andy Cohen, chief executive of Caring.com. "Too often the surviving family members are left not knowing where to find the documents, or worse, have to go through a lengthy and expensive legal process because no documents were ever created."
It isn't just 18- to 49-year-olds left in the dark, either. Roughly 29% of 50-to-64-year-olds don't know where their parents' documents are stored, and 38% don't know the contents. For those 65 and older, 23% don't know where the documents are stored and a startling 44% don't know the contents.

"It's sad to say, but most middle-aged Americans will likely have a parent who is nearing the end of their life," Cohen says. "Remember, your parents are going to have bank accounts, a house and other assets that will need to be taken care of in a timely manner. Having the documents in place before tragedy strikes will make the aftermath much less stressful and will save money in the long run."
It's a conversation worth having, if only to relieve stress for both retirees and their children. A survey by Franklin Templeton finds that 67% of Americans experience some level of stress related to retirement, with 74% of those within 15 years of retirement stressed out. Retirees themselves, folks aged 65 to 74 years, are most concerned about health and medical issues, with 52% stressed out about health care and its costs.
"Planning ahead for health expenses can help with retirement readiness and may even allow you to retire earlier," says James Nichols, head of customer solutions group for Voya Financial. "Every financial plan should include an assessment of long-term care needs. When the time comes that you need long-term care, you want the funding to be there for you as long as care is needed."
Again, these are ideas that most folks are kicking around, but just not communicating. Just a third of UBS investors (36%) say that they plan to turn to family for care, with 64% preferring outside help. Roughly three-quarters (74%) of those same investors say their grandparents relied on family for long-term care, while more than half (57%) said their parents did the same. 
However, 59% know that caring for aging relatives is more difficult than it once was. Nearly 90% say it's more difficult because relatives are living longer, 76% say health care is far more expenses and 33% said none of their children live nearby. Besides, 89% want to stay in their current home, while 54% would consider assisted living as an option. Only 15% consider their child's appealing option, making it just slightly more popular than a nursing home (12%). As for who provides the care, 80% want their spouse to care for them, 67% want a home health aide and just 27% want a child to care for them.

Yet not only are people not talking to their families about plans for their old age, they aren't talking to their financial advisers about it either. Roughly 77% have not set funds aside for future medical expenses, and just 8% have received advice on managing future healthcare costs. However, those with a plan for long-term care are significantly more confident in their ability to finance care when the times comes (71% vs. 27% of those without a strategy).
"Even for those who have discussed future health and long-term care decisions, there still is a lot that goes unsaid and unasked between parents and their children," says Sameer Aurora, head of client strategy for UBS Wealth Management Americas. "It's a tough conversation, and no one wants to even think about it, let alone talk about it, but it's important to get everyone on the same page before it's too late."
This article is commentary by an independent contributor. At the time of publication, the author held no positions in the stocks mentioned.