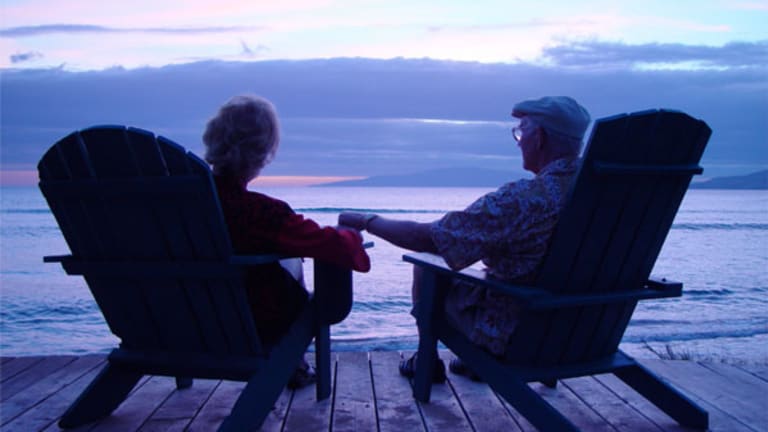 New Long-Term Care Policies Gain Traction
Alternatives to traditional long-term care insurance are starting to reach a reluctant marketplace.
BOSTON (TheStreet) -- With life spans and health care costs alike on the rise and America graying with the first wave of retiring baby boomers, the selling points for long-term care insurance might seem simple enough.
The product, however, has faltered in recent years, failing to build a base of dedicated consumers. As a result, in recent months major insurance companies have been either dropping products or raising annual premiums by as much as 40%.
But while some are waving the white flag, other companies are finding new variations of the policies that may finally be resonating with customers.
The reluctance of so many to forgo this coverage is in part psychological -- the insurance industry has long recognized that its target audience, and the financial advisers serving them, are reluctant to dwell on mortality. That traditional policies are expensive and often have a "use it or lose it" approach to payouts doesn't help.
A recent survey by Lincoln Financial Group (LNC) - Get Lincoln National Corporation (LNC) Report illustrates the reluctance of the targeted marketplace. The study found that 65% of Americans believe it is important to plan for the possibility of needing long-term care, but only 44% have actually made any effort to protect themselves.
Though most said they understand the financial risks associated with long-term care, they are nevertheless expecting savings, investments and entitlement programs to pay for any future needs: 75% said they would use savings; 56% said they would be willing to sell their homes; 41% said they would be willing to refinance their homes; 21% said they would be willing to go into debt; and 18% said they would be willing to declare bankruptcy to qualify for government aid.
Stand-alone long-term care insurance ranked seventh as a likely source of funding.
A survey late last year by New York Life found similar results among baby boomers.
Four in 10 said their parents' long-term care experiences made them more inclined to buy coverage, but just 9% of boomers have actually bought a policy. Only 27% of boomers could estimate the annual cost of nursing-home care, and a majority assumed they will be able to use government funding to pay their long-term care bills. "Although boomers face a seven in 10 chance they may need long-term care at some point in life, 47% said they would hold off on purchasing it because they feel it is a product they will never need," the survey said.
"People are recognizing that there is a good chance they will need to pay for long-term care, but they still are persistently thinking that it will happen to someone else," says Michael Hamilton, assistant vice president and linked-benefit product group leader for Lincoln Financial Group. "Only 29% think they personally will need long term care. Those statistics, and the reality, just don't line up."
Hamilton cites federal data showing that the cost of long-term care can easily exceed $60,000 a year -- an expense not covered by traditional programs such as Social Security or Medicare.
"People are going to need long-term care and are woefully underprepared to deal with it in some cases because it is so darn expensive," says Dr. Robert Pokorski, chief medical strategist for Hartford Financial Services (HIG) - Get Hartford Financial Services Group, Inc. (HIG) Report .
He admits that for years, despite his background and industry experience, he too intentionally bypassed long-term care insurance.
"I didn't buy it because I just didn't like the 'use it or lose it' product structure," he says.
That standard product is evolving in an effort to attract customers. In particular, "hybrid" products are proving a popular alternative.
Elevating awareness remains a challenge.
"These aren't known very well within the U.S. consumer population," Pokorski says. "I would guess 99% of people have never heard of these products."
Policy variations that have been hitting the marketplace for the past five year or so offer permanent life insurance, to which optional riders are added for long-term care needs. About 20 insurance companies are selling life insurance with a long-term rider.
long-term care. Owners can collect benefits as planned, pull all of their initial premium out or pass the multiplied assets on to their heirs.
"We think it is important to provide flexible alternates," Hamilton says. "There will always be a benefit out of policy whether the person changes their mind and exercises the return of the premium feature, and gets all their money back, or if they die with the policy and the money they put in is leveraged to multiply and pass on to their heirs."
The Hartford's variation on the theme is called LifeAccess.
"The impetus of that was that the realization that long-term care was just not resonating with people," Pokorski says of his product and others. "We needed to find another solution."
LifeAccess (which the company touts as unique enough to warrant a patent application) can be added to permanent life insurance policies sold by The Hartford. The rider advances up to 100% of the policy's death benefit (decreasing the death benefit on a dollar-for-dollar basis once claimed) if the insured meets the criteria for needing chronic care. The cost is an additional 5% to 15% of the base policy cost, per year, depending on age and other factors.
The collected benefit can be used "for any reason," including such needs as reimbursing family members for care, paying someone to help them at home, fees for an assisted-living facility or nursing home, home modification (widening doorways or adding a ramp to allow wheelchair access) or even for travel. For individual (nonbusiness) policy holders, the benefit is usually tax free up to the IRS limit of $300 per day for this year ($9,125 per month, or $109,500 per year).
"People like the idea that if they buy a hybrid product, one way or another they are going to get the full benefit," Pokorski says. "If you buy a $100,000 policy, one way or another you are going to get $100,000 from your insurance company."
Thus far, the relatively new offering has bucked the downward trend faced by traditional long-term care insurance. In 2009, sales of The Hartford's hybrid policies increased by 94% and were up 66% through the third quarter of 2010. Industrywide, sales of hybrid policies increased 34% in 2009, according to Limra, an association of insurance and financial services companies.
—For the best rates on loans, bank accounts and credit cards, enter your ZIP code at BankingMyWay.com.