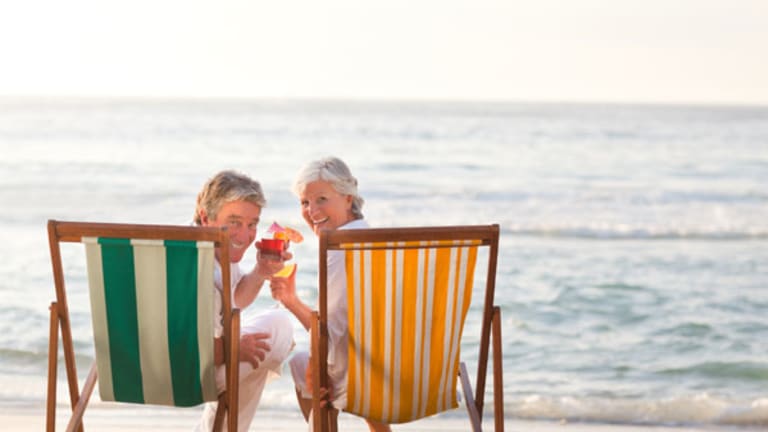 The New 401(k) Guarantees and You
Some employers are offering retirement fund options that aim to decrease the negative effects of a stock market dive.
Many would-be retirees long for the "good old days," when you worked for only one or two companies over the course of a career, and in return received a good-sized pension check every single month of retirement.
But today most employees with retirement benefits are enrolled in so-called defined contribution programs, where plan participants direct their retirement fund investments, and if the markets are disappointing, it's their problem.
That means many professionals, particularly older workers of 50 or older, are running out of time to undo all the recent damage the stock market has done to their 401(k)s.
The problem was highlighted in March when a new consumer and labor organization backed by the Pension Rights Center, the Service Employees International Union and the Economic Policy Institute observed that 401(k) and IRAs had lost more than $2 trillion in value since October 2007. The coalition said the flagging economy has highlighted the inadequacies of 401(k) plans and increased the need for alternatives such as government-managed funds.
Mutual fund companies servicing employer retirement plans are counting on a different approach. Several have begun offering product-based solutions. This new breed of defined contribution plan still places the market risk with the employee via a 401(k), but pairs that 401(k) with an annuity (or an annuity-like feature) that also promises to provide retirees with a guaranteed stream of cash in retirement.
Alternatives include the following:
SponsorMatch, from Barclays Global Investors. This subsidiary of Barclays (Stock Quote: BCS) is a target-date fund that provides lifetime guaranteed income via stock funds alongside a fixed-income annuity. MetLife currently provides the annuity (Stock Quote: MET).
SponsorMatch becomes increasingly conservative over time, allocating more assets to the deferred fixed annuities as the investor's retirement approaches. At retirement age, retirees enjoy a fixed monthly benefit thanks to the annuity portion of the program, which comes at a cost of 50 basis points or 0.5%, a figure usually charged against plan assets.
SponsorMatch is structured as a so-called qualified default investment option or QDIA that employers can use as their investment choice in 401(k) plans where participants do not actively elect to choose their own investments, such as with auto-enrolled plans. Here, employees are automatically enrolled unless they choose to opt out. BGI, a respected name in the investment field and a pioneer in target-date funds, is still seeking its first SponsorMatch client.
Growth and income benefits that come at an additional cost to employees, offered to 401(k) investors by both Prudential Financial (Stock Quote: PRU) and John Hancock. These programs differ from SponsorMatch in that they promise participants protection against market downturns via balance "step-ups" or increases that kick in on the participant's anniversary. These programs provide a guaranteed annual benefit, paid monthly or otherwise.
With Prudential and John Hancock, one's annual income amount is frequently set at 5% of the top plan balance that participants achieve during their pre-retirement years based on investment growth. That is to say, if your highest plan balance is $100,000 and that drops to $80,000 in a given year due to a market downturn, you will receive a "step up" to the $100,000 level on your anniversary date.
There are costs for those guarantees, ranging from 35 to 100 basis points. That's 0.35% to 1% of assets, with the less costly strategy calling for a five-year term of enrollment before benefits are realized. Besides that, you might expect to pay "internal" mutual funds costs of perhaps another percentage point, and sometimes mortality expenses (to leave money to heirs), says Certified Financial Planner Todd Rustman, the president of GR Capital Asset Management LLC in Newport Beach, Calif.
So, how do you know whether a guaranteed program is right for you? Here are some key questions to ask yourself:
Am I willing to give up a small part of my potential retirement income gains to avoid the risk of stock market declines that may erase such gains entirely? (That's the idea behind the Prudential and Hancock programs.)
Do I want to be in a target date fund providing some annuity protection alongside my 401(k)? BGI considers its target date funds on the more conservative (less equity-exposed) end of the spectrum. Right now, for instance, BGI's 2010 fund is 38% equities. If SponsorMatch automatically enrolls you in such a program, it is up to you whether to accept the scheme or opt out.
Would I prefer to annuitize my 401(k) plan balance myself when I retire? This is always a route you can take on your own, either with your company's plan provider or someone new, and you don't need to do anything until just before retirement. You may give up money to the markets over time because straight annuitization takes you out of the market, however, and "You won't be guaranteed any growth on the way up," as you are with the Prudential and Hancock plans, observes Rustman.
—For the best rates on loans, bank accounts and credit cards, enter your ZIP code at BankingMyWay.com.