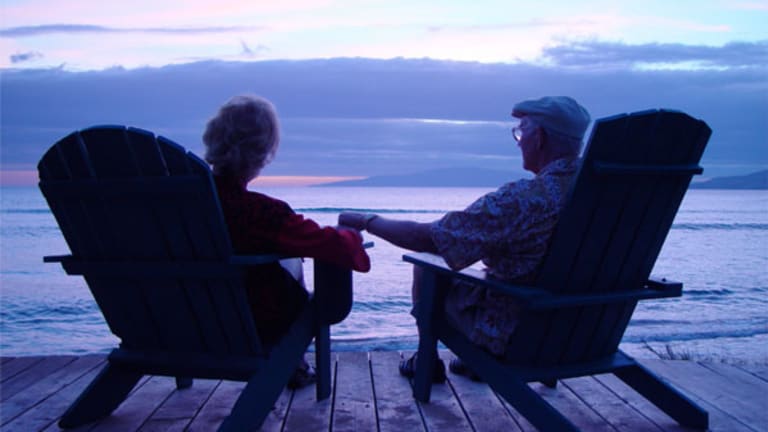 New 401(k) Feature: Money for Life
Worried about your 401(k)? There are some new options that may protect your retirement from future market downturns.
At a time when there really seems no shelter from the storm of shattering stock market declines, insurance companies have begun offering some innovative new ways to guarantee that your 401(k) won't drown.
The new 401(k) companion products are known as "guaranteed income solutions." More and more employers are likely to bring such strategies on board over the next several months.
John Hancock has been offering a "Guaranteed Income For Life," product for more than a year now. Since that time, Ed Eng, a senior vice president at John Hancock Retirement Plan Services in Boston, reports that roughly 70% of his potential 401(k) clients say, "'If I go with John Hancock's 401(k) plan, I want GIFL.'"
Among the most attractive features being offered for employer plans are a guaranteed yearly paycheck for life (frequently set at 5% of your plan balance, no matter what), and protection against market downturns and subsequent balance declines.
These programs are not annuities, though they have some similar features, and while they offer some traditional pension plan advantages—like regular income for life no matter how long you live—they are also structured to make the most of stock market upturns via participant-directed investments.
Prudential Financial's (Stock Quote: PRU) "IncomeFlex" product, for instance, provides that beginning at around age 50, participants are guaranteed that their income base will grow at a minimum of 5% annually. On the participant's birthday, he or she will end up with the highest value calculated over account's history. In other words, a $100,000 high achieved in one year would not be hurt by a 30% market slide in the next; you'd still get the highest past balance.
The participant can choose to contribute any percentage of their 401(k) balance to IncomeFlex. "It works like any other plan option," says Prudential's Mark Foley, vice president with Prudential's Innovative Simplicity product group in Hartford. The catch? A plan participant pays 100 basis points, or 1% of their 401(k) assets each year, beginning at about age 50, in return for the guarantees.

John Hancock's "Guaranteed Income For Life," is essentially a rider developed for 401(k)s. GIFL allows participants to invest some or all of their 401(k) funds in one or more of four John Hancock lifestyle funds to create a benefit base. Investment options for the plan include risk-based funds with as little as 20% allocated to equity, or as much as 80%, depending on the plan participant's appetite for risk. Prudential, meanwhile, is offering its guaranteed option as part of either a stock-and-bond focused balanced fund or target-date strategy.
Here, when the participant joins the plan, his or her balance determines his or her "benefit base" under the Hancock strategy. That account value is guaranteed and can never decline, though it can increase with increasing market values.
You receive the same protection against market downturns and the same 5% of your account balance as long as you live, with the caveat that you be enrolled in the product at least five years before you collect income, and that during that period you pay 35 basis points, or 0.35% of your plan assets each year. (For $100,000, 35 basis points is $350.)
Many 401(k) plan participants will likely consider guaranteed income a good tradeoff, says Ron Bartlett, a financial advisor with Bartlett Financial in Lexington, S.C., which handles trades through broker/dealer LPL Financial.
"If we could go back to last November and put all participants' money into a strategy guaranteeing them 5% for the rest of their lives, I'd say 95% would want to do it right now," says Bartlett. "This one employer I had in today was really excited [about the Prudential plan] and not so excited when I told him about it last summer."
Now, he says, "Employees are wringing their hands over the loss of principal in their accounts," and many may have to delay retirement due to the continued stock market declines.
"Okay, so there's a little fee," he says of these guaranteed features. "You give up some percent of upside growth in return for peace of mind."
—For the best rates on loans, bank accounts and credit cards, enter your ZIP code at BankingMyWay.com.