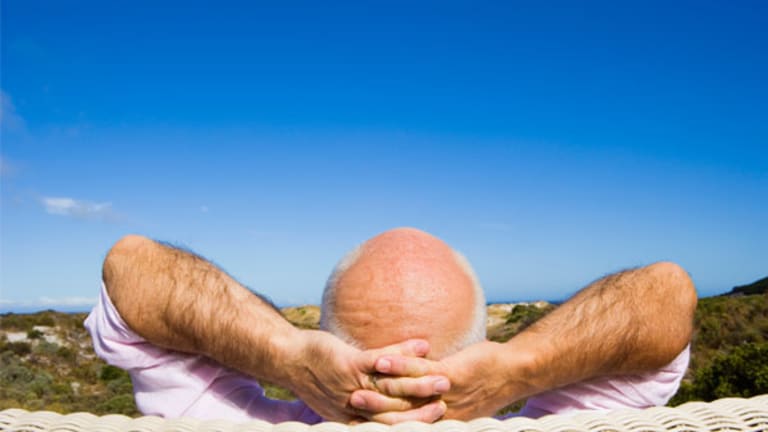 Publish date:
Mutual Funds Get a New Rival: Annuities
More companies are considering adding annuities to their retirement plans after workers' savings were dragged down by stock mutual funds.
More companies are considering adding annuities to their retirement plans after workers' savings were dragged down by stock mutual funds.
BOSTON (
) -- Be prepared for the year of the annuity.
The number of employers planning to offer annuities, investment products that typically provide fixed payments from retirement until death, is growing, according to a survey by Watson Wyatt. Companies are looking for ways to provide workers with a steady distribution of benefits during retirement after the stock-market crash that started in September 2008 erased more than a decade's worth of investment gains.
"Annuities in 401(k) plans were rarely discussed a few years ago," says Robyn Credico, a senior retirement consultant at Watson Wyatt. "But in the economic downturn, employees without traditional pension plans could not retire because their 401(k) balances were decimated. With this weakness exposed, more employers are exploring ways to minimize employees' exposure to risk, including the use of annuities."
Twenty-two percent of employers that sponsor defined-contribution plans offer annuities as an option, and an additional 10% said they are considering adding them, the survey showed. Some annuities offer lump-sum payments at retirement, while others add a life-insurance policy into the mix.
A lack of demand and administrative complexity are the two main reasons that plan sponsors don't offer annuities as part of a 401(k) plan, Watson Wyatt said. Most workers who have access to 401(k) plans opt for stock and bond mutual funds.
"Due to a perceived lack of demand as well as shortcomings of many providers' offerings, the market for annuities is still seen as immature by plan sponsors," says Mark Warshawsky, director of retirement research at Watson Wyatt. "It is a cycle that can be broken by employers through the design of good distribution strategies for retirees and effective communication to make the advantages of such annuities clear to employees."
For firms and insurers that broker in annuities, including
Fidelity Investments
,
TIAA-CREF
,
MetLife
(MET) - Get Report
,
Hartford Financial Services
(HIG) - Get Report
and
Lincoln Financial
(LNC) - Get Report
, more good news may come in the form of government support.
The Department of Labor said earlier this month that it will explore ways to encourage employers to offer lifetime annuities or similar lifetime-distribution options. The government is concerned that the shift away from traditional pensions to defined-contribution plans is an impediment to savings.
"Increasingly, retirees will have to live on lump-sum distributions from 401(k)-type plans," Department of Labor Secretary Hilda L. Solis said in an online chat last week. "This increases the likelihood that they will run out of assets during their retirement years. Our goal is to reduce the chance that workers will outlive their retirement."
Annuity providers are also watching closely to see if industry-friendly legislation makes headway in Washington. Federal lawmakers are considering bills that would allow retirees to exclude half of any annuity payouts from their taxable income. A House bill would limit that amount to $10,000 a year, while a Senate bill would cap it at $20,000. A proposal being reviewed by the Obama administration is to allow a portion of 401(k) contributions to be earmarked for the purchase of an annuity.
-- Reported by Joe Mont in Boston.