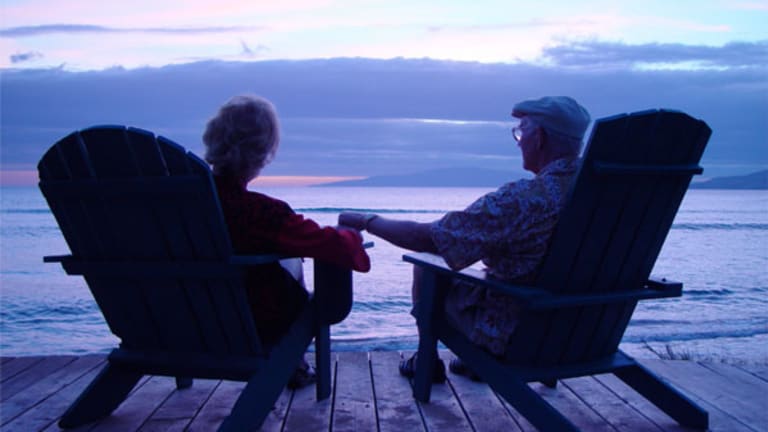 MainStreet Investigates: Is Your Pension Safe?
Some major companies have cut their pension plans. How to tell if yours is under the axe.
Some major companies have cut their pension plans. How to tell if yours is under the axe.
People are worrying about their retirement funds, and with good reason.
Even workers with pensions (payments provided by former employers to employees in retirement) are sweating it.
A recent analysis of 450 Fortune 1,000 companies, conducted by the consulting firm Watson Wyatt Worldwide (Stock Quote: WW) estimates that pension funds lost $445 billion in 2008, eliminating a 2007 surplus of $78 billion and leaving the pension-providing companies with a combined $366 billion deficit on their balance sheets. 
Some employers, including United Air Lines (Stock Quote: UAUA) and Delta Air Lines (Stock Quote: DAL), have terminated part or all of their pension funds rather than continue paying into them. Both Verizon (Stock Quote: VZ) and IBM (Stock Quote: IBM) have locked new employees out of the company's existing pension plans.
Despite these changes, most pensioners can sleep well knowing that their checks will continue to come, even if their former employers are struggling.
"People have a good reason to be concerned insofar as how the financial crisis has touched everything," says Alan Glickstein, senior consultant for Watson Wyatt Worldwide. "But I think you should be feeling really good right now if you have a pension plan."
Why Your Pension Is Probably OK
Though 401(k) plans became popular with employers who wanted to cut the amount of money they had to pump into employee benefits decades ago, workers discovered that they could potentially get a higher return for retirement by investing in the stock market than they could with a standard pension.
However, 401(k) plans introduced investors to the risks inherent in the market, while pension funds—which are insured by the federally sponsored Pension Benefit Guarantee Corporation—remain safe regardless of the state of the economy.
"Defined benefits plans have become savings plans," says Dallas Salisbury, president of the Employee Benefits Research Institute. "Even if the company goes into Chapter 7 liquidation, they still pay the PBGC a premium to make sure that you'll get your pension."
The next big question is, "How much will you get?"
What You Should Worry About
If you've been working at the same company for a decade you can rest easy: You'll get your pension.
The bad news is the company you work for may have stopped paying into the plan, meaning that new benefits may have been cut.
For example, if you've been vested in one pension plan for 10 years and your company stops paying into it on March 31, 2009, the amount of your pension would not increase beyond that date, until they begin paying into the plan again.
Meanwhile, newer workers, particularly those who have less than five years vested in a pension plan, are less likely to receive a piece of their pension pie since a growing number of employers have locked new employees out of pension plans.
Moreover, plans paid out by the feds due to a company bankruptcy are paid out on a scale. Pension payments for retirees aged 65 and older are capped at $54,000 per year, according to information on the PGBC's web site. Those who retire at 60 get $35,100 and people who retire at age 55 get $24,300 annually.
This scale, however, only represents the maximum benefit. Factors such as the health of the company at the point when the plan is terminated can reduce the amount of your benefit. 
What You Can Do to Protect Yourself
Unlike a 401(k) plan, in which you can decide how your money is invested, traditional pension plans are overseen by an administrator. Don't expect to have much of a say in where that money goes.
If you're interested in knowing how your plan is doing, there are a four things that you can do right now:
1. Contact your  plan administrator. Generally, your employer doesn't have to tell you anything about your pension's performance. However, if the plan is underfunded for any reason, the plan administrator is legally bound to tell you.  Call your company to find out if an edification has been sent recently and ask about the health of the plan.
2. Look for your plan's 10-K statement. Plan administrators have to submit a report on the plan to the SEC every year. Go to the Filings & Forms section of the SEC's web site and look for the company's 10-K filing. The filing will tell you whether or not your plan is underfunded and explain why.
3. Talk to your union. Pension benefits are going to come up in any collective bargaining between a company and the union. You can contact your union representative to find the latest information about the status of your benefits and if there have been any changes.

4. Know your rights. The U.S. Department of Labor estimates that only 20% of private sector workers have pension plans, but that doesn't mean that pensioners' complaints go ignored. The Pension Rights Center in D.C. specializes in providing retirees with counseling and information about their pension benefits.  You can reach them by phone at (202) 296-3776 or visit their web site.
—For the best rates on loans, bank accounts and credit cards, enter your ZIP code at BankingMyWay.com.