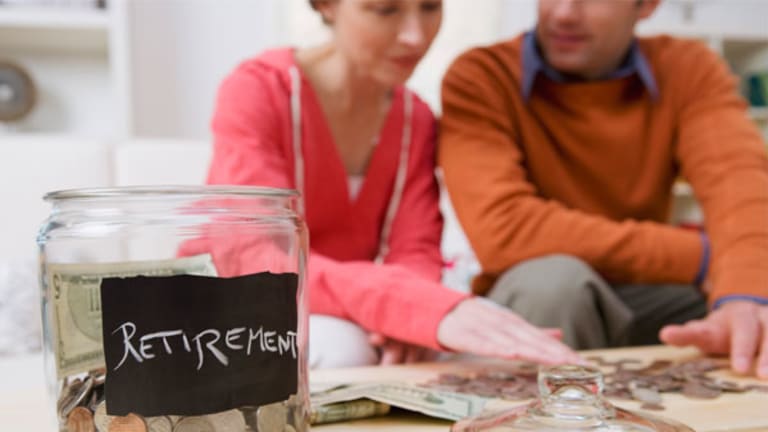 Low Interest Rates Are the Curse of Retirees
Seniors hope for 4% to 6% per year income from savings, but most prefer to be conservative investors at low yields.
Seniors hope for 4% to 6% per year income from savings, but most prefer to be conservative investors at low yields.
HUNT VALLEY, Md. (
) -- How often over the past years have you heard the Fed has decided to keep interest rates low -- until 2010 or 2013, 2014 and possibly now until 2900? It's normally hailed as a good thing -- but is it? Low interest rates, while a blessing to some, can be a curse to others, meaning the Federal Reserve is favoring some while punishing others.
Banks and finance companies benefit from low interest rates. It allows them to borrow at lower rates and lend at higher rates. The normal spread for these lenders is 2% on any deal, but today the spread is 2% to 5%, which allows these companies to make a substantial profit.
Low interest rates benefit Merrill Lynch and other investment traders, but not the many seniors investing for interest income.
Low interest rates also benefit
Merrill Lynch
,
Goldman Sachs
(GS) - Get Report
and other investment traders. The key to profitable trading is the proper use of leverage. When you borrow with interest costs below 1% per year, it makes it much more likely that the cost of money will not make a trade unprofitable. Keep in mind: Most trades are trying to make only a very small percent over a short time. Too high a cost to borrow can easily consume profits.
A primary consumer group hurt by low interest rates is seniors investing for interest income. Seniors hope for 4% to 6% per year income from savings, but most prefer to be conservative investors, buying certificates of deposit -- yielding only 1% or less. Not only is income lower, but also the effects of inflation have eroded buying power. This low return creates another opportunity for financial firms.
Institutions can sell products that they promote as achieving a 4% to 5% return (or more) without a full explanation of the risks involved. One example is annuities, with a guaranteed income withdraw of 5% or more. Little explanation is truly given about the complexity of this provision. Other examples are indexed CDs and bond mutual funds. Each of these can be sold with the buyer knowing very little about the risks. It is imperative that retirees understand fully when and how investments can be in jeopardy from market risk, liquidity risk, default risk, inflation risk or
any
risk. Unfortunately, many commissioned salespeople will not say or do not know themselves what risk is associated with these investments.
Another loser of low interest rates is the person trying to save and accumulate for retirement. It is difficult, if not impossible, for the conservative investor to make a reasonably safe 3% return. It takes 24 years for money to double at 3%, and this environment is pushing investors to take risks they are not knowledgeable about. They should be careful to understand the true risk of each investment in their 401(k) allocation. The supposed "safe" investment in this environment may not be safe anymore.
We hear a lot of tough talk about Wall Street, bank and broker greed. We see Goldman Sachs and
Bank of America
(BAC) - Get Report
being sued after being saved from the brink of disaster. Yet low interest rates allowed banks and brokers to make billions of dollars in profits in the quarter ending Dec. 31. So tell us Congress, which is it? Are we persecuting or blessing the financial services companies? Are you truly concerned about the senior and those saving for retirement?
>To submit a news tip, email:
.
RELATED STORIES:
>>Top 10 Retirement To-Dos and Don'ts
>>Annuities: The Trojan Horse of Retirement
>>The Non-Deductible IRA Trap -- and the Fix
Follow
TheStreet
on
and become a fan on
Andrew Tignanelli, CFP, CPA, is president of
Financial Consulate
, based in Hunt Valley, Md., and a member of NAPFA, the National Association of Personal Financial Advisors.
This commentary comes from an independent investor or market observer as part of TheStreet guest contributor program. The views expressed are those of the author and do not necessarily represent the views of TheStreet or its management.