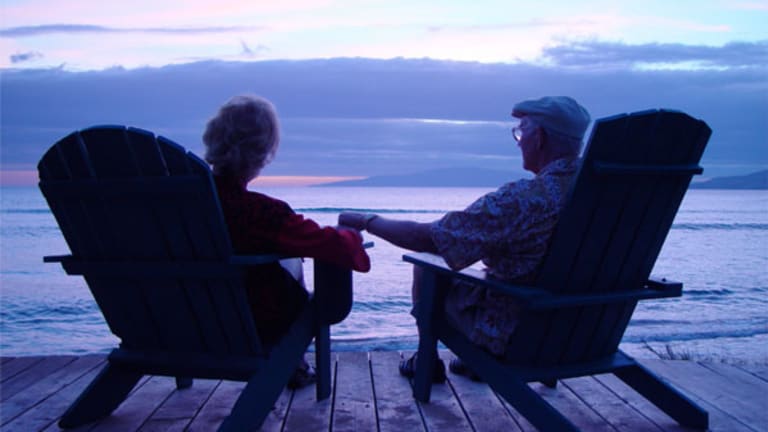 Let the S&P 500 Guide Your Stock Picks
Before you shift your portfolio to cash, consider aligning your stock investments with the S&P 500 Index, Schwab's Brad Sorensen says.
SAN FRANCISCO (TheStreet) -- With the Dow dropping below 10,000 earlier this month, investors are experiencing that all-too-familiar sinking feeling in the pits of their stomachs again. Should they give in to recessionary flashbacks and make changes to their investment portfolios?
Brad Sorensen, sector analyst for
Charles Schwab's
(SCHW) - Get Free Report
Center for Investment Research, sees the 10,000 yardstick as mostly psychological. Still, it's a wise to reconsider your portfolio's asset allocation.
With the stocks down this year, investors are trying to shore up their 401(k)s and other retirement accounts. Before you shift your portfolio to cash, consider taking a simpler approach by aligning your equity investments with the
S&P 500 Index
, Sorensen says.
"The rally that we've seen since March 2009 was probably a little overdone and due for a bit of a pullback," he says. "I didn't see any real panic or panic selling, but what it did do was to again remind investors that it's important to check on your portfolio and rebalance occasionally."
Sorensen recommends that you consider not just the broad allocation of your assets, but the granular details of the funds that constitute the stock portion, adjusting your strategy sector-by-sector. Investors often overlook the industry breakdowns in their portfolios, which can be detrimental to long-term results, he says.
In a recent advisory to Schwab customers, Sorensen urged them to analyze their allocations to 10 sectors (consumer staples, financials, energy, health care, industrials, information technology, materials, telecommunications, utilities and consumer discretionary) and adjust the ratios so that they follow the model of the S&P 500. For example, investors should have 15% of their equity holdings in financial companies because that's the industry's weighting in the benchmark.
He also advises investors to make small moves that "tilt their investments in a way that take advantage of economic and market developments." Schwab, which manages more than $1.4 trillion, practices this strategy.
"Through most of last year, we were overweight in most of the cyclicals -- materials, technology, industrials -- and certainly benefited from the rally as everything moved up together," he says. "But that appeared to us to be getting a little long in the tooth so we recommended taking some profits."
If investor want to tweak their portfolios further, Sorensen recommends that investors allocate a little more money toward health care than the S&P 500 and put a little less into consumer discretionary stocks. Although consumer discretionary stocks were among the first to move higher when the market started to recover in March 2009, there may be more "muted gains going forward" as the economic growth rate levels off, he says. Mitigating factors include tight credit, the high unemployment rate and continued uncertainty in the housing market.
The health care recommendation had as much to do with politics as the companies, which offer "solid balance sheets with good cash cushions and nice dividend yields."
"The situation in Washington was really causing us keep it at neutral, because there was so much risk with health care reform and all the uncertainty," he says. "Whether something gets done in Washington or not, it probably won't be as onerous to health care as we once believed."
While rebalancing is important, Sorensen cautions against knee-jerk strategy changes.
"Equity portfolios really need to look at least three, if not five years, out," he says. "If you are going to need that money in the next year to 18 months, it really shouldn't be invested in equities because we've seen what can happen within that time frame."
-- Reported by Joe Mont in Boston.