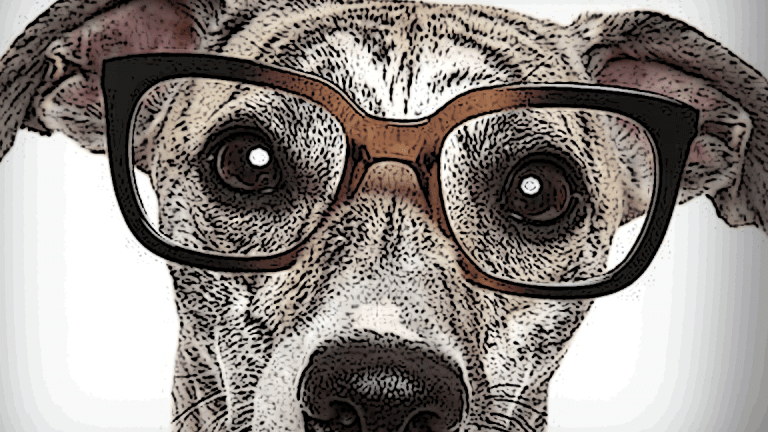 Less Jargon and More Clarity About Saving and Investing, Please
The jargon used by financial providers is a real turn-off to folks who just want to know how to make and save money.
What do you think "rollover" means? Hint: It's not the same thing your dog thinks it means. It's almost as if the folks in the industry don't want people to save for retirement.
The general public, according to a recent Empower Retirement survey, often misunderstands words -- jargon really -- that are commonly used by financial providers, employers and others in the retirement planning industry. In fact, Empower found "that many terms frequently used in the industry simply don't make sense to savers."
For example, 66% of respondents in Empower's survey don't understand what "rebalancing investments" means. A similar percentage -- 69% -- is unclear on the meaning of "asset allocation." What's more, Empower found that "millennials in particular found financial terms difficult to understand."
This finding, Empower also noted, is consistent with academic research that shows younger age groups scored the lowest on both objective and subjective tests of financial literacy. "For example, 63% of millennial respondents found the term "plan participant" to be unclear compared with 44% of total respondents," according to this study, titled Age Differences in Consumer Financial Capability.
To be fair, there are several terms that a majority of respondents in Empower's survey report understanding. Those include contribution, enroll and rollover. But much of the commonly used language in by those in the retirement planning industry is difficult for many "plan participants" to understand.
Why so?
According to Employer, jargon -- the trade-specific lingo -- can be alienating to an outsider. And the industry doesn't always recognize when it's using such jargon.
What's more, much of the industry's jargon have different meanings in common use.
Consider:
Contribution: Gift or donation to charity
Match: Athletic competition or dating service; something to light a fire with
Deferral: The act of putting something off until later
Allocation: Amount expected of an item in short supply
Election: The process of choosing political candidates
Distribution: How companies get goods to consumers
Rollover: A trick one teaches their dog
Vehicle: A car or truck
"When it comes to retirement planning, all of these terms have meanings that are completely out of step with the definitions most people associate with them," wrote the authors of the Empower white paper. "Such multiple meanings can cause confusion and create barriers to confident decision-making."
So, what then are the terms that workers saving for retirement would prefer for the following concepts? Here's what Empower discovered.
| | |
| --- | --- |
| Concept | Preferred term |
| Employee with a workplace retirement savings plan Employee OR Plan participant Group one calls with questions related to a workplace retirement plan | Customer service |
| The amount you put into your workplace retirement account from each paycheck | Contribution |
| The amount your employer puts into your workplace retirement account based on some or all of the amount you save | Employer match |
| The percent of your paycheck you save in your retirement plan | Contribution rate |
| Enroll in your retirement savings plan | Enroll |
| A plan offered through your employer in which you contribute a portion of your income, either before tax or after tax. Your employer may also contribute to your account. | Retirement savings plan |
| Accounts that include workplace retirement plans and IRAs | Retirement savings accounts |
| How you invest your workplace retirement plan savings | Allocating your assets OR Allocation OR Investment mix |
| Retirement resources with economic value | Retirement savings and investments |
| For a fee, you can select an account where your workplace retirement plan savings are managed for you by a professional | Professional account management |
| Periodically, you may need to modify how your workplace retirement plan savings are invested (e.g., % in stocks, bonds and cash) to reflect your choice/investment needs | Rebalance your investments to ensure targets are met OR Rebalance to ensure investment mix is in line with your goal |
What do financial advisers say about Empower's white paper?
At least one adviser welcomes any changes in communication that can help reduce the "deer-in-the-headlights" expression he sometimes witnesses when talking to plan participants.
"As someone who deals with plan participants on a regular basis, I am always looking for better ways to communicate," says Sean Ciemiewicz, the founder and managing partner of Retirement Benefits Group. "When I am meeting one-on-one with a participant and I get a confused look, i.e. the dazed eyes, I can adjust my language to communicate differently. But when we are sending communication, we do not completely know if the information is understood. If not understood, the participant will likely send to the recycle bin."
So, anything companies can do to put better, more understandable words into use, makes it easier for phone and personal communication with a participant, says Ciemiewicz. "Putting items into real terms will make for better participants and better retirement outcomes," he says.
Another expert agrees with that assessment. "Even small tweaks can help break down complex ideas and make important financial information accessible to plan participants," says Stacy Schaus, the founder and CEO of Schaus Group. "Employers can support their participants by making their retirement communications easy to understand and free from jargon, then delivering them via the method of communication employees prefer."
And still yet another adviser agrees that jargon is a huge problem for the retirement planning industry, but says another problem is lurking. "'Jargon' often comes up as a reason we can't successfully communicate important ideas," says Chris Carosa, the chief contributing editor at FiduciaryNews.com and author of From Cradle to Retirement: The Child IRA. "While words do matter, the media matters more. The 401(k) world is no different than anything else in this matter. We're experiencing a generational shift from print to digital, from text to video, from correct grammar to 'it'll' do grammar. You think 'financial literacy' is an obstacle? Try taking on the lack of shared communication vehicles. That's the real - and underestimated - problem."
Despite the issues plan participants have with jargon, research from the Plan Sponsor of America (PSCA), which part of the American Retirement Association (ARA), finds that employers are making significant plan design enhancements that are likely driving the record contribution rates.
Employers are contributing an average of 5.1 percent of pay to their employees' 401(k) accounts, while the average deferral rate by participants improved to 7.1 percent, according to PSCA's 61st Annual Survey of Profit Sharing and 401(k) Plans.
The research also finds a series of plan design enhancements by plan sponsors, including higher default rates, more generous matches and earlier plan eligibility which may be supporting higher saving rates, the PSCA noted in its release.
"Despite the dire predictions we often hear, workers with the support of employment-sponsored retirement programs are clearly making progress," Jack Towarnicky, PSCA's executive director, said in a release. "The increases in retirement contributions from both plan participants and plan sponsors confirm the positive impact of company-sponsored retirement savings plans."
The survey also finds that a larger percentage of eligible employees are participating in their plan -- the percentage of eligible employees with an account balance has increased by more than six percentage points in the last 10 years.
With many financial professionals recommending a savings rate between 10 and 15 percent, the PSCA said the total savings rate of more than 12 percent in the survey shows that many American workers are well on their way to improved retirement outcomes.
Among the plan design trends:
Match gains: There is a shift towards more generous matching formulas-the use of dollar-per-dollar matching of more than three percent of pay increased by nearly 50 percent from 24.1 percent in 2016 to 35.8 percent in 2017.
Starting points: Companies continue to adopt automatic enrollment with 61.2 percent of plans now using it to boost enrollment.
Higher ground: 60 percent of automatic enrollment plans use a default deferral rate of more than three percent-up from less than 30 percent of plans 10 years ago.
Rate state: Nearly a third of plans now provide a suggested savings rate for participants-more than four-in-10 companies suggest a rate of 10 percent or more.
Catching up: The number of eligible participants making catch-up contributions has climbed steadily and now stands at 29.3 percent for 2017.
It's never too late - or too early - to plan and invest for the retirement you deserve. Get more information and a free trial subscription to TheStreet's Retirement Daily to learn more about saving for and living in retirement.
Got questions about money, retirement, taxes, and/or investments? Email Robert.Powell@TheStreet.com or visit TheStreet's Tax Center.
Sponsored Links From our Partners at Turbo Tax: