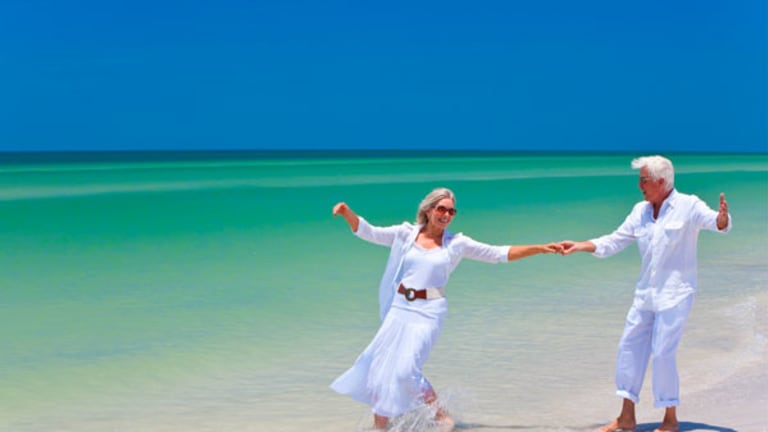 Jim Cramer's 3 Tips for Retirement
Jim Cramer has investment advise for retirees.
Americans need as much as $500,000 saved to have a comfortable retirement, according to some estimates, but the U.S. Labor Department estimates that fewer than half of Americans have even calculated how much they will need to save for when they leave the working world.
And while the average American will spend 20 years in retirement, nearly 30% of private-industry workers with access to a contribution plan like a 401(k) plan don't participate.
According to the Bureau of Labor Statistics, adults 65 and older spend about $46,000 a year on average. That could easily skyrocket depending on one's medical needs and if the country has an inflationary outbreak.
Hence, a steady source of income after you have stopped working is paramount, and stocks that pay high dividends are a smart way to sit back and let your money work for you. Key point: The company's stock has to be fundamentally solid in addition to offering a solid dividend payout.
Here are three tips on retirement investing from TheStreet's founder and Action Alerts PLUS portfolio manager Jim Cramer.
Buy Damaged Stocks, Not Damaged Companies
Shares of a good company can get punished from time to time, in which case Cramer advises that investors buy the dip. However, there is a difference between a stock having a bad run and a bad company circling the drain. 
"How do we know if there is something wrong with the company instead of just the stock? I think that's too complicated a question," Cramer said. "What I like to do is develop a list of stocks I like very much, and when Wall Street holds an en masse sale, I like to step up to the plate. I particularly like to be ready when we have multiple selloffs in the stock market because of events unrelated to the stocks I want to buy."
Don't Own Too Many Names
Having a slim portfolio allows one greater control over where his money is flowing. Cramer took this lesson from his days as a hedge fund manager. 
Cramer found that good performance has a direct correlation to having fewer positions. 
"I never will buy a stock without first taking one off. That's a great discipline and one you should adopt, pronto. All the bad money managers I know have hundreds of positions. All the good ones have a few that they know inside out and like on the way down," Cramer said. 
Don't Subsidize Losers by Selling Winners
Investors tend to have a favorite stock pick that no matter how poorly it might be performing they hold out hope it can turn around.
Sometimes they are right, often they are wrong, but Jim Cramer advises not to redeem shares of winners in your portfolio in order to finance the losers. 
"They have only a finite amount of capital to invest. Rather than take the medicine - the loss - they hold on to the losers and sell their winners," Cramer advised. "My advice to anyone who is stuck in this position is quite simple: Sell the losers and wait a day. If you really want them, go buy them back the next day. I also am certain that you never will."
Retirement is coming. It's never too early - or too late - to plan, save and invest for the retirement you want and deserve. Let TheStreet's new premium subscription newsletter,Retirement Daily, give you the insider's edge on how to maximize and protect your most important investment, your retirement savings. Learn more about Retirement Daily and get a free trial subscription.