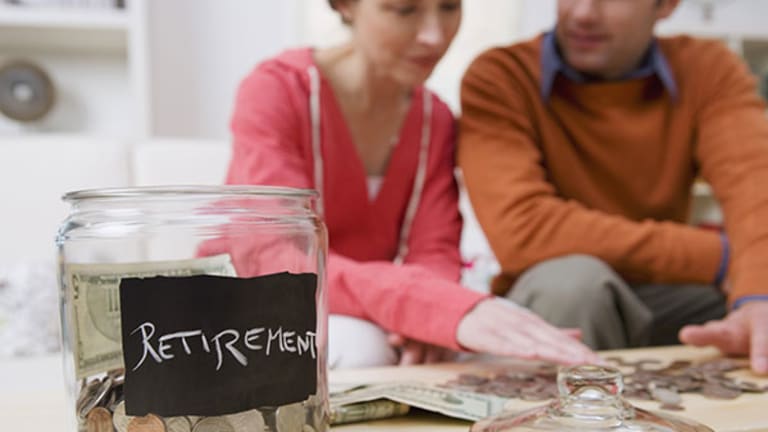 Early retirement is still possible, but workers have a hard time believing that's the case.
According to a survey last fall by Bankrate.com, 70% of U.S. workers says they plan to work as long as possible during retirement. Only 25% say they won't work at all. Of those who plan to work during retirement, 38% will do so because they like to work, 35% need the money and 27% see a combination of both.
In fact, nearly half of retirees (47%) are either very worried or somewhat worried about outliving their retirement savings, up from 37% in 2009. That's made early retirement less a goal than a pipe dream. Just 13% of non-retired Americans hope to retire in their 50s, down from 27% in 2007.
"Working during retirement brings a lot of benefits," says Jill Cornfield, Bankrate.com retirement analyst. "I'm not surprised that nearly three-quarters of people said they'd like to work as long as they can while in retirement. It's not just the money. When you can work as a consultant or find some part-time gig, it really helps you stay sharp."
That's a lovely way to spin it. Sure, it isn't just the money, but we aren't going to pretend that finances aren't a factor for people working longer. Roughly 70% of workers expect Social Security to account for some of their income in retirement, including 10% who are depending on Social Security for all of their income. If that's the case, it doesn't pay to take Social Security early and be paid a lower amount.
Voya Financial points out that 59% of working Americans are very or extremely concerned about outliving their retirement savings -- with 74% having never calculated their monthly retirement income needs -- just taking that first step can be tough. Both Voya and U.S. bank note that retirees will need 70% to 80% of their current annual income to continue their current lifestyle in retirement.
That's easier said than done. Though GOBankingRates notes that 13% of workers have $300,000 or more saved for retirement, about 30% of those age 55 and over have no retirement savings and 26% have less than $50,000. In fact, only 26% of Baby Boomers nearing retirement age have $200,000 or more, while 31% of Boomers over 65 can say the same.
That still beats the 52% of Generation X (ages 35 to 54) who still have less than $10,000 in retirement savings after the recession wiped out 45% of their net wealth on average, according to Pew Research Center. Roughly 31% of Gen X-ers have no retirement account at all, though 40% of Gen X-ers over 40 have more than $50,000 in retirement accounts. Among that group 7% have between $200,000 and $300,000 socked away, while 15% have $300,000 or more. Meanwhile, though 60% of Millennials (18-34) have started a retirement fund, 72% have saved less than $10,000 or nothing at all. A full 42% have no retirement savings, though that percentage shrinks to just 36% of those older than 25.
That's all well short of the recommended thresholds. GOBankingRates and J.P. Morgan have determined that, if you're age 40 and making the $66,693 median salary, you should have more than $100,000 saved for retirement. Unfortunately, only 20% of people at that benchmark do. For the 50-year-olds making a median of $70,832 a year -- the peak of their earnings -- there should be close to $212,496 socked away. Only 22% have hit that mark. As for 60-year-olds coasting into retirement at $60,580 a year, only 26% have the recommended $260,500.
Even for a normal retirement, T. Rowe Price recommends saving 15% of your earnings -- including employer contributions. If you start at age 30 can earn you upwards of $1.7 million by the time you retire. Now, that assumes 7% annual returns on your investments, a $50,000 starting salary at age 30, a 3% annual salary increase, a 4% annual withdrawal rate beginning at age 65 and 3% annual inflation. It also assumes that you wouldn't forfeit about $570,000 by saving just 10% a year... and won't retire early. However, knock 15 years off of that total and you're down to $457,000 based on those same variables -- or less money to cover a longer retirement.
Good luck with that. Voya advisors found that 74% of Americans have never calculated their monthly retirement income needs. Meanwhile, 51% of retirees have never tried to determine if their current savings will be enough to last through retirement - though 39% assume what they have will not last 20 years. A full 13% of current retirees don't know how much savings they have in the bank in the first place.
Karen Wimbish, senior vice president at U.S. Bank Wealth Management, recommends assessing expenses including property, taxes, healthcare, and large one-time expenses like housing and cars. She also suggests that expenses such as entertainment, dining, and gifting are all not likely to diminish, and may even increase in retirement.
Once you have those figures, tally up income from sources such as plans and pensions, Social Security, savings, etc., and come up with a withdrawal strategy that doesn't penalize you. You'll want to hold one to two years of estimated income needs in cash, especially if investments make up a large part of retirement portfolio. If you can live on investment interest without dipping into the principal, so that it can continue working for you, weigh the risks and attempt to do so. Unexpected expenses like long-term care and longevity planning should also be taken into account.
"It's not our parents or grandparents' retirement anymore," says Mike Lynch, vice president of strategic markets Hartford Funds. "Chances are I might spend 20, 30 to 40 years in retirement if I retire in my 50s. That's a lot of time, so if I retire in my mid-30s, that money will have to last me 50-plus years and I just don't see how it happens."
With high-income earners, the question isn't whether they can retire young, but whether they should. Benjamin Sullivan, a certified financial planner with Palisades Hudson Financial Group, Scarsdale, N.Y., notes that if the value of your assets, market returns, your other income and your living expenses add up to a comfortable figure, a financial adviser can help you figure out how long all of that will last through retirement in a variety of scenarios.
"Even with all else being equal, a $10 million portfolio might be sufficient for one young retiree, while being way too little for another individual who wants a higher standard of living," he says.
However, as Sullivan points out, even a portfolio that looks like it will easily cover living expenses can shrink substantially over a long retirement as inflation increases those expenses. Continuing to earn income by working would not only prolonging contributions to, and delaying withdrawals from, a retirement portfolio, but it would allow you to keep up with your friends' and family's spending as they continue to earn. Plus, all of those retirement perks like travel and hobbies tend to come at a cost.
"Working keeps you occupied and prevents you from spending money," Sullivan says. "Unless you plan to sit at home idly once you retire, your expenditures might grow in retirement rather than shrink."
If you do end up taking early retirement, but opt to take a lower-paying, less-taxing job for a bit of extra income, just beware the unintended effects. Social Security benefits are taxed based on your other income, which is generally the sum of your adjusted gross income, nontaxable interest, and half of your Social Security benefits. As your income rises, the proportion of your benefit that is taxable does, too.
Advisors warn that this can result in the Social Security "tax torpedo," especially among reirees who collect Social Security benefits early. When they try to supplement that income with a job or taxable withdrawals from an IRA or other retirement account, it can increase marginal tax rates and make an early retirement more of a headache than you'd anticipated.
"If you take your Social Security benefit relatively early, allow for the ripple effect that taxation of your benefits could have on your overall tax rate," says Anthony D. Criscuolo, a senior financial planner with Palisades Hudson Financial Group. "Understanding the Social Security tax is the first step in reducing it."
Related stories from TheStreet you might like: