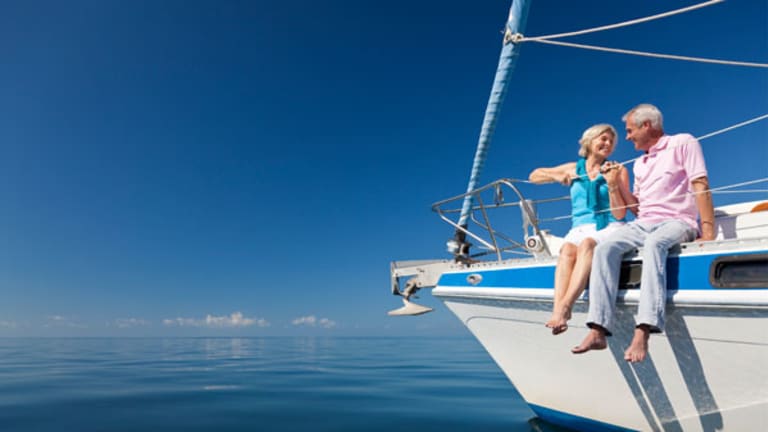 Is it Safe? A Hint of Risk Can Boost Returns
Investors seeking safety may consider bets on big companies that aren't going anywhere.
BOSTON (TheStreet) -- "Is it safe?"
Setting aside memories of that line amid the dental torture of the 1976 movie
Marathon Man
, that same question is being asked more and more by investors as they plan where to put their money -- if anywhere at all.
Investors seeking safety may consider bets on big companies that aren't going anywhere.
The hazard of going defensive and keeping your money in "safe" investments is that you typically lose upside in the pursuit of security.
Risk is often paired with reward, so does that mean "yield" and "safe" rarely intersect?
Mike McGervey, president and founder of
in North Canton, Ohio, challenges such black-and-white thinking.
"Typically cash in a money market earns next to nothing," he says. "Sometimes I will have a client ask, 'What's our cash going to earn when it is on the sidelines?' and I'll stop and tell them they are missing the point. If we are preventing a 30% decline in your portfolio then maybe, in effect, your cash has earned you 30% because it kept you out of the fire."
For those not willing to merely ride out market tumult in CDs and money markets, stomaching just a little more volatility and surrendering some liquidity can lead to higher returns that, at the very least, keep pace with inflation.
If you can't decide between stocks or bonds, a hybrid of sorts can be found in preferred stocks (as opposed to the common stock most invest with). These share have built-in protections that can help mitigate risk. If a company is pushed out of existence by bankruptcy, those with preferred shares are right behind bondholders and ahead of common stock investors in recouping their share of the divvied-up assets.
Also, even though a company can suspend dividend payments, those with preferred stock must be recouped for what they lost before any dividend is restored or paid to holders of common stock.
A byproduct of the low interest rate environment is that even companies that are sitting on massive cash reserves are borrowing. This may make investing in high-grade corporate bonds a suitable alternative to Treasurys, especially after the S&P downgrade of U.S. debt.
Microsoft
(MSFT) - Get Microsoft Corporation (MSFT) Report
, for example, has more than $30 billion in stockpiled cash (even after shelling out $8.5 billion to buy Skype earlier this year). And yet it is still issuing corporate bonds. As investors seek alternatives to Treasurys, its AAA-rated investment-grade bonds have been among the most heavily yarded in recent days.
Johnson & Johnson's
(JNJ) - Get Johnson & Johnson (JNJ) Report
AAA rating is also attracting the eye of investors venturing into high-grade debt. For the country's top companies, investing in corporate bonds can be a bit like lending money to a rich uncle.
Notching up things a bit more, risk-wise, are Master Limited Partnerships, which are publicly traded limited partnerships. They are restricted to businesses that deal in natural resources, including oil and natural gas extraction and transportation. They are often chosen by investors to provide diversification and protect against inflation.
MLPs are "a little volatile," says Michael J. Dixon, CEO of
Global Financial Private Capital
. But he also points out that "when everything got hammered in 2008, early 2009, MLPs and preferred stock were two of the ways we got our investors back up pretty quickly ... our conservative portfolio actually has a small gain in 2008."
His firm's preferred stock portfolio was one of its best-performing portfolios from 2009 onward. Despite a rough spell earlier this year, when it was closed amid a 5% yield, they "are now back shopping that space for 7% to 9%."
"The MLP space dropped 10% in this most recent run down, but popped straight back up," Dixon adds. "You can get 7% to 10% yield again with operations we don't see going out of business. They are basically toll roads for commodities. Do we see them getting bid up? Do we see them getting hammered when commodities fall out of favor? Of course, all day long."
But in the meantime, until warning signs emerge, he and other investors are more than happy to collect the income.
For those willing to whet their appetite with a bit more risk, there are other safe bets that can earn even bigger returns.
"During the last two years, most of our investors, when they ask them which they are worried about more, bond or stock valuations, they've said bonds," Dixon says. "At some stage interest rates will rise ... so what is safe anymore? What is the 'run to?'"
As he sees it, "safe" no longer should include just looking for "what was traditionally the boring, 'Treasury-ish' investment," because Treasurys have been "one of the most volatile investments going."
Dixon suggests that some may want to embrace emerging markets, particularly the telecommunications companies in them.
"You do it for the income," he says. "You do it because
Telecom New Zealand
( NZT),
China Telecom
(CHA) - Get China Telecom Corp. Ltd. Sponsored ADR Class H Report
and Telestra are going to pay you a really nice income and we feel that, from a balance sheet and business model and perspective, they will be in business in five to 10 years' time. We can get our heads around the balance sheet, business model and positioning telling us that. You have a state monopoly, virtually, in that particular area that we think is going to grow and be stable."
The space is bound to be volatile because it's a growth area, Dixon says, "but one of the things we've realized over the past few years is that it used to be the first thing you would pay and the last thing you defaulted on was your mortgage. Well that's out the window. What is the first thing people pay and the last thing they default on now? Their cellphone bill. The bottom line: What a great space to be in."
"Absolutely, it is going to be volatile," he says. "But I'm saying that if we can invest in that space for a nice yield, and if we can reassure ourselves, whether it is corporate debt or corporate equity, that those corporations will still be around and are not going to default, I'm happy in that space."
-- Written by Joe Mont in Boston.
>To contact the writer of this article, click here:
Joe Mont
.
RELATED STORIES:
>>Park Your Cash in a Safe Neighborhood