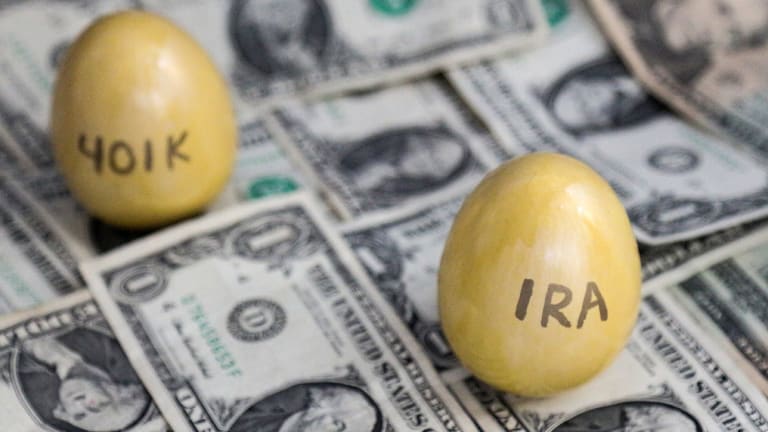 Why Building Your Nest Egg Just Can't Wait
If you're going to start a retirement or emergency fund, being young and flexible enough to make painful financial decisions will certainly help your cause.
NEW YORK (MainStreet) –- If you haven't gotten around to laying that nest egg yet, don't be surprised if it hatches later than you expect.
Your rainy day fund or financial nest egg are crucial for financial stability, but the Great Recession made saving for either more difficult than it should have been. As a result, Voya Financial found that 74% of Americans have never calculated their monthly retirement income needs.
Meanwhile, 51% of retirees have never tried to determine if their current savings will be enough to last through retirement – though 39% assume what they have will not last 20 years. A full 13% of current retirees don't know how much savings they have in the bank in the first place. Franklin Templeton, meanwhile, found that 55% of Americans are considering working during their retirement, with 30% of those ages 18 through 24 planning to never retire at all.
"If you wait too long, you might have to delay retirement and keep working a lot longer than you'd like," says Melinda Kibler, a certified financial planner with Palisades Hudson Financial Group in Fort Lauderdale, Fla.
According to a survey conducted earlier this year by CreditCards.com, 20% of Americans lose sleep by worrying about whether or not they're saving enough. That percentage jumps to 50% among Americans ages 50 through 64, but just about all demographics worry about having enough money to cover major life changes like having children or losing a job, nevermind retirement. Kibler advises keeping six to 12 months worth of expenses tucked away, but acknowledges that not enough people do so.
The key obstacle is complacency: the lack of discipline that prevents people from prioritizing finances or forming and committing to a solid financial plan. With help from Kibler, HSBC financial advisor Brian Schwartz and Citizens Bank's head of everyday financial planning John Rosenfeld, we've amassed the following reasons for getting your nest egg or emergency fund together as soon as possible:

Your family is counting on you...
Even if it doesn't exist yet, the family you intend to have in the future requires a whole lot of financial maintenance. You may not be thinking about schooling and doctor's visits now, but they're coming.
"If you're in the process of starting a family, plan now," HSBC's Schwartz says. "Run through multiple scenarios and discuss what your family will look like five and ten years from now. Generally, the recommendation for a family of four is to have six months of funds saved."
You're younger than you think...
If retirement isn't imminent, chances are you're in or nearing your prime earning. Schwartz notes that this is the time to be fearless in making big decisions in order to create disposable income. If that involves moving to a less expensive home, refinancing higher interest mortgages or forcing yourself into greater retirement savings, do it.
Kibler recommends dividing equity investments among a U.S. large-cap fund, a U.S. small-cap fund and an international fund for starters. She recommends having bond and money market fund exposure in your investment portfolio as well, though it may be better to invest in bond funds outside your retirement plan.
"Saving for retirement takes discipline," Kibler says. "There are lots of competing demands on your money, but by the time you get to your mid-30s, it's very important to save, even if you have to start small." 
You can rest later...
If you are capable of doing so, Schwartz recommends that consider a second job if even temporarily. If the choice is to work more now or work when you're 70, consider front-loading while you have the option.
"Since neither employers nor Social Security will fully fund a decent retirement, you have to take the initiative," Kibler says.
You can slim your spending now...

"If a company with so many moving parts can sit down and develop a plan to cut costs and increase their bottom line, so can you," Schwartz says.
Oh, is it true. Simply going through your expenses is enlightening because it unveils spending habits and helps you pinpoint where you can reduce spending. That keeps you from hitting the end of the year and wondering why you haven't saved a dime.
"Without a formal budget, you'll be too lax and won't reach your goals," Kibler says. "Once you've set your goals and built a budget to reach them, you're on your way."
It also helps you whittle away at debt by attaching the highest interest rates first -- usually credit-card debt -- and using the savings to build six to 12 months of emergency funding. If you can keep saving and don't have to tap into the emergency fund, it will eventually become part of your retirement nest egg.
"Halfway through the year is a good time to check on your circumstances to make sure your debt is actually depleting, rather than growing, and your credit score is improving," Rosenfeld says. "Considering many Americans may put all or part of a summer vacation expense on a credit card -- make sure you have a payment plan in place to pay if off quickly."
You can train yourself to stick to the plan...
Now is a great time to make your employer's 401(k) or 403(b) plan your primary place for retirement savings, particularly if your employer offers matching contributions. That's just free money. From there, be patient with it.
"Make a plan and stick with it instead of trying to time the market. Think long-term," Kibler says.
Once you have maxed out your 401(k) contributions, consider opening up a traditional or Roth IRA if you have additional cash available. If your employer doesn't offer a retirement plan, it's even more important to save in a traditional or Roth IRA -- or a SEP-IRA or Keogh plan if you're self-employed.
"Sure, this step sounds easy in theory, but it can actually be pretty tough for most people to practice," Schwartz says. "For any big life goals, from financial planning and beyond, it's a best practice to sit down, develop a plan and a process to implement it and work your hardest to see it through."
This article is commentary by an independent contributor. At the time of publication, the author held TK positions in the stocks mentioned.