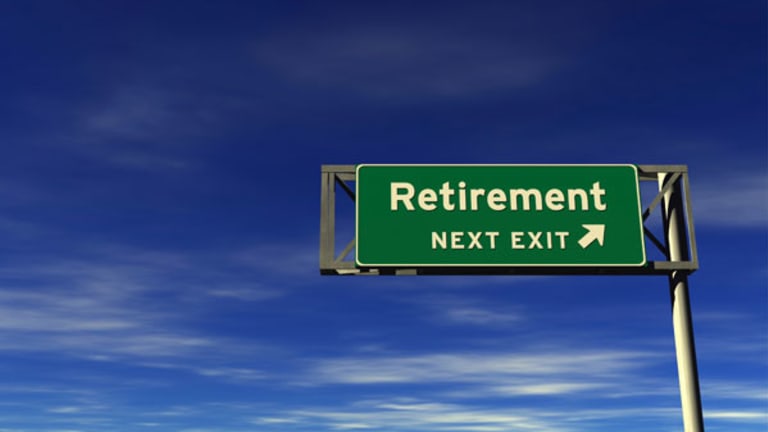 Publish date:
The Cheapest Way of Retiring
Contrary to its purpose, saving can actually cost quite a bit and usually goes unnoticed until it's too late.
Contrary to its purpose, saving can actually cost quite a bit and usually goes unnoticed until it's too late.
NEW YORK (TheStreet) -- In my previous two-part article (click here for Part 1, or Part 2), I detailed the importance of saving over the long term. While everyone's scenario is different, I assumed we had a 30-year-old single investor, saving for 30 years in a Roth IRA. You can read about the amazing results from the beginning.
But contrary to its purpose, saving can actually be rather expensive. Between management fees, commissions and taxes, the amount of lost savings can be overwhelming. Luckily, we eliminated the main management fees by choosing a self-managed retirement account. Furthermore, we used a Roth retirement account, which allows for tax-free withdrawals starting at age 59-1/2.
Management fees on ETFs and mutual funds are
much
cheaper than those associated with investment specialists. The only way to avoid management fees in ETFs and mutual funds is to simply not invest in them.
However, that would leave you with the bold task of selecting individual stocks and bonds. This task is extremely difficult, as Wall Street's smartest gunslingers continually try (and often times fail) to simply beat the
S&P 500
. While there will be no management fees associated with individual stocks, there are commissions that need to be paid for each purchase and each sale.
There are now many online brokerages that offer commission-free investing for select mutual funds and ETFs. Not to be construed as recommendations, but there's
E-Trade
(ETFC) - Get Report
;
TD Ameritrade
(AMTD) - Get Report
;
Charles Schwab
(SCHB) - Get Report
;
Interactive Broker
(IBKR) - Get Report
and
Fidelity
(FNF) - Get Report
-- to name a few. If you are into lists, even more can be
found here
and
.
Also, each firm has a different list of what can be purchased or sold, free of charge. Using a Roth IRA, there may be no minimum investment required to start, though this varies from firm to firm. Of course, the catch is that you typically have to hold the ETFs for 30 days or more, while holding mutual funds for up to 90 days or more.
If we're focused on the long term, though -- which we are, just to be clear -- then these holding periods
should
play no role in the decision-making process. So the question quickly becomes: Management fees on funds or commission rates on stocks?
While using an approach such as automatic investing, which can be as cheap as $1 per transaction (for purchases only), it's hard to fight the incredibly low fees on some ETFs and mutual funds these days.
Using the above example, you could have 30 stocks (assuming none are funds, which would carry a management fee), and with each one costing $1 per month to invest in, your still looking at $360 per year in commissions. However, not only would you have to actually chose 30 securities to begin with, but it leaves you exposed to very high risk, even if you diversify by country, sector and market cap.
This creates an unrealistic situation. While this is an incredibly cheap form of investing, it would take a lot of time for a typical investor to narrow down an effective, diversified 30 securities in which to be invested.
This is why paying a simple management fee makes sense. While these fees can get extremely expensive, they can also be dirt cheap. Take, for example, this list of the
.
The cheapest ETFs on the list are the
U.S. Broad Market ETF
(SCHB) - Get Report
and the
U.S. Large Cap ETF
(SCHX) - Get Report
from
Charles Schwab
.
With an expense ratio of just 0.04%, investors only pay $4 per $10,000 invested. That's incredibly cheap. Overall, the list contains 37 ETFs with an expense ratio of 0.10% or less. And the list doesn't just include broad baskets of domestic stocks, either. It includes bond funds and international exposure as well, helping with the task of proper diversification.
From our example in my first article, our diligent saver entered retirement with about $600,000 in his or her Roth IRA, and another $60,000 or so in his or her taxable brokerage account. The same principles/ideas that I'm applying to the Roth IRA can also be applied to the separate, taxable brokerage account, but let's look at just the retirement account.
The commission-free ETFs and mutual funds are not set in stone. They differ, accordign to the broker you use. So perhaps,E-Trade Financial offers some that you would prefer, or maybe TD Ameritrade has the ones that you like more. It only takes a little exploring on each broker's Web site to find what fits you best.
In fact, both Schwab and TD Ameritrade offer more than 100 commission-free ETFs, some starting as low as the 0.04% expense ratio that we talked about. Going a bit above the 0.04% to 0.10% range that we discussed earlier, let's assume all of the funds we invest in come out to an average expense ratio of 0.15%.
That would mean that our investor in the example who has $600,000 in her retirement account would only pay $900 a year in fees. While that may seem a little a high, consider how much is being paid, relative to what is received in return.
For less than $1,000 a year and a little bit of research, our investor avoids commissions, receives great asset diversification and bypasses huge management fees. If you think 900 bucks is a lot, consider this: The management fee for a "professionally managed" account runs
of assets for individuals.
Even removing the "little over" part of 1%, we can assume that annual fees for a $600,000 account will cost
at least
$6,000 per year.
While it is extremely important to do the research associated with picking your own commission-free, low expense ETFs, it can be very rewarding down the road. By taking a look at its past performance, the fund's holdings and a few other key metrics, investors avoid the fees with professional management and the stress of individual stock-picking.
-- Written by Bret Kenwell in Petoskey, Mich.
At the time of publication, the author held no position in any stocks mentioned.
Bret Kenwell currently writes, blogs and also contributes to Robert Weinstein's Weekly Options Newsletter. Focuses on short-to-intermediate-term trading opportunities that can be exposed via options. He prefers to use debit trades on momentum setups and credit trades on support/resistance setups. He also focuses on building long-term wealth by searching for consistent, quality dividend paying companies and long-term growth companies. He considers himself the surfer, not the wave, in relation to the market and himself. He has no allegiance to either the bull side or the bear side.