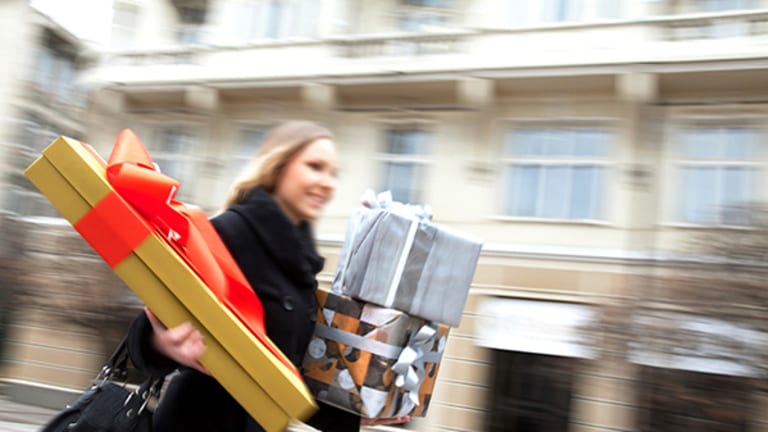 Stop Giving the IRS Tax Gifts Right Before Christmas Day
Not only can investors keep more of their investments out of their 2014 tax bill, but they can give themselves a nice present down the road.
NEW YORK (MainStreet) – If you still have cash to spend this holiday season, try not to spend it on the IRS.
There are always year-end tax moves you can make to reduce the bill you'll get from Uncle Sam, but few move those assets back into your pocket. A slew of end-of-the-year donations is great and all, but the good folks at RBC Wealth Management say those funds might be better invested in yourself and your family.
If you've started a 529 plan for you children's college educations for example, contributions may be tax deductible in your state. After you contribute, your earnings grow tax free, provided they are used for qualified higher education expenses. The one drawback is that distributions not used for qualified expenses may be subject to income tax and a 10% penalty, so make sure they end up in the bursar's office when it's time to dole them out.
Meanwhile, if you're taking a year-end look at your own portfolio, RBC Vice President and Senior Wealth Strategist Bill Ringham suggests dumping investments that have lost value. You can sell them before 2014 ends and use the tax loss to offset some capital gains from other investments. If you have no capital gains, you can use up to $3,000 of your tax losses to offset other ordinary income. In fact, if you've had a terrible year and lost more than $3,000, you can carry over the excess and deduct it in future tax years. Just know that if you have second thoughts about those underperforming investments, you'll have to wait 31 days before buying them back to avoid an IRS rule violation.
If one of your investments is really on a roll, though, now is not the time to cash in. Those capital gains will boost your adjusted gross income and jack up your tax bills. If you're really thinking about selling equities or other assets that have gained value, wait until January and put off the consequences until next year.
Also, keep an eye on those mutual funds and make sure there aren't a whole bunch of shares being bought right before New Year's Day. Many mutual funds pay capital gains distributions in December, which is great, but buying shares now to bulk up that distribution will only increase the capital gains taxes on that investment and negate much of the value of those newly bought shares. Instead, ask for the date of the distribution and forgo your share-shopping spree until that date passes.
If after all that you still think the IRS has its hand in your pocket, dump some more cash into your Roth IRA. You have until April 15  o contribute for the 2014 tax year and you can put in up to $5,500, or $6,500 if you are 50 or older. Though traditional IRA contributions may bring down your taxable income for 2014, depending on your circumstances, Roth IRA distributions years down the road are can be tax free.
All of the above will help whittle down your tax obligations while pushing you closer to your financial goals. If you're feeling generous this year, however, there's always the charitable option. You can donate cash, sure, but there a chance you'll get a bigger tax break by giving away some of your high-flying assets. If you bought shares for $1,000 and they are now worth $10,000, giving those shares to a qualified charity would give someone in the 28% tax bracket a $2,800 tax deduction based on the current market value of the shares.
That requires a special set of circumstances and a particularly nasty tax penalty on the horizon to sacrifice all that accumulated value for a tax break, but if you find yourself in that position it's a nice option to have, and it will go to good use.
— By Jason Notte for MainStreet
>To contact the writer of this article, click here: Jason Notte.
>To follow the writer on Twitter, go to http://twitter.com/notteham.
>To submit a news tip, send an email to: tips@thestreet.com.
RELATED STORIES:
>>Millennial Investors Care More Than Boomers, Gen X
>>Millennials Don't Want Your Risky Investments